Making their historic first appearance in the NCAA Division I tournament, Minnesota State University-Mankato was up against a team that was clearly bigger, stronger, and deeper — the top seed in the East Regional and the No. 1 team in the nation in the polls.
The Mavericks had every reason to fold like an accordion in this regional opener against Cornell. Instead, they showed the resilience that led them to an NCAA-record 10 ties while playing a whopping 15 overtime games this season.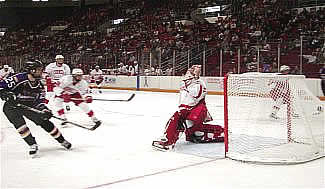 After getting outshot 6-1 in the opening two minutes and change, MSU-Mankato settled down and got back in the game. Despite getting outshot 18-3 and failing miserably to clear the puck in the second period, the Mavericks went into the third period down only 3-2 and expecting to rally from a third-period deficit.
After all, they had pulled off an astonishing 12 come-from-behind ties or wins this year.
"We've battled back from being behind all year," star center Shane Joseph said. "That's something we pride ourselves in as well as character; we've had come-from-behind wins all year. We were very comfortable being behind by two goals going into the third."
As the game wore on, however, it was obvious that the Big Red just had the edge over their WCHA opponents.
"I think a lot of was that they were bigger and stronger than us today," Mankato coach Troy Jutting said. "At times we struggled to get it out of our end when we had it on our stick, and we couldn't get it out.
"I think a lot of that has to do with strength — maybe experience; we're an awfully young hockey team. There are definitely some areas that we have to get better at if we want to compete at this level."
In the end, the better team pulled away with a decisive win, leaving the Mavericks disappointed with the outcome but proud of their program.
"It's very special for me to participate in this," Maverick captain B.J. Abel said. "To make it to this tournament, I hope that this program finally gets the respect that it deserved. We opened some eyes this year. From the coaching staff to the players for the four years that I've been here, everybody's put in a 110 percent effort.
"We're only going to lose three guys — and I'm the only forward — so next year this team is going to be a force to contend with."
"I think we took a huge stride," Jutting said. "Between this weekend and last weekend, only B.J. and Joe Runkel and Joe Bourne had ever played in the Final Five before. We've got a lot of kids who had never played in the finals of our league tournament, let alone the national tournament, but I told the guys afterward it's a great learning experience. It's something you get a taste for, and it motivates you."
"If someone asked before the season if we were going to finish second in the league and make it to the national tournament, I would have been amazed," Abel said. "No one gave us a shot … We've proven everybody wrong."
"It's a great group of guys," Jutting said. "I'm just sad it's over for them."
It's just beginning for the Maverick hockey program.