Massachusetts coach Don Cahoon has signed a four-year contract extension that takes him through the 2007-08 season. Cahoon, in his fourth season, has led the Minutemen to its best start since the program's resurrection in 1993, and has his team currently ranked No. 9 in the latest USCHO.com poll.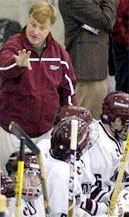 "We couldn't be more excited that coach Cahoon will be leading our ice hockey program through 2008," said interim athletic director Thorr Bjorn. "The job is has done is truly amazing. He recruits quality student athletes who the entire University can be proud of supporting. Coach Cahoon is a leader within our department and a person we are proud to have on our team."
Cahoon has the Minutemen off to a 7-1-0 start, including a 4-1-0 mark in Hockey East. Last year's team won the second-most games in school history, posting a 19-17-1 record, advancing to the Hockey East semifinals for the first time ever and recording the highest Hockey East finish in school history. Following the conclusion of the 2002-03 season, Cahoon was named Hockey East Coach of the Year and New England Coach of the Year.
"I am very delighted that the University of Massachusetts offered me a contract extension," said Cahoon. "It spells out clearly the level of commitment that the University of Massachusetts has to getting this program to a national level. I am very happy for our office, as this substantiates the work done the last few years by our hockey program, and I am very excited to get this done and continue to move this program forward."
Over the course of his UMass career, Cahoon has now posted a 42-64-7 overall record. His career record stands at 222-233-43 in 17 seasons, including nine years at Princeton, three seasons at Norwich and one year at Lehigh.
Cahoon, a graduate of Boston University and member of the Terriers' 1971 and 1972 national championship teams, has often been mentioned as a leading candidate to replace Jack Parker when retires from coaching at BU. But the 54-year old Cahoon told the Springfield (Mass.) Republican that he plans on finishing out his coaching career at UMass.
"It's pretty much a commitment, it would not be in my interest to go to any other Hockey East team or Division I program," Cahoon told the newspaper.