With an announcement commissioner Joe Bertagna characterized as "probably one of the worst-kept secrets," Hockey East officially welcomed the University of Vermont to the league Thursday. Both the Catamounts men's and women's hockey teams will begin play in the 2005-2006 season.
The announcement was made three weeks to the day after Vermont got the ball rolling with a letter of inquiry. Since then, things fell into place quickly, more quickly than anyone had originally envisioned. Hockey East athletic directors, along with Vermont AD Bob Corran and assistant AD Mike Gilligan, met on Tuesday in Andover, Mass., to discuss it. The plan was approved, and the school presidents ratified the idea.
"We're very pleased," said Corran. "It enables Hockey East to get along with its planning. It certainly enables us to know where we are in terms of what we need to do and just direction the program is traveling in. The process didn't become a very public spectacle."
Bertagna said things went quickly because there was no opposition.
"I can't say that I've gone through this process before, but I expected it would be something where you would hear plusses and minuses, and you'd have deliberation and make a decision," Bertagna said. "I can say with all sincerity here, there wasn't anything that remotely resembled a minus presented in our meetings and our deliberations."
Then Bertagna welcomed Vermont to the league, handing school president Dan Fogel a Hockey East cap.
"Thank you very much," said Fogel. "We will wear this proudly. We are thrilled at the wholehearted welcome we have received from Hockey East and the acceptance of the University of Vermont."
The Vermont men's hockey has competed at the ECAC Division I level since the 1974-75 season. The program made back-to-back NCAA tournament appearances in 1996 and 1997, advancing to the Frozen Four in 1996. The Catamount women are on the upswing as a program after being upgraded to varsity status in 1998-99 and ECAC Division I in 2001-2002.
Vermont remained in the ECAC, despite the split by five schools to form Hockey East in 1984. For the ECAC, this is its first change since Army left in 1991, replaced by Union.
Corran was hired this past summer, one year after Vermont brought in a new president. Gilligan retired just as Corran took over, making the new AD's first move to hire a new coach. That's when the internal deliberations began over what was the best course of action for Vermont hockey.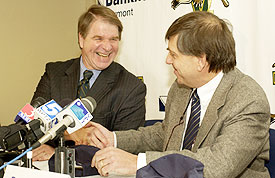 Thursday marked the culmination of those deliberations, a move designed, according to Vermont, to move the hockey program to a conference that has schools more closely aligned with itself.
"We are determined to continue to build on the wonderful qualities of this institution," Fogel said. "We know that to rank with the best, we have to compete with the best, and that's what entrance into Hockey East means to us."
Corran made it clear that there are no hard feelings between the Cats and the ECAC and the team plans to continue its ties to the league with non-conference games.
"The relationship has been wonderful," he said. "We've got great rivalries and a real tradition with so many of those schools, and it's in our best interest to maintain those."
Men's coach Kevin Sneddon believes the switch will be positive for his team, one which has not had a winning season since the late '90s.
"It's a real good fit from an institution standpoint," Sneddon said. "If you look at all the other state schools in Hockey East, it's just a natural fit academically and it's a natural fit geographically." [And] it is an elite conference right now … it's just the reality of the situation."
On the women's side, the Cats become the seventh member school of Hockey East, which began play in 2001.
"I think it's going to be a great challenge for us, but I think we're ready for it," said forward women's team Lindsey Tilbury. "We're excited about joining Hockey East and look forward to playing in the league."
Men's hockey sophomore captain Jaime Sifers is not losing sight of the task at hand, but can also see the importance of the decision.
"We're all excited about it," he said. "Obviously we're trying to focus on winning games in the ECAC. Our team is on the upswing, and we're pretty confident about the future."
Ultimately, Corran said, this move was all about raising the profile of Vermont and its athletic program.
"We have a very serious intent to build a nationally competitive hockey program on the men's side and on the women's side," said Corran. "We really do believe this gives us the opportunity to do so. We have a coaching staff in place, we have plans in place. … The fit is better for us from an institutional standpoint. It provides us some advantages in terms of recruitment. At the end of the day, being in Hockey East is an important piece of our plans."
Reaction around the ECAC was mixed.
"It's kind of sad in a way," said Dartmouth coach Bob Gaudet to the Manchester (N.H.) Union Leader. "But in other ways, things change and the league will be fine and we'll do well, and hopefully they will, too. I like them. I think the world of Kevin. He's going to have his hands full."
Said RPI coach Dan Fridgen, "I think it would be good to add a team to fill that vacancy and keep travel partners, maybe even look at a realignment."
RPI AD Ken Ralph said the league would hold no ill will towards Vermont.
"[Vermont] has to do what they think is in the best interest of the school," Ralph said. "We'll take a look at what our lineup is. It's a great opportunity for us to take a good, hard look at ourselves."