When you consider the accomplishments of incumbents during this Election Year, you'll be hard-pressed to find a better four-year term than the one delivered by Minnesota-Duluth coach Scott Sandelin.
Arriving at Duluth in Fall 2000, Sandelin faced the challenge of replacing Mike Sertich, who coached the Bulldogs to three regular-season championships, four NCAA Tournament appearances, and two Frozen Fours in the 1980s. In response, Sandelin has led a program that now stakes its claim to the title of "Most Improved" over his first four years. Of course, he wasn't the only arrival in the Fall 2000: a freshman from Quebec named Junior Lessard was another key newcomer to Duluth, along with Minnesota native Beau Geisler, a defenseman. Although it wasn't obvious at the time, it's no coincidence that these three began at the same time that the program began its ascent in the WCHA as well as on the national picture.
In the first season for this new trio in Duluth, the Bulldogs posted a lowly 7-28-4 record — the lowest winning percentage that the program had endured since 1968-69. Lessard's debut was forgettable, as he recorded a modest 4-8–12 in 37 games played that year.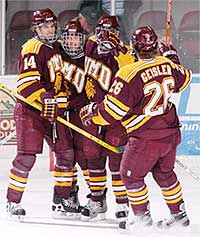 In 2001-02, the turnaround officially began, as the team put up a 13-24-3 record. Lessard blossomed nicely, posting 17-13–30 in 39 games. Last year, the Bulldogs made a true Great Leap Forward, going 22-15-5 and coming up one win short of qualifying for the NCAA Tournament. After upsetting North Dakota in the WCHA play-in game, Minnesota-Duluth had to play their fifth game in eight days against powerhouse Colorado College, only to fall in overtime. Many irate Bulldog fans e-mailed USCHO to vent when the team was bypassed for an at-large bid in the NCAA Tournament, but Sandelin knew that the team had come up short.
"We were close but yet we were still far," said Sandelin. "Because I knew what we had to do — we had to win three games. Looking back, we didn't get in because we didn't win certain games and our strength of schedule within the league was not as good as probably this year. But it was a real positive step."
This year they aren't leaving anything to chance. With a 23-10-4 record, the Bulldogs have already surpassed last year's mark and are currently fourth in the PairWise Rankings. After taking three of four points against Wisconsin last week, the team is assured of an NCAA berth. Lessard is just as much of a lock to be a Hobey Baker finalist, seeing that he is third in the nation in scoring with totals of 23-25–48 in 37 games played.
In light of all these glowing achievements, it appeared to be an opportune time to find out the story behind the program's remarkable rise to the top, starting with last season.
"Last year we had some inconsistencies the first half of the year," Sandelin said. "Obviously the key was getting solid goaltending. Our freshman [Isaac] Reichmuth came in last year and really stabilized that position and gave everybody confidence. We started to play a little bit better in the second half; I think through recruiting we had a little better depth through our four lines. I think those guys really became a team.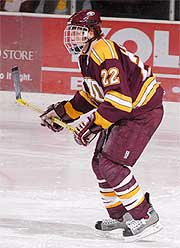 "Things started clicking, and we had that good finish to the year. We had the opportunity to get to our Final Five, and we were certainly close to being in the tournament."
There have been two major factors in this year's success: upperclassmen now comprise the majority of the lineup, and they have had several years together to build great chemistry. Additionally, there have been some stunning contributions from unexpected sources.
"We've got a big junior class," Sandelin said. "We've got four seniors, and we've got our 12 juniors. Certainly when you look at some of the successful teams and programs, you always talk about not being able to win with a big group of freshmen or a loaded group of freshmen and sophomores. That's been a key — that those of guys have gained experience over the years. We've had some different players — kind of like last year — step up and have good years. Guys that maybe you didn't expect last year, guys like Evan Schwabe and Tyler Brosz are having great years for us; Lessard and Geisler, two of our seniors, are having outstanding years for us."
Lessard may get the most ink, but Schwabe's metamorphosis into one of the top scorers in the nation has been an absolute revelation. As a sophomore, Schwabe scored just six times with four assists in 39 games, playing third or fourth-line center. Now he is tied for ninth in scoring nationally with 41 points in 37 games.
"He's in better shape; he showed up ready and is getting a chance to play," Lessard said of Schwabe, his centerman on the top line. "He's such a quick skater and great playmaker, and he also can finish well. Those are probably his strongest parts of the game. I've been playing with him all year, and he's been underestimated a bit–If you don't pay attention to him and give him lots of room, he's going to make you pay."
Likewise, junior Brosz has jumped from 17 points in 31 games to 38 points in 34 games thus far this season. He's also a bit of a character.
"He's a very outgoing guy on the ice," captain Beau Geisler said. "He cracks jokes but then all of a sudden he's down to business and gets right at it. He's a very hard worker, a good guy to have on your team. He makes you laugh and have fun."
Both Geisler and Lessard also mentioned defenseman Tim Hambly as another key to the team's improvement, given that he went from five points last season to 23 to date during this campaign. "He's having an exceptional year, playing great 'D' and getting a lot of points," Geisler said.
There's always those bragging rights, but … I think the guys have taken that in stride really well, talked about getting points against Minnesota than the actual beating them four times.
— UMD coach Scott Sandelin
As Sandelin indicated, though, it may be the stabilizing presence of Reichmuth in goal that helped this team believe that they could hold their own against the likes of Minnesota and North Dakota.
"I think he's pretty spectacular," Lessard said of Reichmuth. "He's got pretty good technique, and most of the time doesn't get himself out of position, but he had such a good year last year and was the main reason for our success at the end of the year. This year he had kind of a tough start, but the expectations for him were so high. After Christmas, he's been outstanding. Every game he gives us a chance to win. The defense feels more confident with him and takes chances they wouldn't have taken before."
While Reichmuth holds the fort in the defensive end, Lessard certainly is the standout on the other end of the ice.
"Certainly this year he's gotten quicker and stronger, and obviously as a senior you have a confidence level from playing a lot of games," Sandelin said. "He's a real leader for us. He's not going to be a dynamic player; we've got a lot of those guys in our league in [North Dakota's] Zach Parise and [Michigan Tech's] Chris Conner — guys with great speed, flashy, dynamic guys. Junior's more of a good strong power forward who can score goals. He's a tough guy to knock off his feet. He gets abused a lot in a lot of games, but he keeps going back into those tough areas. From a team standpoint, when you see one of your leaders doing that, it picks up everybody. He's slowly each year improved his game, and this year is maybe the culmination of all that hard work.
"He usually scores from around 10 or 15 feet; he's very good around the net. He's not a Zach Parise, who can dangle you and beat you one-on-one; Junior's more of a Brett Hull-type player who finds his spots and tries to get his shot off. He's one of those guys who will stand in front of the net and get cross-checked and tip pucks and get rebounds. He shoots the puck very well; those are reasons he's scored 20-plus goals the last two years."
Curiously, Sandelin and the two seniors agree that the turning point of the season was an apparently meaningless exhibition game against the Latvian National Team. Coming on the heels of a tough sweep at Grand Forks against the Sioux, the game gave the team an opportunity to right itself before Christmas break.
"It was a fun game to play; it was obviously important to go into that break winning," Sandelin said. "Guys came back refreshed and ready to go, and things just started to click."
They sure did: The team proceeded to go on a 13-0-1 roll, including a 1-0 win at Denver that Sandelin believed was the key win in the streak.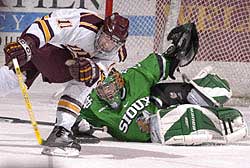 "If you look at the third period, we didn't deserve to win because they outshot us pretty badly with some power plays, and we blocked a lot of shots and did some things I like to see, certainly got some great goaltending," Sandelin said. "I had a good feeling after that game — the excitement in the room — and that kind of carried us through. We won games in different ways, had a great stretch with the 14 games."
One emotional high point of the streak was beating the Golden Gophers twice to complete a first-ever four-game sweep of their southern rivals. Celebrating the sweep, Bulldog fans at the DECC showered the ice with brooms after the final buzzer sounded. But Sandelin downplays the event's significance.
"I think it's better for the fans," Sandelin said. "There's always those bragging rights, but … I think the guys have taken that in stride really well, talked about getting points against Minnesota than the actual beating them four times. But it's certainly been a good topic around our community."
Now the team looks forward to their first national tournament together.
"I don't think we care where we go or who we play," Sandelin said. "Guys are just excited about getting there and having that experience. For me it would just be a real positive step for this program. Once you get in there, you never know. They're one-game shots; you never know how far you can go."
"It's very exciting for us as a team," acknowledged Geisler. "It's rewarding after last year: We knew what had to do; we had to beat CC that night to jump up in the PairWise, but we didn't do it. We kind of knew that we didn't get it. We knew that this year we had to do more: We had to win the little games to make it to the national tournament. This year it looks like we can do it."
However far the team may go, the coach's seniors agree that Sandelin deserves considerable credit for the program's success.
"He expects a lot," Lessard said. "He's pretty fair: If you show up every day and work hard, he's going to give you a chance to play. His system is pretty good, and he got the players to buy into it. Our special teams have been a lot better too. We work hard on them, but we have to give him a lot of credit for that. He knows his hockey really well, and players just follow up on what he says."
"He wants to see us strive to be the best we can," agreed Geisler. "Sometimes he's a little hard on us, but we know it's for a good reason."
Even with Lessard and Geisler graduating after this season, the 14 juniors should mean that the team will be a contender once again — even if the Latvian National Team is not available for a not-so-insignificant exhibition game next December.
Whether or not the Bulldogs make it to Boston for the more important of the two major conventions in that city this year, it's enough to make a Minnesota-Duluth fan chant "Four more years!"