If this weekend's WCHA Final Five served as Alaska-Anchorage's coming-out party, it wasn't for the benefit of head coach John Hill.
"I've been here before," he said after Thursday's win over Colorado College. "I've been to Final Fives, to the Frozen Four. … This is for the players."
One year removed from a dreadful 2002-03 season, UAA drew national attention with a strong start before finishing eighth in a hypercompetitive edition of the WCHA.
But after enduring an eight-game losing streak to end the WCHA regular season, the tank looked like it might be empty. The Seawolves split their final series with Alaska-Fairbanks, losing the Governor's Cup in a shootout, then drew No. 3 seed Wisconsin for the first round of the playoffs.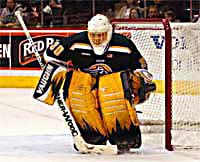 But in that series, Anchorage, propelled by goaltender Chris King, won Games 1 and 3 to shock the Badgers and advance to the Final Five.
The magic continued Thursday night in St. Paul, where the Seawolves topped Colorado College 4-1 to become just the second No. 8 seed in the 12-year-old Final Five era to reach the league semifinals.
And though UAA's longshot run for a league championship was ended by North Dakota Friday, 4-2, the exposure can only help the program.
Right, coach?
"We're in Alaska," Hill noted with the patience of a man who's had to say it many times before. "It's hard for us to get kids from the [lower 48 of the] United States. We have to get kids from western Canada, and even then we get the best kids no one else wants."
Obviously, Hill — a UAA captain in his playing days, and a Seawolf assistant earlier in his coaching career — won't be gulled by the notion that a few postseason wins can transform Anchorage into a recruiting Mecca.
"It's a grind," he agreed, ticking off a list of challenges unique to playing home games in Anchorage, such as the fact that, for their first-round series in Madison, Wis., the Seawolves flew into Minneapolis and then bused five hours to save the WCHA money.
"Those things are always going to be there," Hill said.
After Thursday's win, Hill called out several Alaskan players by name, players who were recruited by UAA but went elsewhere, and expressed a grim satisfaction in the fact that the Seawolves were still standing while the players in question were not.

Hill admitted that his comments might sound "vindictive," but they were obviously born out of a passion for the UAA program. The coach knows well that the Seawolves probably won't succeed by convincing high-profile recruits from thousands of miles away to bring their games to the Land of the Midnight Sun.
"We have to keep our best Alaskan players here," he said.
And with UAA's recruits needing to be a special breed, character plays strongly in Hill's blueprints.
"All of our seniors are going to graduate," he said. "I think it speaks to the character of our kids, and I think what they've done this weekend speaks to their character as well."
Still, playing in front of an Xcel Center crowd couldn't hurt the development of the program and its players.
"It was a wonderful experience," said junior defenseman Lee Green. "For the guys who were here last year, it was great to make history."
"We have a very young hockey team, and I think this experience will only help us in the future," said Hill.
And the folks back home are taking notice.
"I know I had to stay up until 1 a.m. [Central time] because the lead item on the news [in Anchorage] was a telephone interview," said Hill. "People are pumped up, people are excited, and that's a good thing."
As for motivation in Saturday's third-place game, Hill says that won't be a problem.
"It's not a third-place game to us," he said. "It's a game against a really good team, and we want to win. … These are things we have to do to establish some goals and standards.
"My goal, when I took this job three years ago, was for this to be a program that's competitive and respected," Hill said.
The Seawolves are on their way.