Clocking in at 87:19, the game was about six minutes shy of being the longest game in Division III tournament history, with the record of 93:26 set by Union and RIT in 1984. And all 87 minutes were played at a frantic pace, with plenty of great plays by both teams.
"I've never played in a game better than this," said Middlebury senior and Division III Player of the Year Kevin Cooper. Both coaches echoed his comments.
"What a bonus for college hockey fans," said Middlebury coach Bill Beaney. "This is one of the greatest games I've ever been associated with."
"This was as good as any game I've ever coached," said Norwich's Mike McShane.
Get Some Sleep
When a team wins a game as long and grueling as this one was, it makes one wonder how much will be left in the Panther's tank for tomorrow's title game.
"We're not tired at all," said an exuberant Cooper after the game.
"At this point in the season, it really comes down to mental toughness," said Beaney. "We'll be prepared. (The players) will be tired, but they'll look around the room and say, 'I'm not going to be the one to let the other guys down.'"
Still a Long Way to Go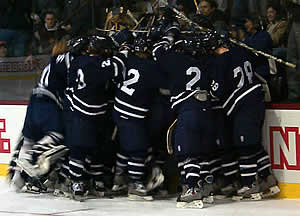 Middlebury dug itself a two-goal hole early, with Norwich's Curtis McLean scoring at the 15 second mark and Andrew Senesi putting one home at 11:22. But Panther goaltender Marc Scheuer was perfect after that, stopping a total of 44 shots. According to Scheuer, the large number of shots he faced worked to his advantage. "When we only give up 15 to 20 shots like we usually do, sometimes it's hard to stay mentally prepared," he said. "But when you get this many shots, you're always in the game."
"Marc exuded confidence after giving up those early goals," said Beaney.
"You knew the game wasn't going to be decided by an early goal or in the first half of a period," Scheuer said. "The team we have can score four or five goals in a period."
Home on the Road
The Panthers will play in their sixth NCAA championship game; they're undefeated in the previous five. In each case, Middlebury has either been at home, or on neutral ice with the home team losing in the semifinals. The Panthers have never had to face the home team in a title game and won't again this season, this time taking out Norwich in the semis.
Middlebury was the home team in this game, even though the Panthers wore their road jerseys and used the visitor's bench. As the higher seed, they could have had the home bench as well, but opted against it.
"They elected to do that," said Marian head coach Chris Brown, a member of the NCAA Division III Men's Hockey Committee before the game. "They're the home team on the scoreboard and get the last change." Middlebury may have elected to avoid the controversy of last year when St. Norbert head coach Tim Coghlin insisted on having the home bench and wearing white against Norwich in their semifinal game at Kreitzberg Arena. The Green Knights were seeded higher than Norwich and had that right, but it caused a stir.
Middlebury will be the home team in the title game against St. Norbert as the In-Region top seed gets that designation.
103 and Counting
This was the 103rd meeting between these two rivals in a series that dates back to Norwich's first varsity season in 1950. The teams have played at least once every season except for 1981-1982. Middlebury leads the series 53-47-3.
The teams had only met once before in NCAA tournament play, a 5-2 Norwich win at Middlebury in 2002.
Fastest goal?
Curtis McLean's goal just 15 seconds in had everyone in press row reaching for their NCAA record books. It wasn't the quickest goal in Division III history. Fredonia's Jeff Lupu scored just 8 seconds into the game against Wisconsin-River Falls in 1994.
His and Hers
For the first time in Division III history, a school's men's and women's team will each play for the national championship. The Middlebury women's team defeated Plattsburgh 2-1 today to earn a spot in the title game. The Lady Panthers will take on Wisconsin-Stevens Point at Kenyon Arena tomorrow.