Stan Moore will talk to you about music, and he'll be happy to talk about his exploits in pick-up basketball games.
"I think I'm a pretty good passer when we play noontime basketball," Moore said. "If I have to shoot, I will. But I'll look for the guys who play half-court. and find them in the long stretch."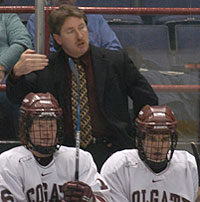 However, getting Moore to talk about himself isn't easy. His wife, Barb, believes he is deprecatory when he has to describe himself. But the 47-year-old Moore doesn't have to apologize for the job he's done this season as Colgate's interim head coach. The Massena, N.Y., native guided the 13th-ranked Raiders (21-11-5) to their first ECAC regular season title since 1990, and is trying to get Colgate its first tournament title since that time as well.
The result of it all was Moore's selection as 2003-04 ECAC Coach of the Year, which is notable for more than just the award itself. Moore is the first interim coach to take the honor since the award was instituted in 1987, and the first to do it with two different teams; Moore won the award in 1997 after leading Union to an 18-13-3 record in his first year as a head coach.
"He's clearly done a good job," said Colgate head coach and interim athletic director Don Vaughan. "There was a good foundation in place. Not to take anything away from the job that they've done. It was good team with a lot of leadership, and he was able to just bring it forward because he knew them so well, and vice versa."
Moore was named the interim head coach Sept. 19 when Vaughan was asked to serve as interim athletic director. Colgate has been without a permanent AD since Mark Murphy left last spring.
Even though there was less than a month before the start of the season, there was plenty of time for Moore to worry.
"The pressure that I felt was placed squarely on my shoulders, by me, to try and make sure that I took a team with talent and move them to another level," Moore said. "I didn't know how far they would move, and I don't know if they did, either, since they had to make adjustments to the change in the coaching staff.
"I wanted to return the program in a good place for Don because he asked me to do this for him while he took over a very difficult position as the interim AD. It certainly clearly wasn't his choice to leave the coaching. I think he felt we were going to have a pretty good team."
Vaughan has already announced his intentions to return behind the bench next season. As a result, the most remarkable thing of all, perhaps, is that there will be a two-time ECAC Coach of the Year hanging out there next year, working as an assistant.
"I have no problem with it at all," said Moore, an easy-going, thinking man's coach known to wax philosophical during interviews. "My job, in my opinion, is to make the transition as easy as I can for Don in whatever way that happens to be. If he doesn't need any help in that regard, he doesn't get it. I go about my business for the duties that I have set before me, and I try to do the best job that I can if I'm going to return here next year."
After finishing in a tie for seventh place with Clarkson last year, expectations weren't high for Colgate, which was picked to finish eighth in both the coaches and media preseason polls.
So much for those predictions.
"The way the league is, I don't know if anybody envisions anybody being in first place," said. "It's very easy to sit and prognosticate in September about what's going to happen. But if people are going to leverage their homes and their cars and their boats on stuff like this, the prognostications kind of get limited after a while. People are less likely to make those bold predictions. Why? Because it's the beauty and the beast of our league. Our league is very competitive, and especially down the stretch, it's very competitive."
Moore spent two years as Union's head coach. The 1996-97 team finished fifth, the program's highest finish ever. But after a 6-22-4 record and a last-place finish with a young team in 1997-98, Moore was unhappy. Some said Moore was stifled by the philosophy of Union's athletic program. An opportunity for him to return to Colgate as Vaughan's assistant arose, and he jumped at the chance.
"I wasn't happy. My wife clearly saw that I wasn't happy," said Moore. "It's not pointing the finger at Union, saying they made me unhappy. I made the decision that I was unhappy. I was having difficulty adjusting. I needed to be in a better place so that I could go to work with a smile on my face. Coming back to Colgate was what was positive for me.
"I had a very valuable experience at Union. I met some great people at Union. Sure, I miss that. My wife and I talk often about Schenectady and the idiosyncrasies of the city, and the people that we worked with at Union College. That will never change."
Meanwhile, Vaughan and Moore were reunited, happily. There aren't any egos involved with the two. They have worked together behind the Colgate bench for nine years, and are great friends.
"Stan and I worked together closely for a number of years," Vaughan said. "I said right from the outset that I wouldn't have even considered taking the role [as AD] that I took on this year, at the president's request, if I didn't have every confidence that Stan could do the job. He's done that, and then some."
But it may not be easy to keep a two-time Coach of the Year around as your sidekick.
"Clearly, I would not want to lose him," Vaughan said. "But at the same time, I would never hold him back obviously, nor could I, if he had that opportunity. I think Stan Moore should be a head coach in this league, or at the Division I level. I'm hoping, and I'm sure he is at some point, that the right opportunity will come along. I will support him in whatever he wanted to do. He's a great coach.
"He's happy here. There's not a lot of egos involved. He has a lot of responsibilities. I think I delegate appropriately, and he feels fulfilled. But maybe after this year, that may be a question for Stan. He may, at this point, be looking for something."
Adam Wodon contributed to this report.