You should never bench your captain.
On Feb. 13, Harvard coach Mark Mazzoleni made one of the toughest decisions that a skipper can do. He told his team's designated leader, the player his own teammates voted to wear the prestigious Harvard "C", not to play. Kenny Smith watched his teammates lose 3-2 at home to Rennselaer. Smith had already sat once this year over Thanksgiving against Boston University.
At the time, Mazzoleni was not benching Ray Bourque. Smith had a full stake in a Crimson team that decidedly underachieved in the first half. At home against Cornell, his stick got lodged in a linesman's skate. Bewildered by the jam, the Big Red swooped behind up on an odd man rush and Matt Moulson scored the game-winning goal.
After Harvard lost, 3-1, to Northeastern in the consolation of the Beanpot, Mazzoleni had seen enough. The captain sat, again.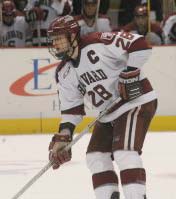 "I was scratched twice this year," Smith said. "We have a tremendous defensive corps and it doesn't matter that I have the 'C' on my jersey, but it was tough. It was a difficult challenge to try and be a leader in your locker room and come out and play your hardest."
Smith had received quite an education in adversity in Cambridge. Entering a program that had not had a winning season in six years, things did not go well at the onset for Smith.
Extrememly hyped as a recruit, Smith broke his leg at the start of his rookie season. He was paired with future Harvard captain Pete Capouch for the second half of the year, but managed just two assists in his inaugural campaign.
That was quite the package deal. After overcoming an injury, he played alongside a human testament to overcoming adversity as Capouch stood as a rock for the Crimson defense, standing all of 5-foot-6.
"I got to play in a lot of pressure situations because we were a little thin on the blueline," Smith said. "Playing with Pete Capouch was just a tremendous opportunity I learned a lot from him and I think there were time this year when I tried to model what I would do as a captain on what he would do."
His sophomore year was an exercise in handling playoff overtimes. The Crimson won the postseason championship by winning three straight overtime games in the final Lake Placid tournament, culminating in a double overtime thriller against Cornell.
It was more of the same his junior year, with that season ending in the Big Red extracting its revenge in the ECAC finals, in overtime, of course after tying up the score in the final minute of the game.
For this season, in which Harvard would be the clear preseason favorite to win the conference, there was only one real choice as captain.
"We allow our players to pick the captain," Mazzoleni said. "It was a landslide. That speaks volumes for what Smith is as a person and as a leader."
Regardless of the personal affinity Mazzoleni expressed for his captain now, that did not prevent Smith's trip to the doghouse back in February. The gauntlet had been dropped.
"This year has been a challenging year for us," Mazzoleni said. "I think this challenge has made us hardened that we had to be more attentive to detail and do the little things that we had not been doing."
Smith claims that he never felt his ability to be the captain had been questioned, but at this moment, the captain needed his soldiers.
"The way the guys are, it was never a question in their eyes with my leadership. I just went as hard as I could and tried to stay in the lineup," Smith said.
Smith returned to the lineup and Harvard smothered Union, 3-2, the following night with the defense allowing just 19 shots on net. The Crimson allowed just one goal the next game at Clarkson. In fact, after that fateful night against the Engineers, Harvard would lose only one more game.
By the time Harvard had reached Albany, Smith's stature had finally reached the proportions that Capouch's did. In the semifinals, Mazzoleni made an effort to match him against Dartmouth's fearsome top line. After Clarkson opened up a 2-0 lead in the first period in the finals, Smith's defense held the Golden Knights to just six shots the rest of the way.
And with 38 seconds remaining in the game, Smith lined up behind the center for an offensive zone draw. The play was designed for Brendan Bernakevitch to win the draw to junior defensman Noah Welch with Smith playing the unsung role of clearing out the wingers so Welch's shot would reach the net.
Instead the puck came right to Smith, the team leader knew what to do.
"I was not going to pass up a shot from that spot," he said.
Top shelf. Harvard 3, Clarkson 2.
"Kenny getting that goal was very fitting. I cannot think of a more deserving person than him," Mazzoleni said.
You should never bench your captain. He just might win you the ECAC Championship.