In Colorado Springs, Colo., it's the regional of Three Mild Disappointments and One Big Smile.
North Dakota lost a third-period lead and the Broadmoor Trophy to Minnesota in the WCHA championship game; Denver sat out last weekend after getting swept at home by Colorado College in the WCHA first round; and Miami dropped an overtime decision to Ohio State in the CCHA semifinals two weeks after losing out on the regular-season championship as well.
Then there's Holy Cross, making its first-ever NCAA appearance after a double championship in Atlantic Hockey. The Crusaders' reward? A matchup with the top overall seed, the Fighting Sioux, who are not liable to be in a charitable mood Friday.
In just a few days, the West Regional went from one potential plot — could host Colorado College make the NCAAs, and be placed at home for the tournament? (No, it turned out) — to another, when Miami ended up as Denver's first-round opponent, providing a bench battle of former coach (DU's George Gwozdecky, once boss of the RedHawks) vs. former player (Enrico Blasi, a Miami standout under Gwozdecky and now the RedHawks' head man).
The other subtext will be to see how Atlantic Hockey's regular-season and tournament champion fares against a high-powered opponent of UND's ilk. Remember, the then-MAAC's first-ever NCAA representative, Mercyhurst, led Michigan in the third period before falling in the 2002 tournament.
North Dakota vs. Holy Cross
Friday, 5:30 p.m. Mountain, World Arena, Colorado Springs, Colo.
North Dakota Fighting Sioux
Record: 29-7-3, 20-5-3 WCHA (first)
Seed: No. 1 overall, No. 1 West
How in: At-large
2003 NCAA tournament: lost in first round
The third period had been North Dakota's time all season. Scored 70 goals, allowed 23. Many opponents' chances at getting back in the game were crushed by a UND offensive surge in the final 20 minutes.
Then last Saturday happened. The Sioux entered the WCHA championship game against Minnesota with a one-goal lead. They left with a one-goal loss and having allowed five goals in the game.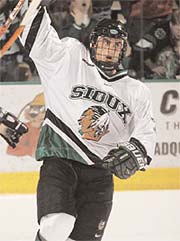 Sure, Minnesota's offense does that to teams, especially when the game is as open as Saturday's was. But was that an opening for Sioux opponents?
Not as far as the North Dakota players and coaches are concerned.
"There's no reason to panic," UND coach Dean Blais said. "We'll just have to pull it together."
The Sioux enter the NCAA tournament as the No. 1 overall seed and with a first-round matchup against Holy Cross. It's on the non-preferred Olympic-sized ice sheet of the World Arena in Colorado Springs, but the Sioux don't see much reason to start changing things now.
The loss to Minnesota ended a nine-game winning streak.
"I think we've been playing our best hockey of the year right now, and if it's not broken, don't fix it," UND forward Zach Parise said. "I don't think we need to really do anything different. We have to limit our turnovers — we had a couple costly ones, and I think that gave [Minnesota] two goals. If there's anywhere to look, that's where you have to start, but we don't need to start pointing fingers at anyone.
"We're going on all cylinders right now. It's just, you can't win all the games. I think it's a little wake-up call for us to know that we are beatable if we don't bring our game. Hopefully we feed off that. We've got 25 guys that are really disappointed right now and really upset. We're going to be on a mission."
Even if this is an adverse situation for North Dakota, the Sioux have done well before in those positions.
They went to Minnesota-Duluth in the penultimate weekend of the WCHA regular season and swept the Bulldogs, taking the MacNaughton Cup home on the bus with them. They hadn't quite won it yet — they needed to beat Michigan Tech the next weekend, which they did — but they prevented UMD from winning the regular-season title.
"We can compete when the pressure's on," Blais said. "It was one thing to go into Duluth and win two games there and win the MacNaughton Cup, basically. … That was a huge win, a huge statement."
The Sioux played an up-tempo game against the Gophers on the small rink at Xcel Energy Center in St. Paul, Minn., but they'll have a harder time doing that on the large sheet at the World Arena. UND is 5-3-1 on 200×100 rinks this season, although the Sioux didn't play at Colorado College.
It's clear they prefer a smaller sheet, but that wasn't their fate.
"At this time of the year, you have to play either," said forward Brandon Bochenski, who leads the team with 26 goals and 58 points, "and we'll be ready."
Said Blais: "The Olympic-sized ice sheet doesn't bother us. We played very well on the Olympic-sized ice sheet. It's different than other North Dakota teams that maybe didn't skate so well, just a few years ago.
"I think we're going to be fine."
Holy Cross Crusaders
Record: 22-9-4, 17-5-3 Atlantic Hockey (first)
Seed: No. 16 overall, No. 4 West
How in: Atlantic Hockey tournament champion
2003 NCAA tournament: none
"We're ecstatic."
Simple words from Holy Cross head coach Paul Pearl for the culmination of his team's season.
Indeed, ecstasy is an emotion hard to miss when you watch the NCAA selection show and hear your school's name called for the first time in program history.
That feeling, though, could quickly turn to "What have we gotten ourselves into?" when you're expected to face off against the tournament's number-one overall seed, North Dakota. Still, with a daunting task lying ahead, Pearl and his club don't seemed fazed.
"It's a milestone for our program. It's our second league championship in six years so we're going in the right direction as a program," he said.
"It's still only a hockey game," Pearl added. "We are ecstatic to get the chance to play a storied program as [North Dakota]. We couldn't get these guys on our schedule if we tried, so this is just money in the bank for us."
The fact that Holy Cross is playing in the national tournament is the capper on a near-perfect year. The Crusaders waltzed through the Atlantic Hockey regular season as wire-to-wire champion, then proved skeptics wrong when they suggested that the top seed would struggle in a single-elimination tournament format.
Instead, Holy Cross went out and held its three opponents to just one goal, total.
"These kids have all worked very hard [to win the tournament and advance to the NCAAs], so it's a great feeling," said Pearl. "It validates the regular season and the playoff system."
Now with the best team on paper waiting for Holy Cross in the West Regional semifinal, Pearl makes it clear that his team isn't willing to rest on its laurels.
"We're not just satisfied to be there. We're going out there to compete," said Pearl. "We're trying to compile as much information as we can about [North Dakota]. We know they have a good team and we'll do our best to get ready for them."
As far as keys to the game, Pearl highlights a need for speed, particularly on an Olympic-sized ice sheet with which Holy Cross isn't very familiar.
"We're going to have to skate," said Pearl. "It's a big sheet of ice out there, and we know [North Dakota] is going to be quicker than us. So we'll have to [skate] well and take away as much of the middle of the ice as we can."
Though some supporters feel otherwise, Pearl was glad to be heading as far away as Colorado Springs to play.
"If we played in [the Northeast Regional] in Manchester [N.H.], there would've been hoopla beyond belief," said Pearl. "We would've had a bunch of things that we're not used to like ticket requests, major media attention and such. We'll still have a few of those but not many."
Playing West, though, hasn't kept the Crusaders — and Pearl — from getting the attention they deserve.
"I didn't answer the phone for three hours [Monday] and afterwards there were 33 messages," said Pearl. "I spent my entire day answering emails."
And that's just for qualifying for the tournament. Should the Crusaders win, the college may have to buy a communications system to handle the volume.
Denver vs. Miami
Friday, 9 p.m. Mountain, World Arena, Colorado Springs, Colo.
Denver Pioneers
Record: 23-12-5, 13-10-5 WCHA (T-fourth)
Seed: No. 7 overall, No. 2 West
How in: At-large
2003 NCAA tournament: none
George Gwozdecky was listening to an NCAA men's basketball pundit go on about how the hoops tournament was going to be a guard's tournament.
There's an easy comparison, in his mind, to the hockey tourney.

"Maybe this sounds obvious, but maybe moreso than ever, I look at the hockey tournament and I think our regional is typical of that — this is a goalie's tournament," Gwozdecky said. "The goaltenders who have the experience have a little bit of an edge. The bottom line is it's going to be the goaltenders who control the fate of their teams in the tournament. Whoever blinks first is going to be struggling."
The Pioneers had what appeared to be a goaltending crisis in their last series, but Gwozdecky won't make much out of it. Senior Adam Berkhoel was pulled from his last game, a 6-1 loss to Colorado College in Game 2 of their WCHA first-round playoff series, after allowing three goals on 13 shots in just under one period of action.
But Gwozdecky said he still has full confidence in this goaltender.
"There's no question he's back on track," Gwozdecky said. "Pulling Adam in that second game was not based on how he was playing. It was a signal to the team that we weren't playing very well in front of him. Adam's back on track. He's the old Adam Berkhoel that everybody knows and respects."
Berkhoel will have to be back to form to get the Pioneers through their first-round game against Miami. But Denver has what could be an advantage — maybe — on its side this weekend.
The Pioneers were placed in the West Regional, which is being played at the World Arena in Colorado Springs. That's just 68 miles from their Magness Arena home in Denver, and they should have quite a few Pioneers fans in attendance.
Plus, Denver has three players — forwards Luke Fulghum, Jeff Rogers and Scott McConnell — from the Springs on its roster.
But it's not clear what kind of reaction the Pioneers will get from what figures to be the majority in attendance — Colorado College fans.
"It's hard to say, but I will say this: There's no question that there's going to be CC fans there that know our rivalry and appreciate the intensity and emotion of it," Gwozdecky said. "But at the same point in time, there was no bigger support group this past week than us for CC. We really wanted to see the Tigers be able to get into the tournament because of a number of reasons.
"For the benefit of our league; I think it would really enhance the attention college hockey would have gotten here in the state of Colorado if Denver and CC were in the tournament. A lot of those things would have been good. It's rare that we pull for CC, but at the same point in time, through the WCHA Final Five last weekend, we were pulling for them in a big way."
So how about a little something in return, right?
"I think it'll be very challenging and difficult for a fan of Colorado College to all of a sudden realign their allegiances to the Pioneers," Gwozdecky said. "[But] the WCHA is something that perhaps comes first, we'd like to think. Although maybe they're not going to be standing up and cheering, at least perhaps they can clap when we make a good play or something."
The Pioneers will continue to play without senior forward Connor James, who is second on the team with 35 points. He's out with a broken leg, though there has been speculation he might be able to play if the Pioneers advance to the Frozen Four.
And they might play with a little rust after having last weekend off. The series loss to CC gave the Pioneers some unwanted time to themselves last week.
They practiced Wednesday through Friday, then got back on the ice after finding out their tournament fate on Sunday. Gwozdecky was relieved to avoid the issues that some teams have faced this week, in finding flights. The bus ride to the Springs will be just fine.
And Gwozdecky can only hope the rest his team got last week won't put them too far off their game.
"It was very helpful," he said. "We had a lot of guys who got some rest that was very much needed."
Miami RedHawks
Record: 23-13-4, 17-8-3 CCHA (second)
Seed: No. 10 overall, No. 3 West
How in: At-large
2003 NCAA tournament: none
The Miami RedHawks held the top spot in the CCHA standings for nine straight weeks during the season before being ousted by Michigan. The race for the title was so tight that it came down to the very last period of the very last game played during the regular season, between the RedHawks and intrastate rival and clustermate Ohio State.
Midway through the third and after senior forward extraordinaire Mike Kompon (14-31–45) had tied the game, 4-4, with back-to-back goals for Miami, the RedHawks heard the news: Michigan State had beaten Michigan, and two points would give Miami the title outright.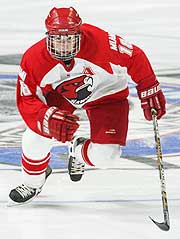 The Buckeyes, however, had other plans. Lee Spector scored the game winner at 18:49, and Miami finished second, one point behind the Wolverines.
"To come so close and not get it is disappointing, obviously," said head coach Enrico Blasi at the time, "but … now we're playing for another [CCHA] championship, and it starts Friday."
Again, the Buckeyes had other plans. With the first-round bye for the CCHA Super Six, Miami was well-rested for its semifinal game against OSU, which had played an all-out, grinding 70 minutes the night before in a 6-5 win over Notre Dame to advance to the semifinals.
Miami went up 1-0; OSU answered. And again. And again. The Buckeyes had the final say 23 seconds into overtime, when J.B. Bittner kept the RedHawks from the possibility of a postseason title.
"It's a tough way to lose," said Kompon, who had faced OSU a total of six times during the 2003-2004 season. "It hurts. You win some, you lose some."
"You play six times in a year and you go three and three," said Blasi, "there's emotions, some familiarity, maybe even some caution. I don't know that we did, but that may have been due to what OSU was doing, too. They did a nice job on Edwardson's line."
The RedHawks won a bunch in the most tightly-contested CCHA season in living memory, in large part due to Kompon and two of his classmates, Hobey Baker finalist Derek Edwardson (17-31–48) and Greg Hogeboom (19-23–42), a trio of players Michigan State head coach Rick Comley dubbed "the best one-two-three punch" in college hockey.
But the RedHawks wouldn't be where they are if all their efforts were concentrated by one class, or even one line. Kompon, Edwardson, and Hogeboom do not play on a line together — Kompon and Hogeboom do — and Miami has talented underclassmen that contribute to an all-around team game.
Freshman forwards Matt Christie (21-14–35) and Marty Guerin (13-19–32) are fourth and fifth in team scoring, respectively, and junior Todd Grant (15-11–26) came on in the second half of the season, scoring the game-winning, overtime goal in Miami's first-round CCHA playoff series with Lake Superior State.
Add a consistently tough defense led by sophomore CCHA all-tournament pick Andy Greene (7-19–26) and good goaltending by freshman Brandon Crawford-West (2.48 GAA, .901 SV%), and you have a team that was bound for the NCAA tourney from the start.
And this team can flat-out fly, so the big ice surface of the World Arena may not be an issue for the RedHawks. This is Miami's first appearance in the NCAA tournament since 1996-97, and the RedHawks' third overall.
The first game pits Blasi against his former coach and old friend, George Gwozdecky. The RedHawks are 1-3-0 against the Pioneers; Denver beat Miami, 6-0, last year in the Denver Cup.
"We're excited," said Blasi. "It's been one of our goals all year. Now we're here. Now it's a matter of leaving it all on the ice."