UMD coach Shannon Miller was back at the NCAA women's Frozen Four on Thursday, but in an entirely unfamiliar role. She was sitting in the back of the press room watching questions being answered instead of taking them herself.
UMD has won all three NCAA championships contested but just missed the NCAA cut this time around. That doesn't mean the participants have no championship winning experience: both Harvard (1999) and Minnesota (2000) each took one of the first three national titles sponsored by USA Hockey under the AWCHA designation. But the prestige of winning an NCAA title is unique to every women's hockey team outside of Duluth.
The four teams would like to duplicate the excitement and atmosphere of the 2003 Frozen Four, but they'll be hard-pressed to achieve that given that the Dunkin' Donuts center is twice the size of the 2003 host Duluth Entertainment and Convention Center. And unlike a year ago when the hosts were the top seeds and defending a third straight title, the nearest team comes from about an hour away.
But even if the stands are not as packed, the competition on the ice should be as intense as ever. All four teams praised their depth, their senior leadership, and their effort and unity. They will look to bring women's college hockey at its finest — a game of high stakes, strength, skill, speed, teamwork and determination unlike any other.
No. 1 Minnesota (28-4-2) vs. No. 4 Dartmouth (24-6-2), 5 p.m.
Given that seven weeks have passed since Dartmouth and Minnesota split a series at the Gophers' Ridder Arena, it's no surprise that the coaches are saying that a lot has changed since then. In this series, it's true even in the personnel.
In the two most recent meetings, Dartmouth was missing second-liners Katie Weatherston and Meagan Walton to the Canadian Under-22 team. Those two will be back this time, but now first-liners Cherie Piper and Gillian Apps are out with the Canadian national team. On the other side, the Gophers have since welcomed back U.S. Olympian Natalie Darwitz from an elbow injury, but they'll be without freshman defenseman Danielle Ashley for the season.
The lineup rotations suggest there aren't a whole lot of conclusions to be drawn from the two regular season meetings, but Minnesota coach Laura Halldorson chooses to draw one — because the two teams split before, it should be a great game on Friday.
This weekend Dartmouth will use a lineup similar to that of its sweep of Harvard and Brown in February (Piper was out that game). One line will feature tri-captain Lydia Wheatley centering tri-captain Sarah Clark and Katie Weatherston. Tri-captain Meagan Walton will center Tiffany Hagge and with Apps out, Danielle Grundy will move up.
While Apps and Piper's absence obviously hurts the Big Green, the team still features its top scorers in Hagge and Weatherston. And against the tougher opposition this season, players like Clark and Wheatley have come up big.
Wheatley is playing in her second straight weekend since injuring her foot off the ice in late February. Having already battled back from two knee injuries in her junior and red-shirt senior seasons, she said there was never doubt she would be back from this latest malady.
Dartmouth coach Mark Hudak can see the positives in juggling the lines one more time.
"From the coaches' perspective you wonder how your team's going to adjust to change, but I think at this time of year it's good to have some change because you can refocus on what you have to do," Hudak said.
The most salient area where Dartmouth needs to refocus is the penalty kill, which ranks 11th nationally. St. Lawrence burned the Big Green for three power play goals, and the nation's top ranked power play from Minnesota won't be any easier to stop.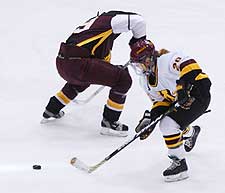 Another area in need of improvement has been goaltending. Sophomores Steph Cochran and Kate Lane have been splitting time in net lately for the Big Green, with Cochran going first and Lane going second. Lane didn't get her chance last week. Given that Lane hasn't lost all season (7-0-1, 1.17 GAA, 0.938 save pct.) she might get the nod in the semifinals.
Lane hasn't faced an offense of the caliber of the Gophers, who have been on a tear offensively since Darwitz's return. The bigger question mark for Minnesota will be the defense, which features four sophomores and a freshman and lacks the experience of the Gopher goaltending and forwards. But it's been so far, so good on the blue line.
"Obviously, we lost a couple players back there," Halldorson said of the Gopher D. "The younger kids that will be out there this weekend will have to step up, and they've done that over the last few weeks."
In net, Minnesota is expected to go with Jody Horak, who has been playing strong lately. She's winless in two Frozen Four semifinals, but she has shown greater mental strength as of late. In particular, Horak shut down UMD for nearly the entire WCHA final, despite giving up a goal after inadvertently leaving the net on a Minnesota penalty.
The Gophers are the favorite on paper, but they aren't taking a win for granted. The last team to enter the Frozen Four as top seed after the jubilation of winning a conference title on their home ice was Dartmouth in 2001. Any women's college hockey fan of four years knows what happened to that team.
"I don't think we see ourselves as a top seed," said Minnesota co-captain La Toya Clarke. "There are four teams here, and anyone could win it. I don't really see us with a lot of pressure on us. We just need to deal with the game as we have all season."
No. 2 Harvard (29-3-1) vs. No. 3 St. Lawrence (27-9-1), 8 p.m.
The second semifinal matchup pits two teams that played each other just last Sunday in the ECAC finals, and there's plenty of reason to dub Harvard the favorite — the Crimson is 6-0-2 against the Saints in their last eight meetings dating back to 2001, Harvard has won by 5-1 and 6-1 margins in the last two meetings, and St. Lawrence just lost its leading scorer Gina Kingsbury to the Canadian national team.
But as usual, nothing's a given, and Harvard will have to bring its game to move on.
"We are happy to be here, and it doesn't matter who we are playing at this point," said Harvard coach Katey Stone. "We hope to play the way we did last week, even better. It's up to us."
St. Lawrence coach Paul Flanagan noted after Sunday's game that his team broke down and abandoned the systems that had brought the Saints their prior success.
"Our inability to get anything going was two-fold," Flanagan said. "Harvard played a fantastic game. They had a tremendous amount of energy and were well prepared. We didn't have a lot of energy."
The remedy to that problem? "First and foremost on our minds this weekend is generating that enthusiasm and energy. We've got to have some fun, get out there and generate excitement in the locker room. If you don't have that, it doesn't matter how good your players are, how many points they've scored. You have to go out there and play the game that you love. It's the Frozen Four."
Still, St. Lawrence has plenty to improve on.
If Harvard's shown any weakness over winning 16 of its last 17 entering the tournament, it's in its early game finishing struggles. For five straight weekends, the Crimson has needed at least 30 minutes of the first game to score two goals. That said, Harvard typically has not allowed goals over the same stretch.
"We do sometimes take a little of a bit of time, but I think that the energy was there," said Harvard co-captain Angela Ruggiero of the 2-1 double overtime win over Brown in the ECAC semifinal.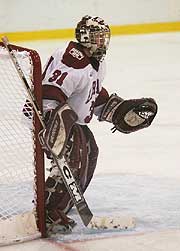 If games are tight down the stretch, Harvard can rely on third line, which has consistently limited opposition's scoring threats and suddenly emerged as an offensive threat.
All-ECAC goalie Rachel Barrie will look to silence the Harvard attack, but she has gone just 1-7-2 with a 4.03 goals against average and an 0.889 save percentage in her career against the Crimson. She did nearly steal a point against the Crimson back in February when she stopped 43 of 46 shots in a 3-2 overtime defeat.
On the Harvard end, Ali Boe has not given up more than a goal in seven games. Harvard has allowed fewer than two goals in almost 75 percent of its games this season.
More good news for the Harvard defense is that Ashley Banfield, five days removed from a head injury, was practicing again on Thursday.
"She is a lot better than she was," Stone said of Banfield. "She is recovering much faster than we imagined, and you may see her. We're not sure yet."
This national championship is the first Harvard has ever played in [nl]New England. Its three previous appearances have been in Minnesota. The Crimson will look to make the most of the opportunity.
"We have this joke that we don't compete in national championships that we can drive to, so it's nice to be here," Stone said. "It's going to be hard to duplicate what happened last year, though we'd like the change the outcome of last year."