Harvard, a school steeped in more tradition than perhaps any in the land, dipped into its illustrious past to announce Ted Donato as the 11th coach of the men's hockey team.
Donato, a former Boston Bruin and the MVP of the 1989 Frozen Four — Harvard's only national championship season — took the podium at Harvard on Friday amidst a university excited to have one of its own return home. The Boston-area native reciprocated, accepting the position despite having the ability to continue his NHL career and having no coaching experience.
"Harvard is a very special place for me," Donato said. "I will do my best to embrace the history and tradition of Harvard hockey. This day ranks as one of the greatest days in my life, up there with getting drafted by the Boston Bruins and winning a national championship."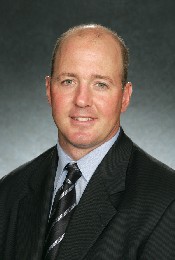 He expressed no regrets about hanging up his skates in order to take the coaching reins.
"With me at the twilight of my playing career, the stars became aligned when this job opened up," Donato said. "I got my resume in [as soon as I could]."
Donato represents a direct link to the halcyon days of the Crimson program. He graduated in 1991, a year after the end of the Bill Cleary era, the school's most successful. Harvard's 1989 national championship was the culmination of a decade in which the Crimson reached the finals three times and captured three Hobey Baker Awards.
His track record at the school gave him an advantage in an expedited coaching search that began when Mark Mazzoleni resigned on June 16 for his own homecoming, taking over the USHL's Green Bay Gamblers. Athletic Director Bob Scalise quickly zeroed in on his man.
"When Mark resigned we wanted a streamlined process and we took resumes from a lot of people with connections to the Harvard program, including former assistants," Scalise said.
"I wanted to look carefully for someone who had three criteria. First, he had to have credibility in the hockey community. Second, he had to combine Harvard's philosophy of excellence in athletics and academics. Third, he had to be a role model not only for our student athletes, but for the greater New England area. Ted is all three."
Scalise would not comment on what other candidates interviewed for the job.
After graduating from Harvard, Donato first was a member of the 1992 U.S. Olympic Hockey Team. He spent eight years with the Boston Bruins (with a brief layover in Finland during the NHL lockout), but has been well-traveled throughout the NHL, playing for 12 different teams since then, including some time in the AHL. For his career, he is 11th all-time at Harvard with 50 goals and 94 assists, and had 150 goals and 197 assists in 796 NHL games.
With Donato's lack of coaching experience, the obvious mentor for him is Cleary, his old coach. While Cleary will not be coming out of retirement, Donato knows he has a very knowledgeable — and vocal — guide.
"I've talked to a lot of people about what this job is going to entail," Donato said. "I look forward to Cleary terrorizing me after games."
Donato can especially expect an earful from the member of the U.S. Hockey Hall of Fame because he plans on imitating his style on the ice. Many at Harvard see him possessing similar attributes to his coaching mentor.
"When you look back at Coach Cleary and see his fast, highly skilled entertaining style of hockey, it's hockey the way it was meant to be played," Donato said. "It's a great recipe for success."
Cleary certainly endorses the selection.
"You can coach someone on how to coach, the X's and O's, but you cannot coach how to deal with a particular player," Cleary said. "The ability to communicate is the most important thing for a coach, and Ted has it.
"Imagine Ted coming to a house of a young recruit and he not only has had such success on the ice, but also knows all about what it means to be a Harvard student-athlete. What better guy would you want in that role?"
Unlike the last time Harvard had to hire a coach, Donato inherits a program on the upswing. Mazzoleni left him a team that has qualified for the NCAA tournament in each of the past three years and won the ECAC championship in two of the past three.
"We are all very excited about the selection of Coach Donato," said Noah Welch, who will be the captain of next year's team. "Some of the guys had a chance to talk to him earlier this week and when I emailed everyone last night about the selection, the reaction was very positive. Hopefully, he's going to be the guy that can get us to break through at the NCAA tournament. After all, he's done it."
What Donato has not done, however, is coach a game. There are not many examples of going right from the NHL to a top college position, with the biggest exception being Dave Poulin at Notre Dame.
Donato has already placed a call to learn about Poulin's struggles in making the transition.
"I would never fail to underscore that I have not coached a game," Donato said. I don't want to say we are going to do this or do that. But I share the same goal as all hockey players do. That is to win a national championship — and do it the right way."
Speaking with a trademark Boston accent, Donato exudes the sense of a person who understands the role of Harvard hockey in the Boston community. His old Bruins coach Mike Sullivan — a graduate of Boston University — was present to lend support, as well as several former teammates, including his classmate and the player who scored "The Goal" for Crimson hockey, the overtime national championship winner, Ed Krayer.
"Nobody has asked me for Beanpot tickets yet," Donato joked.
Harvard has had only six coaches since World War II, but three in the past 10 years. Understandably, there was substantial pressure to get this pick right.
"If you are a Pee Wee player in this area, you can look at Ted Donato and say to yourself, 'If I work hard, I can go to Harvard,'" Scalise said. "You can say to yourself, 'If I work hard I can be an Olympian, I can play in the NHL. I can do all of this while being a great teammate.'"
The Crimson found itself a legendary name to head its hockey program, one whom the school expects to be around for a long time. But at Harvard, even legends have to produce.