April 28, 1969 — Edward Paul Donato is born.
March 16, 1986 — Donato wins his first Massachusetts high school state championship at powerhouse Catholic Memorial, when his double overtime shot is tipped in by Ed McElaney for a 5-4 win over Medford. He earns Boston Globe Division I Player of the Year honors.
March 11, 1987 — Donato wins his second state championship after figuring on all four goals in a 4-1 win over Chelmsford. He concludes his career as the Catholic Conference's all-time leading scorer with 214 points and is named the Globe's Division I Player of the Year again.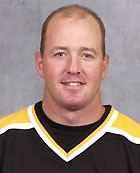 March 18, 1987 — Donato chooses Harvard over Boston University and Boston College. The link between Harvard coach Bill Cleary's Olympic experience and his Olympic dreams is a deciding factor.
April 5, 1987 — Donato, ranked 26th in his class of 218 at Catholic Memorial, wins the Carlton Award, given by the Boston Bruins to an area player who combines exceptional hockey skills with academic excellence.
June 13, 1987 — Donato is selected in the NHL Draft's fifth round by the Bruins with the 98th overall pick.
November 8, 1987 — Donato makes his first public appearance in a Harvard jersey during a 15-3 exhibition loss to the U.S. Olympic team. He assists on a third-period goal from Don Sweeney.
March 1988 — Donato explodes for five goals during the ECAC playoffs to carry Harvard to a third-place finish and an NCAA at-large berth. Michigan State sweeps the Crimson in the first round, and Donato finishes his season with 12 goals and 14 assists.
February 1989 — Donato's first-period goal and assist lift Harvard to a 5-4 win over BC for the Crimson's Beanpot final appearance since 1981. Harvard claims the Beanpot title with a 9-6 win over BU a week later.
April 1, 1989 — Harvard wins its first NCAA championship in any sport since 1904 with a 4-3 overtime victory over Minnesota in St. Paul. Donato scores two goals in the final game and earns tournament MVP honors. He finishes the season with 14 goals and 37 assists.
February 2, 1990 — Returning from a two-month absence to a broken collarbone, Donato stuns Princeton by assisting on the game-winning goal with just two seconds left in overtime. He finishes the season with just 11 points in 16 games. Harvard finishes below .500 in Cleary's final season as head coach.
March 7, 1990 — Donato is elected as the 95th captain of Harvard hockey.
Spring Break, 1990 — Donato gets called down on "The Price is Right." He advances to the Showcase Showdown after spinning 75 cents on the Big Wheel.
March 9, 1991 — Donato's college career ends with a 3-2 loss to Clarkson in the ECAC semifinals, leaving him without an ECAC postseason title for his career. He is however, a Hobey Baker Finalist and an All-ECAC pick after a 56-point senior season.
February 1992 — Donato achieves his dream of playing for the U.S. in the Winter Olympics, where the American squad places fourth and Donato ties for the team lead in scoring.
March 7, 1992 — Donato signs with the Bruins and immediately makes his NHL debut in Chicago.
April 25, 1992 — Donato scores the overtime game-winner for the Bruins in Game 4 of their first-round series against Buffalo. The Bruins eventually get swept by Stanley Cup champion Pittsburgh in the Wales Conference finals.
April 30, 1994 — Donato scores a key second goal to lift Bruins to a 5-3 Game 7 victory over Patrick Roy and the Canadiens.
April 10, 1997 — Donato finishes as the Bruins' leading goal-scorer with 25 and earns Channel 38's 7th-player award, though the Bruins go on to finish with the worst record in the NHL.
January 1998 — Donato is one of the final cuts for the 1998 U.S. Olympic team, the first to use NHL players. He is named as an alternate.
November 7, 1998 — Disappointed with a lack of playing time, Donato is traded from Boston to the New York Islanders. At the time, only Don Sweeney and Ray Bourque had a longer tenure with Bruins.
July 22, 2003 — After having played with eight NHL organizations in a five-year span, Donato signs again with the Bruins. The highest honor he earns during that stretch is the 2002 [nl]New Hampshire [nl]Union Leader Award given to the fan favorite of the AHL's Manchester Monarchs.
December 5, 2003 — Donato is called up to the Bruins from the NHL and shores up the Bruins' struggling penalty kill.
April 9, 2004 — Donato breaks his right foot in Game 2 of an first-round series against Montreal. The Bruins fall to the Canadiens in seven games.
July 2, 2004 — Donato is named the 11th head coach in the history of Harvard hockey.