It's easy for students of hockey to name the men whose influence has shaped the game, and a quick perusal of those enshrined in Toronto's Hockey Hall of Fame is a primer for the rest of us: "builders" like Scotty Bowman, John Mariucci, Glen Sather, referees Neil P. Armstrong and Andy Van Hellemond, and scores of on-ice legends who inspired generations of fans and players, men whose names are synonymous with the game. Wayne Gretzky. Gordie Howe. Maurice Richard.
And Bobby Orr. The former Boston Bruin great, a 1979 Hall of Fame inductee, has opened his own Hall of Fame in his hometown of Parry Sound, Ontario, to honor local heroes who might otherwise go unnoticed. One such unsung hero is former CCHA commissioner Bill Beagan, who is among Orr's second class of inductees as a builder of the game of hockey.
"I don't mind telling you that I'm slightly overwhelmed with the prospect of standing alongside Bobby Orr … when it will be announced that I have been selected for induction," said Beagan.
With all due respect to Mr. Orr, perhaps it should be the other way around. Few people have done more behind the scenes to advance the game of hockey than did Beagan through his long and successful career.
Like many legends of the game, Beagan grew up playing hockey in a small Canadian city — in his case, Parry Sound on Lake Huron's beautiful Georgian Bay — and like many legends of the game, Beagan left the comfort of home to spread his love of the game and make his mark. Unlike many others, though, Beagan's work has been largely unrecognized by the greater hockey community.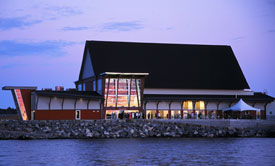 His is an impressive resume. In addition to his 13-year tenure as CCHA commissioner, Beagan officiated in the National Hockey League, served as supervisor of hockey officials at the 1976 Winter Olympics in Innsbruck, was director of the Amateur Hockey Association of the United States (now USA Hockey), was commissioner of the now defunct Eastern and International Hockey Leagues (EHL and IHL, respectively), and won two Turner Cups as owner of the IHL's Toledo Goaldiggers.
Of course, the CCHA awards the Bill Beagan Trophy to the most valuable player of the league's postseason playoff tournament in Detroit, but other than the colorful anecdotal stories that still circulate about Beagan — and there are many — his influence is rarely discussed, which is a shame, according to Ralph Mellanby.
Mellanby — another of hockey's undersung heroes — was executive producer of Hockey Night in Canada for over 20 years, a driving force behind the expansion of hockey's popularity in North America during the latter part of the 20th century. It was Mellanby who nominated Beagan for induction into Bobby Orr's Hall of Fame.
"I think he's been a very overlooked guy in the world of sports and hockey and his contributions have been enormous," says Mellanby. "When I first met him he was a referee [in the NHL], and he really looked at that job in an innovative way. Bill was very interested in the history of the sport and things that most referees weren't interested in. He never missed anything on the ice, and he called everything, no matter where it was. He wasn't afraid. He wasn't the greatest skating referee, but he anticipated very well."
The innovations that interested Beagan formed a bond between Mellanby and Beagan early on. "We've always had that type of friendship and relationship, in wanting to advance the game," says Mellanby. "I was helpful to him in college hockey with leading him to the people he could contact in television."
Beagan was one of the strongest advocates for televising college hockey games while commissioner of the CCHA. It was Beagan who first paired college hockey and cable television when the CCHA signed on with PASS in the mid-1980s. In 1997, Beagan cemented a deal with Fox Sports Detroit to televise 20 games during the 1997-98 season, a ground-breaking step for the league and the game. His efforts led to greater coverage of the CCHA — and NCAA hockey — through the Midwest and through Canada.
"He deserves a lot of credit for advancing the game on and off the ice," says Mellanby. "He's a natural marketer. He knows how to promote … anything and anyone around him. He helped get the [NCAA] national championship organized for television. He certainly brought order out of chaos. I think that was his biggest contribution as far as college hockey."
Mellanby — whose son, Scott, played college hockey at Wisconsin (1984-86) and still plays in the NHL (St. Louis) — likened Beagan to Hockey Hall of Fame honoree Walter Bush, who brought the NHL to Minnesota. "My highest compliment to Bill," says Mellanby, "is that he's one of the few visionaries that I ever met in hockey."
When Beagan retired from hockey as CCHA commissioner in 1998, he called his relationship with college hockey his "most rewarding," and considered the work he did with the CCHA some of his finest. "I think I'm most proud … of maintaining the status quo of NCAA Division I college hockey vis-à-vis the NHL," said Beagan upon his retirement. "I think we've proven that we're developing more players for the National Hockey League through the college systems."
The Bobby Orr Hall of Fame may not be as grand or as well-known as its counterpart in Toronto, but Beagan calls his induction "a very humbling honor." The facility itself is connected to the Charles W. Stockey Centre for the Performing Arts, which opened during the summer of 2003. Nestled on a point in Georgian Bay with stunning 270-degree water views, the complex serves Beagan's and Orr's hometown of Parry Sound and its 6,000 residents.
Beagan's fellow members of the Class of 2004 include Frank Carson, who played for the Montreal Maroons when the team won its first Stanley Cup (1925-26); Floyd Thompson, who played over 400 games with the St. Louis Blues; Neil Belland, who played for Vancouver when the Canucks met the New York Islanders in the 1982 Stanley Cup finals; Dave Burrows, one of the NHL's dominant defensive defensemen on the 1970s; and Lynn Hurd, a former amateur Canadian golfing standout who currently teaches golf at her alma mater, St. Stephens College in Columbia, Missouri.
Carson, who died recently, is commonly thought — in Parry Sound, at least — to have scored the first goal in Detroit Red Wings franchise history. Beagan was nominated for induction last year, but wanted to wait until Carson was inducted. Why? Beagan's sense of honor told him to wait. Frank Carson's older brother, Bill (who died in 1967), was part of last year's inaugural class of Bobby Orr's Hall of Fame, and Frank was slated for the class of 2004. Beagan didn't think it right to be inducted ahead of Frank. The Carson brothers — Bill, Frank, and Gerald — all played NHL hockey, and are revered in Parry Sound.
The inductees will be officially announced the evening of Friday, July 9, 2004, by Terry Crisp, the Parry Sound native who played for the Stanley Cup champion Philadelphia Flyers in the 1970s and served as an assistant coach for Team Canada's silver-medal team in the 1992 Olympics. The induction ceremony itself is slated for June 10, 2005.
"My love affair with hockey and the personal rewards I gained from the game as a player, referee, general manager, owner, commissioner, director, and finally spectator, have been incredibly fulfilling," says Beagan. "I would do it all again, in a heartbeat."