What little suspense remained as to who would succeed Dean Blais as North Dakota's head coach ended Friday when Dave Hakstol became the 15th head coach in the program's 58-year history.
Hakstol, 35, a native of Warburg, Alb., succeeds Blais, who served as Sioux head coach for 10 years before stepping down last month to become associate head coach of the NHL's Columbus Blue Jackets.
"It's an awful proud moment, a very exciting moment, for my family and myself to be able to have the opportunity to step into this role," said Hakstol, a former Fighting Sioux player who served as Blais' associate head coach for the past four years. "I look forward to upholding and moving forward with the greatest tradition in college hockey."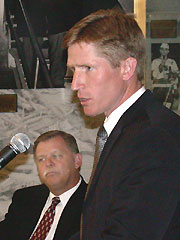 The appointment was announced by UND athletic director Roger Thomas during a news conference held in Ralph Engelstad Arena. He also appointed former Sioux assistant coach Brad Berry to the position of associate head coach. A search has begun to fill the assistant coach position left vacant by the promotions of Hakstol and Berry.
Thomas acknowledged that his decision to hire Hakstol, the sole applicant from a process that was open to UND employees only, raised some eyebrows.
"I spoke to some wonderful alums — ex-players — guys who are coaching now, who are really in-tune with the program, and they all gave me advice," he said.
While some recommended other candidates, Thomas said, "There wasn't one who said that Dave wouldn't be a heck of a choice."
Late this week, Thomas didn't rule out opening the process to external applicants. But all speculation was laid to rest with Hakstol's appointment.
"No matter how he got here, there will be the normal, inherent pressure to have a top hockey program that remains a top hockey program," Thomas said of his decision to hire Hakstol. "I think it will be short-lived, and we'll move on to the business at hand, which is taking the team forward."
Asked if there would be any noticeable differences between the wide-open style of hockey under Blais and a Hakstol-coached Sioux team, the new head coach responded with a question: "Are you asking if I'll pull the goalie with six minutes to go in the championship?" a reference to something Blais often considered, including the 2001 NCAA championship game.
After the laughter subsided, he answered, "It will be the style of hockey that's always been on the ice here. That's what the people of the Grand Forks community and Fighting Sioux fans everywhere love.
"It's a wide-open style, an exciting brand of hockey. There might be some style changes that people may or may not notice, but overall, the philosophies will still stay the same."
From a player's perspective, Sioux captain Andy Schneider said that he expects at least one noticeable difference between Blais and Hakstol.
"If anything, the intensity level will probably be magnified a little bit," he said. "He's going to get the best out of everybody. He's the kind of coach I like playing for.
"You want to succeed for him," Schneider said. "That's the way we all played for Coach Blais and that's the way we're going to play for Coach Hakstol."
Although Blais leaves behind a team deep in talent, a team that Hakstol believes can be a factor in the NCAA playoffs next season, there are concerns. Last season's Hobey Baker finalist Brandon Bochenski, one of the nation's top-scoring forwards, and defensemen Matt Jones and Matt Greene could decide to turn pro.
"That's something out of our control," Hakstol said. "It comes down to what the NHL teams want to do. Right now, everybody is committed to coming back. They're staying with the program and that, more than anything, is extremely important."
From 1989 to 1992, Hakstol played defenseman at UND and became an assistant coach under Blais in 2000. Before joining the Sioux coaching staff, Hakstol served as the general manager and head coach of the USHL's Sioux City Musketeers where he compiled a 101-109-13 record. He was USHL coach of the year during the 1997-1998 season when the Musketeers posted a 32-21-3 record.
Hakstol's experience also includes coaching the 1998 USA/USHL team at the International Ice Hockey Federation Four Nationals Cup in Oslo, Norway, and, in 1998, serving as head coach of the USA Hockey Central District team at the National Select 16 Festival in Ann Arbor, Mich.
Hakstol played professional hockey with the IHL Minnesota Moose from 1994-1996 and the IHL Indianapolis Ice from 1992-1994. He was team captain of the Moose for two years and of the Ice for one year.
Berry, 39, a native of Bashaw, Alberta, played defense for the Sioux from 1983-1986. He played parts of eight seasons in the NHL with the Dallas Stars, Minnesota North Stars and Winnipeg Jets. He also played in the IHL where he was a three-time all-star and the AHL. Before joining the Sioux as an assistant coach under Blais in 2000, Berry was the interim assistant coach for the IHL Michigan K-Wings for two years.