Although Rastislav Spirko is a freshman and just the third European to play for North Dakota in the past 53 years, he's having no trouble fitting in.
After 10 games, the 20-year-old native of Vrutky, Slovakia, is second in scoring for the Fighting Sioux with three goals and seven assists. He's already a fixture on UND's power play and consistently starts on one of the top two lines.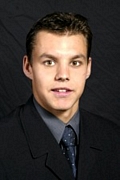 Spirko (pronounced SPEAR-koh) burst on to the college hockey scene with a five-point weekend during UND's road sweep of Maine Oct. 8-9, a performance that earned him WCHA rookie of the week honors.
Known as "Sparky" to teammates, he endeared himself to Sioux fans at Ralph Engelstad Arena on Oct. 22 when he scored the game-winning goal in the third period of a 4-2 win against archrival Minnesota. While falling forward with his back to the net, he got his stick on defenseman Matt Smaby's shot from the point and deflected the puck past Gopher goalie Kellen Briggs.
UND head coach Dave Hakstol isn't surprised that the 5-9, 175-pound forward is having an immediate impact.
"We expected him to be a guy who could step into the lineup right away and produce right away," he said. "He's had some good hockey experience. He played in two World Junior tournaments and spent a year in the USHL, which was good for him.
"He's a good hockey player, and when you're as committed as he is, I don't think it's a surprise," Hakstol said.
Spirko came to the United States committed to two goals — getting a college education and becoming a better hockey player. His journey to America was set in motion during the 2003 World Junior Championships in Halifax, Nova Scotia. While playing for Team Slovakia, he caught the attention of Canadian scout and coach Frank Kollar, a native Slovakian and father of former UND goalie Andy Kollar.
Spirko received an offer to play the 2003-2004 season in Kearney, Neb., with the USHL's Tri-City Storm. He led the team in goals and scored 57 points (35G, 22A) in 55 regular season games. He was named to the All-USHL second team and also played for Team Slovakia at the 2004 World Junior Championships in Helsinki, Finland.
Although he learned English in Slovakia, speaking it in the U.S. wasn't quite the same.
"The English I was learning from home was regular English from England," Spirko explained. "This is American English, so it was kind of hard to get used to the slang.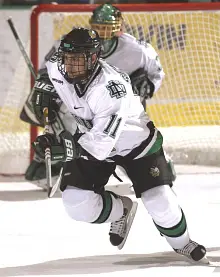 "Sometimes in the first week of practices, I didn't know what was going on because the coach didn't explain the drill. He just said the name of the drill and everybody knew what was going on. I asked everybody, 'Okay, what's going on? What are we doing next?'"
Spirko's success in the USHL got him noticed by college recruiters from UND, Minnesota and Boston University, among others.
"I took a couple of official visits and one of those official visits was North Dakota. Right after that visit, I decided to come here," he said. "It seemed like best place to play hockey. I'm really happy. I think I made the best choice I could make."
After playing European hockey since he was four years old, Spirko had to adjust to the North American style of play, particularly the greater emphasis on forechecking.
"All guys are in a great skill level and they play hard — harder than Europeans sometimes," he said. "I have to play harder than I was used to playing and I am getting better at it."
Hakstol thinks the Spirko's skills are a good fit with UND's up-tempo style of play.
"He sees the ice extremely well. There aren't a lot of guys with his size that are good off the boards," he noted. "He spins off checks coming off the wall, and once he makes a gap for himself, he's very good at making plays."
Adjusting to university life hasn't been a problem for Spirko, who's taking a full load of classes and leaning toward business as a major.
"Everybody with the team tries to help me a lot, with the language, with school and on the ice," he said. "It's great to be part of the Sioux."
It's evident that Spirko is adjusting to life in America when he instantly converts kilometers into miles while discussing distances. With the onset of winter looming in Grand Forks, he'll soon need to convert Celsius temperatures into Fahrenheit.
"Everybody told me how cold it is in the winter here. I really don't know what I can expect from that," he said. "The biggest problem is that I didn't bring a winter coat."
Although the season is young, Hakstol is already impressed with Spirko's progress.
"He's a unique young man, a great kid to be around," he said of the Slovakian freshman. "He shows his commitment by moving away from his family. It's a big commitment for a young man to make, and he's making it."