Dartmouth forward Hugh Jessiman, a first-round draft pick of the New York Rangers in 2003, will have surgery on his injured ankle Friday, and is out until at least March and probably for the remainder of the season.
Jessiman was examined by Rangers team doctors, and the results of the MRI showed a displacement and tear of the deltoid ligaments, according to this morning's New York Post.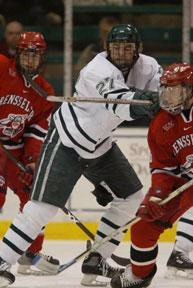 "The way it's been explained is that if all goes ideally, I'll be in a walking cast for 10 weeks after the operation, which will be followed by another six weeks of rehab," Jessiman told the New York Post. "I'm trying to stay positive and optimistic that there's some way I'll be able to get back for the [March] playoffs, but realistically, that's a long way down the road."
Jessiman also told the paper that he will use the time wisely, to build up his upper body, and give support to his teammates.
Jessiman injured his ankle in the first period of last Saturday's 3-0 loss to Princeton in Hanover, N.H.
"I was looking down, trying to find the puck in my feet, and then I got hit, I think from behind. I tried to brace myself, my weight shifted and then my skate caught, and I went down," Jessiman told the Post earlier this week.
Jessiman, the 6-foot-5 junior from Darien, Conn., had 16 goals and 33 points last season for the Big Green. He burst onto the scene during his freshman year, when he racked up 23 goals and 47 points.
In four games this season, he has one goal and two points.