Boston College forward Dan Bertram tops the NHL's Central Scouting Service's Preliminary Rankings of U.S. College players eligible for the 2005 NHL Entry Draft.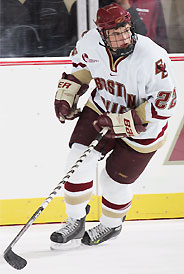 The Preliminary Rankings breaks down players by league. The Final Rankings, due out next spring, places the players in two categories: North American or European. Goalies are on a separate list in all cases.
The top goalie on the U.S. College list is Vermont's Joe Fallon.
Hockey East and the CCHA each have 10 players on the 30-man skater list. The WCHA has six and the ECAC has four. Five goaltenders are listed, including three from the ECAC.
Following Betram are Michigan center T.J. Hensick, Bowling Green defenseman Jonathan Sigalet, and Miami forward Nate Davis. Rounding out the top five is Providence's Jonathan Rheault.
The top WCHA skater is Denver defenseman Andrew Thomas at No. 7. The top ECAC skater, at No. 8, is Cornell freshman defenseman Sasha Polulok, who is also the biggest player on the list at 6-foot-5, 220 pounds.
The 2005 NHL Entry Draft is scheduled to be held at the Corel Centre in Ottawa on June 25-26. However, if the NHL is still in a lockout at that time, there are plans to move the draft back to whenever the lockout ends.
United States Hockey League and U.S. High School players are also broken down into their own categories, though not given a specific rank. Among the more prominent players on the High School list is Boston College recruit Anthony Aiello.
Sidney Crosby, expected by most to be the sure No. 1 pick in the next draft, and the Canadian Hockey League's MVP as a 16-year old rookie last season, was listed No. 1 among Ontario Hockey League players. The CHL comprises the three Canadian Major Junior Leagues: the OHL, the Western Hockey League, and the Quebec Major Junior Hockey League.
Gilbert Brule, last year's WHL top rookie, was listed No. 1 among that league's players. Benoit Pouliot took the QMJHL top spot.
Complete U.S. College Rank
1 Bertram, Dan — Boston College
2 Hensick, T.J. — Michigan
3 Sigalet, Jonathan — Bowling Green
4 Davis, Nate — Miami
5 Rheault, Jonathan — Providence
6 Birnstill, Steve — Northeastern
7 Thomas, Andrew — Denver
8 Pokulok, Sasha — Cornell
9 Brennan, Michael — Boston College
10 Hagemo, Nate — Minnesota
11 Matsumoto, Jonathan — Bowling Green
12 Yaworski, Blair — Yale
13 Rankin, Evan — Notre Dame
14 Kostka, Michael –Mass-Amherst
15 Stastny, Paul — Denver
16 Macarthur, Peter — Boston University
17 Fristche, Tom — Ohio State
18 Caron, Jeff — Merrimack
19 Dey, Nate — St. Cloud
20 Szczechura, Paul — Western Michigan
21 Lord, Andrew — Rensselaer
22 Mueller, Christopher — Michigan State
23 Likens, Jeff — Wisconsin
24 Cox, Dylan — Providence
25 Fenton, Paul — Massachusetts
26 May, Tom — Denver
27 Lerg, Bryan — Michigan State
28 Maki, Ryan — Harvard
29 Ewing, Bryan — Boston University
30 Unger, James — Bowling Green
Goaltenders
1 Fallon, Joseph — Vermont
2 Lundin, Matt — Maine
3 Alford, Jordan — Rensselaer
4 Samuel, Sean — Dartmouth
5 Luker, Bryce — Michigan Tech