After weeks of speculation, Atlantic Hockey made it official today and admitted Rochester Institute of Technology to the conference for the 2006-07 season. RIT, long a powerhouse at Division III, and winners of NCAA championships at D-II in 1983 and at D-III in 1985, will move its hockey program to Division I beginning next season.
RIT will play an independent D-I schedule against at least 20 established D-I teams next season. In 2006-07, it will play a full Atlantic Hockey schedule, but will not be eligible for league or NCAA playoffs. In 2007-08, RIT will be a full member of Atlantic Hockey and NCAA D-I. RIT will apply immediately for reclassification of its program to Division I.
The vote to admit RIT was taken during a conference call last Friday and was unanimous, according to Bob DeGregorio, Atlantic Hockey commissioner and Tim Dillon, Canisius athletic director. It didn't take much deliberation.
"The meeting was scheduled for 9 o'clock, and I was on the phone with [RIT president Al Simone] by 9:20," said Dillon.
In attendance at today's announcement, which was open to students and staff, were DeGregorio, Dillon, Simone, RIT athletic director Lou Spiotti, and RIT head coach Wayne Wilson.
RIT made overtures to Atlantic Hockey during the summer in a letter inquiring about membership.
After receiving that inquiry, Dillon said that he asked himself, "Who is RIT, and why would we want them in our league?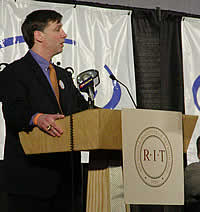 "Through our league membership, I learned of the tradition, the rivalries, the fans, the facilities, and the academic excellence," said Dillon. "I learned who RIT was, and why they wanted to be part of our league. I learned that there could be a great partnership developed.
"I learned about your biggest asset, and that was the people that make up the RIT community. We met with students, faculty, administration, staff, and alums, and everyone we met was more caring and pleasant than the previous. Dr. Simone, you have a wonderful community here. And on behalf of the league members, I am delighted to announce the addition of RIT to Atlantic Hockey. Welcome aboard RIT."
Current Atlantic Hockey members Canisius and Mercyhurst used to compete regularly with RIT in the ECAC West before the formation of the MAAC, now Atlantic Hockey.
Because the rest of RIT's 24 athletic teams will remain at Division III for the forseeable future, the hockey program will not be able to offfer scholarships. But the school is making a full commitment to all other aspects of its hockey program.
Almost immediately, RIT will hire two full-time assistant coaches, whose duties will include recruiting. RIT will also make improvements to its off-ice athletic facilities, including improved locker rooms for visiting teams. Additional training, facilities, and sports information staff are to be hired, and a major marketing effort for hockey will be implemented.
Wilson said that he does not see the lack of scholarships as a barrier.
"The recruiting part is really selling a product. You can give something away and it's not worth anything. We have something here that has a value on it, the degree at RIT, the facilities, the community as a whole. … I looked at the [ECACHL] yesterday. Six of the top eight teams there don't offer scholarships."
"The thing we're going to concentrate on is winning our league, Atlantic Hockey," said Wilson. "It's been proven already by Holy Cross in winning the league that they're able to compete and get into the national championship."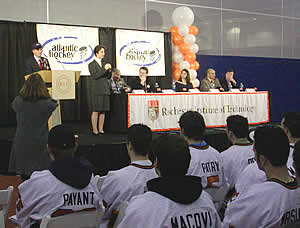 "I figure I've done Wayne a favor in going to Division I in terms of his recruiting," said Simone, "because in the past, he's told me that there are terrific athletes, terrific students that he'd like to have, but he can't get them because they want to play Division I. Now we'll be able to go after those top-notch athletes, top-notch students, that want a Division I team."
While no details of next year's schedule have been disclosed, at least 14 games have been lined up, according to Wilson. None of the games scheduled so far are against Atlantic Hockey members.
Wilson is in his sixth season at RIT, and has the highest winning percentage among active college coaches. He brings ample D-I experience to RIT: he was an assistant at Bowling Green for 13 years, and for one season at University of New Hampshire. Wilson captained BGSU's 1984 national championship team.
Division I hockey at RIT has been talked about since the early 1980's and there have been other opportunities before this one. In 1983, RIT was faced with the decision whether to move from Division II to either D-I or D-III when the NCAA announced that it was discontining its D-II hockey championship in 1984. RIT again had an opportunity to move to D-I in 1991, when Army left the ECAC and was replaced by Union. And RIT officials were part of early talks that led to the formation of the MAAC in 1998. RIT's failure to move to D-I led to the resignation of former coach Eric Hoffberg and the hiring of Wilson in 1999.
"All those questions about why doesn't RIT go D-I in hockey, all those letters urging the move, all those challenges about our direction and our intentions, all the rumors, all the articles about the merits of Division I, all those years of waiting and wishing. All of them — every single one of them — are answered, and I'm here to say, they are over," said Spiotti.
When Simone came to RIT 13 years ago, he said that one of the first things he was asked was that same question. "I said, 'Well, I've got other things on my mind' … And then a few years ago I started responding to those questions."
Simone, former president at Univerity of Hawaii, has written papers decrying abuses in athletics at Division I.
"I was concerned then as I am now at some of the behaviors of some of the schools in Division I," said Simone. "There's no way I was going to plunge RIT into that scenario. Our [athletic department] priorities have been very clear: No. 1, the academic success of our students. … The second priority is school spirit. … Our third priority is competitiveness."
Simone, even as late as last May, spoke against moving to Division I in any sport, and particularly in hockey.
"But then I learned — I got educated about the Atlantic Hockey Association. And what we found are eight schools, maybe soon to be nine other schools, that have the same academic philosphy I described," said Simone.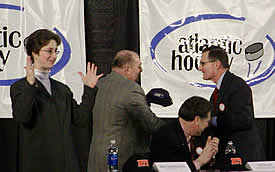 RIT officials were emphatic that the school will field a competitive team, where a history of success at D-III has led to expectations that the team will be successful every season.
Wilson noted that when he was introduced at RIT in 1999, he was asked if he felt pressure coming into a program with such a history of success. "After reflecting a little bit on that question, I wouldn't want it any other way.
"I want to be a part of a program where there is that kind of pressure to be successful. I don't want to be a part of a program where they're happy to be .500," said Wilson.
"RIT will field a competitive program without sacrificing the values we hold most high: I'm talking about academic integrity and student-athlete welfare," agreed Spiotti.
"I'm competitive in everything I do and I want to win in everything I do. Want to walk from here to my office? I'll beat you," said Simone, to laughter from the assembled crowd.
"We know that they're going to come into the league and they're going to be competitive and they're going to challenge the other member institutions," said DeGregorio.
RIT's facilities upgrades do not include an increase in the capacity of its home rink, the 2,100-seat Frank Ritter Memorial Arena, even though at Division III it sells out several games per season. Spiotti said that some games could be held at Rochester's downtown Blue Cross Arena, but that the Ritter will remain RIT's home rink.
The D-I committee has awarded a 2007 regional to the Blue Cross Arena, a 11,215-seat venue that is home to the AHL Rochester Americans. Dillon would like to see an in-season tournament there before that regional, with RIT and Canisius hosting two teams from the ECAC Hockey League.
RIT becomes the ninth team in Atlantic Hockey, replacing Quinnipiac in the conference. The Bobcats move to the ECACHL next season. A tenth member for the conference has not been chosen, but Atlantic Hockey officials will visit Air Force in January.