Boston University coach Jack Parker likes to say that ice time is the ultimate reward or punishment when it comes to motivating players, regardless of scholarships, statistics, or NHL draft pick status.
If Parker's philosophy can be called a meritocracy, sophomore goaltender John Curry has been an extraordinary example of that in action this season. In one of the most impressive stories of this young season, Curry — a recruited walk-on who played all of 310 uneventful seconds during his freshman season — once again started the season as the third-string netminder for BU.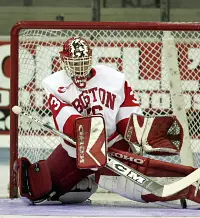 But then in the Lefty McFadden Invitational in Dayton, junior Stephan Siwiec struggled in the season opener against Miami, surrendering five goals on 26 shots. The Terrier defense then threw freshman Karson Gillespie to the lions on the subsequent night against top-ranked Michigan, and Parker finally pulled the shell-shocked netminder after he gave up seven goals on just 19 shots.
Enter Curry. He shut down the Wolverines for the last 30 minutes, played great in practice the following week, and developed a strong handle on the number-one goalie job, cemented by an excellent showing in a 3-2 win against Boston College followed by another solid job against Massachusetts the following night. Improbably, the Terriers lead Hockey East with an 8-1-0 league record. Curry's overall numbers have been equally unexpected: an 8-3-0 record; a .919 save percentage, and a 2.00 goals against average.
Not bad for a guy who drew plenty of interest from D-III schools but absolutely no scholarship offers and just a few nibbles from Northeastern and Colgate in terms of a number-three slot on a D-I team.
"I didn't know anything about him," Parker recalls. "[Former BU associate coach] Brian Durocher recruited him. Brian Durocher's opinion was that he was going to be the best third goalie we've ever had here, and he definitely could vie for a position with the other two guys. When he got here last year, there was nobody vying for a position: Fieldsie [Sean Fields] was going to play all the games, so he didn't really get a chance."
Given that Curry had been a standout at the renowned Breck School in Minneapolis as well a first-team All-Star playing prep hockey at Taft in Connecticut, it seems curious that he opted for a year of opening bench doors and an uncertain situation beyond that over the virtual guarantee of being a highly valued D-III goalie.
"I didn't want to sell myself short, is what it came down to." Curry says. "I knew for a fact that I could come to a place like this and prove myself. I knew I had the skill and ability; it was just a matter of changing my style, which Coach [Mike] Geragosian has helped me a lot with."
Even if the plan seemed sound to Curry in theory, it proved to be challenging in practice. When it came to getting into games as a freshman behind stalwart Fields, Curry saw about as much action as a Popsicle vendor in Antarctica. He did manage to get thrown in for the final minutes of a home win against Niagara.
"I didn't even know if I was going to get that," Curry says. "It was my mindset that I was just going to use the year to get better. Fields played most of the games; I just tried to improve, but it wasn't easy. It was exciting for the first month to be a part of a Division I program, but after that I kind of got a little sour and had to battle through that."
The remedy proved to be simple: work hard in practice, and have fun with his teammates and in the city when off the ice. Yet the games themselves were sometimes difficult. "It's a really strange situation actually because you go through similar situations as the team but not to the same extent. If you're not part of the win, it's hard to be that excited. You're happy for the team and likewise if you lose, it's too bad, but you don't feel the same level of emotion in experiencing it."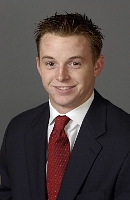 At the end of his freshman season, Curry made sure that Parker was still thinking of him as an ingredient in the goaltending mix — although Siwiec would be returning as a junior and Gillespie was coming in on scholarship with high expectations.
"This spring when he was leaving, we have an individual talk with everybody," Parker recollects. "And he told me, 'I'm coming back here. I think the job is wide open; I hope it is because I plan on giving it a real good run to try to be the number-one guy. I don't want to be the third guy; I don't want to be the backup; I want to be the number-one guy.' And he certainly did a great job this summer getting ready for it."
"I knew the coaches were going to give me my chance," says Curry. "I worked really hard in the off-season. I was on the ice toward the end of summer a lot. I went to a Minnesota hockey camp in Brainerd. That helped me a lot, being in a top group with many great players. I saw this year as make or break; it's my opportunity, and I might as well give it a shot."
Although Curry did nothing but succeed when given the early opportunities, his play was met with a lot of "Yeah, but" reaction from some of the Terrier faithful. Stopping 12 of 12 shots in 30 minutes against the top-ranked Wolverines? Yeah, but Michigan had already scored a touchdown and added the extra point before he came into the game. Making 24 saves on 25 shots in the home opener, a 4-1 win over Vermont? Yeah, but the team was pumped to play at home. Plus, Vermont really isn't that good — or so thought many of us at the time.
Even then, Parker made clear that the job continued to be up for grabs and that Geragosian would decide at the end of a week's practice who deserved the next start. Curry deserved it and responded with a 3-2 win against Providence. Yeah, but Providence isn't one of the top teams in the league this year. Many BU fans were happy to see Curry play well but still hoping or expecting that Siwiec or Gillespie would emerge.
"It was great to get the first three wins in a row, but even then I felt I can't slip up because I've got two guys on my tail," recalls Curry.
Even after beating Maine and playing solidly but getting outdueled by the opposing goalie in losses against Harvard and Denver, the coaching staff wanted to see how he would respond to the challenge of an emotional matchup against Boston College before determining who would start the next night against Massachusetts. Curry absolutely rose to the occasion, holding the Terriers in the game through the rocky first 10 minutes before BU broke out to win 3-2.
"Last year I got the feeling of what the atmosphere is like [when playing BC], but being in there is awesome," Curry says. "All those fans are some intense, and the whole team's going so hard. You really want to be on top of your game, but at the same time it's really not that hard to be on top of your game in those situations. It just psyches you up."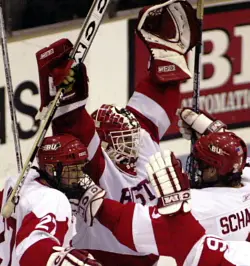 "BC was the first real big test," acknowledges Terrier captain Brian McConnell. "The place was going crazy — a lot of pressure, and he did real well. It was real nice to see him come through in a game where Fieldsie always played well. He's kind of a freshman in terms of experience, so he's done real well.
"I don't think I expected him to do as well as he has, but I knew he was a good goalie, and he was always one of the hardest guys for me to score on in practice. I didn't know if he'd get a chance to actually play, but he's been great for us so far. It's been exciting playing in front of him because he really competes."
Although Parker downplayed the notion of how the team plays in front of one goalie rather than another, Geragosian believes it's something that can't be overlooked. "That's big, and when it comes time to decide who's going to play, and it's all even out here, Johnny has the edge because the team wants to play in front him," Geragosian says. "They like him and deservingly so. He's making the saves that he has to make and giving us a chance to win in almost every one of the games that he's played."
The coaching staff has emphasized that Curry shouldn't have to steal games for them — just make the saves that he's supposed to make and not give up soft goals.
"He's a technical goaltender and a competitor," Geragosian says. "I've seen a lot of guys go a long way with that ability. There's enough there with Johnny, and he certainly hasn't let in a real minus, minus giveaway goal. He reminds me of a lot of goalies I've coached: He's got some quickness and ability, and now with some confidence and a team playing tight defense in front of him, he's going to continue to improve."
Like other netminders that Geragosian has coached, Curry has proven to be an apt pupil of what the goaltending coach refers to as the "three S's" — staring, sponging, and squeezing.
"John really likes to keep his arms in front of him," Geragosian says. "I talk a lot about driving in and driving out and attacking spots. That's what John does really well. He's getting more control on attacking spots.
"Then there's the S's — they're a key to success, and he's doing those three things. Sponging means we create a basket with the goaltender, so when the puck hits them it sticks to them. You saw a lot of that with Sean Fields and Mike Ayers — goalies I've trained — you're creating a basket, you're stepping into the puck so it always looks like you're just getting hit in the stomach. It's almost like Velcro; you create a basket by bringing the chest over and the arms forward, so pucks stick to them as they step into the puck. We call it sponging because you're just absorbing the puck into the body, having it disappear into your body instead of knocking it away."
If Curry has attempted to emulate Fields in terms of the finer technical points of goaltending, he represents quite a change in terms of personality. "He's a real good kid, a real funny kid," McConnell says. "It's been fun to be around a goalie that you can actually talk to on game days and stuff like that. He's always messing around, always stickhandling in the locker room. I think he wanted to be a forward when he was younger or something like that. He thinks he's got pretty good hands-always talks about how good his hands are."
"He could be a left wing," Parker says, chuckling. "He's just one of the boys, and nothing bothers him. He gets ready for a game just like everybody else does."
"Nothing too superstitious or weird," agrees Curry when asked about his approach. "Fields was a pretty weird guy. He had a lot of weird quirky things like that — a lot of goalies do, which obviously helps them. He would not say a word on game day, would not talk to a single person. He'd go to class, and they'd ask him a question, and he wouldn't speak. It was kind of hysterical sometimes. You just didn't want to be around him on game days because he could snap at any moment, but he was obviously a great goalie so it helped him."
However, Geragosian emphasizes that one shouldn't be fooled by Curry's easy-going demeanor. "John's a pretty clean-cut kid, Minnesota nice, but not so nice when the puck drops."
Following the big win against BC, Curry has become even more stingy in the net. He stopped 27 of 28 shots against the Minutemen, then followed up last weekend by stopping 26 of 27 shots in a road win against Rensselaer.
"When given the opportunity, he's grabbed the bull by the horns," says Parker.
The last thing Curry is going to do is become complacent. The hunger that helped him earn top billing is what keeps driving him to maintain that status. Geragosian emphasizes that all three goalies have had terrific attitudes and are working really hard in practice. Ideally, the competition should continue to bring out the best for the Terriers in goal.
"It's fun, but I've got to keep it in perspective," Curry says. "I can't enjoy it too much because you have you have to keep working, otherwise I'll lose the position. That's the bottom line."