Mariucci Arena, Minneapolis, Dec. 22-23
Northern Michigan vs. Harvard, Wednesday, 5:05 p.m. CT
Minnesota vs. Merrimack, Wednesday, 8:05 p.m. CT
Consolation/Championship: Thursday, 5:05 p.m. CT and 8:05 p.m. CT
Television: Games involving Minnesota will be telecast on Fox Sports Net North (DirecTV ch. 641, Dish Network ch. 436).
Minnesota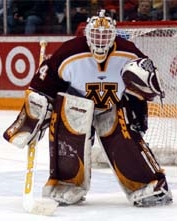 Players to watch: F Ryan Potulny (17-5–22), F Danny Irmen (10-12–22), F Tyler Hirsch (2-19–21), G Kellen Briggs (13-3-0, 1.93 GAA, .929 SV%)
Notable: The Gophers, ranked No. 1 for the fourth straight week in Monday's USCHO.com/CSTV poll, are looking to extend their school-record 18-game home unbeaten streak. … Minnesota will be missing defensemen Alex Goligoski and Nate Hagemo, both with the U.S. World Junior team, but will get back forward Barry Tallackson and defenseman P.J. Atherton. … Minnesota has won eight of the 13 Dodge Classics, including the last five in a row. … The host Gophers will play in Thursday's late game (8:05 p.m.) whether that game is for the championship or not. Tourney games were pushed back an hour to accommodate Gopher basketball, across the street at [nl]Williams Arena. … Potulny, the younger brother of former Gopher captain and Frozen Four hero Grant, leads the nation in goals with 17, while Hirsch tops the Division I assist chart at 19. … Briggs, a former USCHO.com/ITECH national defensive player of the week, is fifth in the country in goals against average and tied for fourth in save percentage.
Harvard
Players to watch: D Noah Welch (3-5–8), G Dov Grumet-Morris (7-3-1, 2.00 GAA, .935 SV%), F Tom Cavanagh (6-11–17), F Jon Pelle (5-5–10)
Notable: No. 10 Harvard is the owner of the nation's longest winning streak (five) and has won nine of its last 10 overall. … The Crimson's 2003 holiday tournament experience ended in a third-place finish at the first-ever Dunkin' Donuts Coffee Pot. The team has never reached a championship game in a holiday tourney … Harvard's 9-3-1 record equals its best start in over a decade, matching the 1993-94 edition of the Crimson. … This is Harvard's third appearance at the Dodge Classic, following winless trips in 1995 and 1998. … Led by Welch, the Crimson are built on defense (2.08 goals against per game, fifth in Division I), but the power play has come alive with a 25.0% conversion rate this season, second in the country. … Grumet-Morris, the USCHO.com/ITECH national defensive player of the week for Dec. 14, allowed only two goals in the Crimson's last two starts, against nationally-ranked opponents Vermont and Maine. He is tied for No. 2 in the nation in save percentage.
Northern Michigan
Players to watch: F Andrew Contois (7-10–17), D Nathan Oystrick (5-4–9), F Darin Olver (4-14–18), G Tuomas Tarkki (7-2-1, 2.07 GAA, .929 SV%)
Notable: The Wildcats have a five-game unbeaten streak entering the Classic. … NMU is 2-1-0 all-time against its first-round opponent, Harvard, including a 2002 win at the Badger Showdown, the teams' last meeting. … Contois has been held off the scoreboard only four times this season, and is a two-time CCHA offensive player of the week. … The Wildcats are perfect at home this season (6-0-0), but 3-4-3 on the road. … The Wildcats' home win streak reaches eight when including two wins at the tail end of 2003-04. … Head coach Walt Kyle, who took over from Rick Comley three years ago, is a Wildcat hockey alum himself, having captained Northern in its 1980 and 1981 Frozen Four appearances. … Tarkki and Bill Zaniboni have split time in the Wildcat nets this season, with Tarkki among the nation's best in goals against average (13th) and save percentage (T-fourth).
Merrimack
Players to watch: D Bryan Schmidt (9-9–18), G Jim Healey (5-7-2, 3.70 GAA, .893 SV%), F Mike Alexiou (9-5–14)
Notable: This is Merrimack's second of three mid-season tournaments this year. The Warriors won the second annual Dunkin' Donuts Coffee Pot in November, beating tourney host and fellow Hockey East school Providence in the final. … After the Dodge Classic, Merrimack heads back East to Storrs, Conn., where the Warriors will appear in the UConn Hockey Classic Dec. 30-31, taking on ECACHL foe Brown in the first round. … Merrimack is coming off a sweep of Princeton — its first consecutive wins of the year — and is now 3-1-2 in its last six games after starting the season 3-9-0. … Schmidt scored four points in the sweep and has nine total goals, an NCAA best for a defenseman. He leads all Warrior players in points and is tied for the team lead in goals. … The Warriors expect to have last season's leading scorer, Brent Gough, back for the first time since an injury Oct. 22.
Quotable
"It's not a surprise to us that we've beaten some very good teams, because we feel we're a very good team." — first-year Harvard coach Ted Donato in the Boston Globe.
"It was a character-building win, I can tell you that." — Merrimack coach Chris Serino to Kevin Conway of the [nl]Lawrence (Mass.) Eagle-Tribune after the team's championship at the Dunkin' Donuts Coffee Pot.
Outlook
The favorite is Minnesota, the host and the nation's top-ranked team, and if you believe the rankings, a Gopher-Crimson title game is in the offing. But don't count out either the Wildcats or the Warriors, both of which have been hot lately. As always, goaltending could carry any of the four teams, with Minnesota's Briggs posting impressive numbers and Grumet-Morris and Tarkki not far behind, but if special teams become the key, that could favor Harvard (25.0% power play) or Merrimack (88.9% penalty kill). Despite Harvard's well-deserved reputation for defense, by the numbers Minnesota is the top team in the tournament in both offense (3.88 goals per game) and defense (2.06 goals against per game).