It's still hard to know exactly what to think about the firing of Canisius coach Brian Cavanaugh. It is so multi-faceted.
What I know that I don't like is the way athletic director Tim Dillon had his authority stepped on by another administrator at the school. Dillon, a member of the men's ice hockey committee, has made some very unpopular and tough moves at Canisius, such as eliminating programs and removing other coaches. You would think that if he thought Cavanaugh's actions, behavior or personality warranted firing he wouldn't have hesitated to do so.
On the other hand, we know that Cavanaugh can be a tough, old-school coach, and that he may have even exuded a temper from time to time. There are incidents we've heard about, including the very public pronouncements of a former player, Jarrett Zielenski, right here on USCHO's message board. What Zielinski says certainly has a ring of truth to it, though it's impossible to know exactly. I've asked him before to comment to me in an interview, and he never followed up. Zielinski was close to Matt Coulter, the defenseman that Cavanaugh hit over the head with a stick in 2000, either as a tap to get his attention, or hard enough to give him a concussion, depending on who you believe.
Some of the gripes, though, strike you as petty. It's as if the players got into this Lord of the Flies group mentality where anything Cavanaugh did was going to be looked at negatively. They convinced themselves he was evil, and it became a self-fulfilling prophecy. And by some of the grievances, it looks like the players could have used some discipline.
Again, not saying the players are all wrong here in how they feel, just that there are more possibilities than the ones they are trying to present. I have no doubt Cavanaugh got hot under the collar with players and pushed the envelope. But I doubt he's Bobby Knight.
Thing is, Cavanaugh has always been good to the media and to a lot of regular people. And maybe that's why it's hard not to give him a pass. In fact, Cavanaugh himself used to post regularly on the old Hockey-L mailing list, and the USCHO message board. He was open and honest, and people enjoyed his perspective. It was refreshing. But he was probably too open and honest, and Dillon wisely curtailed his posting practices.
Further, the players have lost a lot of credibility by their actions. Not to paint all the players with a broad brush, but there have been a number of police blotter incidents over the last few years regarding Canisius players. The latest coming just after the player-led coup, as Dan Bognar was arrested outside a Buffalo steakhouse for public exposure.
The players may be right to be concerned about the way Cavanaugh was treating them. It's not totally clear. But what is clear is that, if the players want to be commended for their bold step, they need to step up and be men about it and explain publicly why they felt the need to sabotage the career of a solid hockey man.
Contrast this to the way Harvard players handled the Mark Mazzoleni situation. Despite the issues in Harvard's case (and they didn't rise to the physical level as they do here), Harvard players had their captains speak for the team in meetings with the coach and athletic director. The athletic director stood by the coach — as he should have — and the players worked things out with the coach at least to a reasonable degree where they could get along, which led to a run to the NCAAs again.
Right now, the issue is how to move on. But I don't envy Dillon, the interim coaches, or other coaches in the Canisius athletic department.
Rolling
Speaking of Harvard, the Crimson are on a great run, unexpected in many ways. In a sense, though, we should have expected it.
Having never been a coach at any level, most people expected Ted Donato to struggle, one year removed from playing in the NHL. Not because he couldn't be a good coach, but because it's very difficult to make that kind of adjustment in one year, no matter how great a hockey mind or how great a motivator or recruiter you are.
What we should've realized is just how much a breath of fresh air was really all the doctor ordered in Cambridge. Mark Mazzoleni did a good job bringing in talent, but what happened after that remains suspect, despite the three straight NCAA appearances.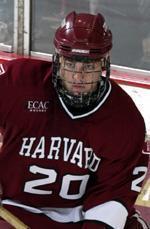 But so many pieces were in place, including a defense with six NHL draft picks, plenty of talent up front, and a fourth-year starter in goal. Donato came in, changed the atmosphere, and … instant results. Well, after a slow first few games, anyway.
Already, Donato has defeated more ranked teams than Mazzoleni did in five years. Boston College, Vermont, Maine, Boston University.
Donato has talked about it himself, saying that he thinks any alum could've come in and gotten the same results. And he's right. And that's not a knock on Donato to say that, it just means that he really hasn't gotten his feet wet yet, but that it's still a testament to just how important the change was and how much talent is there.
Two players stand out in particular this season as noteworthy: Noah Welch and Andrew Lederman. Welch defended Mazzoleni as he departed last year, but even he'd have to acknowledge the positive change of atmosphere. Meanwhile, Welch has developed into the most complete defenseman in the country. Yes, you heard that right. There was always something that seemed just a little off in his game that was keeping him from realizing his full potential. But this season, he has put everything together. He has a tremendous shot, he's agile, he's making the right decisions on the breakout, he is good with the stick defensively, and my watchers tell me he can make an adept first turn in either direction.
Lederman was relegated to the list of healthy scratches for most of Mazzoleni's tenure, and wasn't happy about it. But after getting an early-season chance with Donato, he has made the most of it, and has been a revelation up front.
There are two more telling moments ahead for Harvard. One is this week's Dodge Classic tournament in Minnesota. The Crimson need to win the first-round game against Northern Michigan (no slouch) and put themselves in position to at least play Minnesota (a team that can essentially punch its ticket to the Frozen Four right now).
Two, the Beanpot. An albatross, it seems, over the Crimson in recent years. They've already beaten the two big dog Beanpot teams this season. If they do it again, it's a dream season already, no matter what happens in the NCAA (so long as there's not another third-period meltdown).
Falcon Crest
A number of teams have faced adversity this season and overcome it. Take Alaska-Anchorage, for example. Players getting suspended for figthing each other, and a rash of major injuries to deplete a lineup already smacked by early departures.
Then there's Bowling Green, where Scott Paluch has fashioned himself a pretty good team despite seeing seven upperclassmen suspended earlier this season for four games. Paluch, raised under the tutelage of Jerry York, and his assistants have already proven to be one of the best young staffs in the country. And then they were hit with another situation — the continuing health issues of their all-league goalie.
It came to light last week that goalie Jordan Sigalet is suffering from multiple sclerosis. How this has been handled, by the team as a whole, and by Sigalet in particular, is extraordinarily admirable.
Sigalet is handling things admirably, but you can sense the disappointment in his voice when you speak to him. Still, he continues to be hopeful that the disease will not force him to retire. He said he's taking medication that supposedly kicks in after six months, and this is month five. He said that if the episodes he has do not pop up, then playing with MS is not an issue. It's just that no one knows when he'll have an attack, as he did a couple weeks ago.
"If I wasn't taking medication it would get worse," Sigalet said. "I take an injection three times a week. … It's been frustrating. It's a waiting game. I'm looking forward to [six months] to see if it's starting to work. If it works well, hopefully there will be no more attacks.
"Ever since the first attack, my hands never got their feeling back. All the other stuff comes and goes. My hands are like pins and needles. It took adjusting, but now I'm used it.
"At first I couldn't tie my shoes. Over time I got used to it. … I think [my game] is just as good as before.
"Exercise is good. The part [the doctors] don't like is the stress part of it all. It's stressful mentally playing in a lot of games. It won't make me worse."
Sigalet said it's been great to have his brother on the team too, sophomore defenseman Jonathan Sigalet.
Meanwhile, as one of the few seniors on this young team, Jordan is optimistic about the program's future, and high on Paluch.
"You see the improvement every year, Sigalet says. "I wish I had more years left.
"[Paluch] is the most positive guy you'll ever meet. Even when things aren't going good, he never get down on us or anything. He gives good vibes in the dressing room. I've been thankful to have him as a coach. He believed in me."
And he's stuck with him through this ordeal, as Paluch and his staff continue to pull the right strings despite the challenging off-ice situations.
Defending the Honor
The World Junior Championship is almost upon us, and again it is destined to be a great tournament, and again, the United States populace is destined not to care.
And again, it's a shame. Team USA is the defending champs, and they are defending the title on home soil. There's a lot to be excited about with American hockey. The National Development program still has its issues among many people, but for the most part, it appears that USA Hockey has really figured things out. The junior teams, and under-18, and under-17 teams are all doing very well in recent years.
Some of the selections for this year's team were interesting. One was Shawn Weller from Clarkson. It took a lengthy and tumultuous appeal to the NCAA just to get him through the Clearinghouse and in the Clarkson lineup, albeit a few games late. But once there, he's played well. He was in the evaluation camp in August, and came out from under the radar to impress the organizers.
So USA Hockey and coach Scott Sandelin went with him over the likes of Robbie Earl (Wisconsin), Tom Fritsche (Ohio State) and Peter MacArthur (Boston University). My spies tell me that Ohio State was all over Weller's case all last weekend during the two-game set in Potsdam. The spy theorizes that OSU was trying to prove something after Weller was chosen over Buckeye wunderkind Fritsche. Just a theory.
Earl was an interesting omission, given that he is leading Wisconsin in scoring and he comes from the Development Program. He was bypassed last year as well, but this year, he's been more consistent. But some people have suggested perhaps he's not gritty enough to do well in this tournament. All I know is, Earl has overcome adversity his whole life, and if he keeps his head on his shoulders, this could motivate him to a great season. There will be other opportunities for him to play for his country.
The goaltending decision was interesting. The U.S. went with 2004 NHL first-round pick Cory Schneider out of Boston College to back up Al Montoya. Schneider is just 18, and there were older goalies they could have taken, such as Vermont's Joe Fallon, just to name one. But Schneider is being groomed as the heir apparent down the line, and since Montoya has a good handle on things, the U.S. felt comfortable taking an inexperienced understudy with great potential. We just hope that Montoya doesn't play as uninterestedly as he's seemed at times this season for the Wolverines.
Random
• Welcome RIT into the Division I fold. This is a long time coming, and great for college hockey. Even though the program won't be able to give scholarships, this helps bring a relatively large market into Division I. The Rochester area will be hosting a regional soon, but this solidifies that area as an attractive spot for Division I hockey. There's little doubt RIT could do well in Atlantic Hockey right now, and the program could very well be the next Niagara.
• The WCHA is ridiculously good right now. It's been building this way for the last few years, but it's reached a peak. It's hard for many people to admit this, since they are afraid this just fuels the West's air of superiority, but forget all that nonsense. We're just talking facts here, and there's nothing wrong with that. With the job Mike Eaves has done at Wisconsin, and how Don Lucia has taken Minnesota back to its loftiest heights, and how Scott Owens stepped right in and picked up where Lucia left off at Colorado College, and how George Gwozdecky has molded Denver … I mean, where are the weak spots? These schools already have some natural advantages because of their tradition, because they are near youth hockey hotbeds, and because they have large buildings that attract recruits. When you throw in the mix that some of the nation's best coaches have emerged there too, it's hard to beat.
• By my next article, BU will be firmly ensconced in Harry Agganis Arena. So here's a fond farewell to Walter Brown Arena. I've been there a handful of times, and it was always a treat. But I hear Agganis is going to give The Ralph a run for its money (minus the marble floors), and I can't wait to finally see it.
• Anyone notice how smoothly the ECAC is going this year? Yeah, me too. It doesn't hurt, of course, that the on-ice product is the best it's been in a while — probably since 1997. There are some teams there with legitimate opportunities to make noise in the postseason.
• Wisconsin is a quiet 13-5. Cornell is a quiet 7-2-2. Michigan is supposedly underachieving at 13-4-1.