Stavros Paskaris isn't the smoothest skater in College Hockey America. He'll be the first to admit that. But with tenacious character on the ice and good vision to read impending plays, the 20-year-old Wayne State freshman center may be the smartest player in all of Motown — and a Greek one at that.
A Dearborn, Mich., native, Paskaris played his midget hockey for the HoneyBaked AAA program in Oak Park, known nationwide for having produced top-notch college players, and then moved on to the Soo Kewadin Casino Indians of the North American Hockey League. So, in a sense, he's come home to parlay his skills in the college game.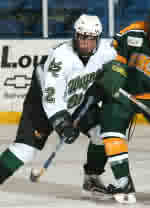 "I guess I've been lucky to not have to leave the state to play hockey," said Paskaris. "I was only like five hours away in the Soo, so if I ever wanted to come home, I could. Some guys that went to the USHL and had to go to Lincoln and Waterloo and places like that didn't really have that luxury."
Last month, Paskaris was the CHA nominee for national rookie of the month. Paskaris had points in six of WSU's eight games in November as the Warriors went 4-3-1. He had three goals and four assists for seven points, including a multiple-point game in Wayne State's 3-2 victory at Robert Morris on Nov. 12, which was head coach Bill Wilkinson's 400th career win. Paskaris currently leads the Warriors in scoring with seven goals among 16 points.
He scored in his first collegiate game, a 5-4 win over Clarkson on Oct. 16, and has failed to record a point in just five of Wayne State's 18 games.
"Stavros is a kid that is very intelligent and gets by on his tenacity and good puck skills," Wilkinson said. "Hopefully his skating will get better, but he counters that with his strong mental makeup and grit."
Another thing very eye-catching about Paskaris is his name. Not only is he one of a handful of Greek college players, but he's one of two playing for Wayne State — sophomore defenseman Dan Iliakis is the other.
"Some site out there called us 'My big fat Greek power play,'" said Paskaris. "I had never even met another Greek hockey player until I met Danny here. It's interesting, though, because he and I had an instant bond. Greeks are like that."
After winning the midget state championship with HoneyBaked in 2002 (where he was an alternate captain), Paskaris headed up to Sault Ste. Marie to join the Indians. He played there two seasons under head coach Joe Shawhan and last season was part of a Soo team that was 44-6-6, though it lost in the first round of the playoffs. Paskaris tallied 30 goals, improving on his 19 from 2002-2003.

"(WSU associate head coach) Willie (Mitchell) went up a couple times to the Soo and saw him play and liked what he saw," said Wilkinson. "He had a couple other offers, but wanted to come home."
"I did have a couple other schools talking to me," admitted Paskaris. "But they wouldn't have given me any [scholarship] money."
Those that know him best know that Wayne State has a pleasant find in Paskaris.
"Stavros has unbelievable character," said Shawhan. "He was also very active in the community here in the Soo and always took charge. His teammates loved him."
That is a sentiment echoed by a current teammate. Redshirt junior A.J. Bozoian played against Paskaris in 2002-2003, during Detroit Compuware's final season.
"Stav has quickly established himself as an able, mature freshman that all the upperclassmen truly respect," said Bozoian. "We of course give him a hard time about being a freshman, but he seems to handle every situation appropriately. Everyone on the team likes being around him."
And even though he may lack high-profile skating talents, Paskaris knows school comes first as he is majoring in physical education.
"Unless I learn to skate, I'll still be in school five years from now or just hanging around," Paskaris laughed. "But I'm glad I got the chance to play hockey like ten minutes from home. I don't think I could ask for a better situation.
"I know I still have a lot to learn, but the older guys have been great helping me out. It also helps to know some of my teammates from minor hockey and juniors. Guys like Mark Nebus and Adam Krug I either played with or against, and to know a couple guys right off the bat is a definite plus."
Chris Chelios he's not, but with no NHL in Detroit this year, Paskaris has assumed the Greek hockey player role in the city. From the looks of NHL labor talks and Chelios' age, it may be a role Paskaris fills for the next three years as well.