There was a moment during the Hockey East semifinal between Boston College and Maine that ignored all but two of the nearly 18,000 people in the building.
Halfway through the second period, wide-open BC sophomore Brian Boyle collected a pass in front of the Black Bear net. Maine netminder Jimmy Howard slid post-to-post and out to challenge the 6-foot-7, 235-pound Eagle.
Mano a mano.
The Hingham, Mass., kid smoked his wrist shot past Howard. Moments like that, or the two goals Boyle potted in the championship Saturday night at the FleetCenter against New Hampshire to earn honors as the tourney's most valuable player, were few and far between in October.
"I was wide open and [Pat Gannon] found me with a great pass so I knew I had some time," Boyle said of the semifinal goal after BC's 3-1 title triumph. "But, earlier in the year I might have had some jitters and shot it quickly."
Boyle scored just five goals in the first half of the season. Since Jan. 4, however, he has buried 14. He had at least a point in every game of the Hockey East playoffs, racking up four goals and two assists in the four games. Including the regular season, Boyle has nine points in his last seven games.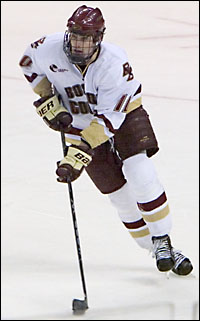 "It was a hard time for me at the beginning of the year," he said. "I kind of went through a funk. I got a lot of motivation from coach to pick up my play. He knew I could do it, my teammates knew I could do it, I just had to convince myself. There were a lot of prayers, too, trying to get that confidence back. It helped a lot."
Both of Boyle's title-game goals came near the crease. Seven minutes into the first period, he poked the puck past UNH center Mark Fornataro and snuck a wrist shot past UNH goalie Jeff Pietrasiak. Four minutes into the second period, a point shot from Ryan Shannon deflected off sophomore wing Joe Rooney and right to Boyle at the right post. The sophomore, using his immense reach, slapped it into the UNH net.
They were two more scenes that would have been scarce a year ago.
"Brian is a good athlete, he was a pitcher in high school and of course a very good hockey player," Eagles coach Jerry York said. "The jump for any player from the prep school level to Hockey East is huge. Big kids like Brian, it takes them longer. You have to be a little patient with them, but at some point you've got to challenge the player. 'Hey, you're just treading water. We want you to be much, much better in
specific areas.'
"We thought his intensity level on the ice had to improve. His skills have always been good. He's a much more powerful player. He's using his 6-foot-7, 235 pounds. Sometimes, during his freshman year, I thought he was 5-7, 150 pounds. He was playing a cute little game, but he's become a man now."
Nowadays, Brian Boyle games are filled with all kinds of moments that make coach and fellow player proud. Five minutes into the third
period, he cruised down the left wing and imposed his strength on UNH defenseman Chris Murray while creating a nifty scoring chance. Ten
minutes later, Boyle shielded UNH centerman Daniel Winnik on a faceoff, turning his body to win the draw and keep possession of the puck.
Simple, yet intelligent.
"I know that when I play him in practice, what do I do?" Shannon said. "He's so big. It's like chopping down a tree. He's learned to use his size this year, and he really protects the puck well. I think he has the confidence that he can overpower a lot of guys. You see it in the faceoff wins, you see it in the corners and you see it in his goal scoring."