Two Dynasties
As far as bringing home the hardware, there are no other teams in Division III women's hockey that can compare to either Middlebury or Elmira.
Middlebury won the titles in 2000 and 2001 that were held by the AWHCA. Elmira took the first two championships sponsored by the NCAA in 2002 and 2003. This feat was made even more remarkable because these were the first two years that the Soaring Eagles team played.
Middlebury won last year's championship defeating Wisconsin-Stevens Point.
The home team has won each of the three NCAA title games played so far, until tonight's road victory by Middlebury.
"I think it is really exciting," said Middlebury forward Lorna Gifis. "Last year, playing in our own rink, we obviously had an advantage. Some people might use that as an excuse. This time, we had to get used to a brand new rink."
"It was definitely a little different with the crowd cheering the other way," said Middlebury goaltender Kate Kogut. "Last year, we were in our home rink and it felt like home. It was a little different tonight, and you have to use a few different strategies and use the crowd in a different way."
Bookends to a Career
Laura Hurd started her career in almost dream-like fashion. Not only did she lead the nation in scoring with 40 goals and 77 points, she also scored the game winning goal in the 2002 national championship game for Elmira.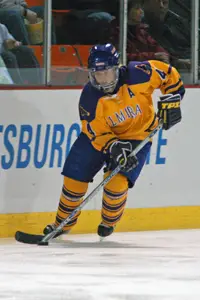 In her sophomore year, Hurd scored the opening goal of Elmira's second championship title game to get her team going, and added an assist later on the way to the victory.
Tonight marks the conclusion of an incredible collegiate career for Hurd as she returned to the championship game for the third time. In 110 collegiate games, Hurd has tallied 120 goals and 117 assists. Her 237 points places her second in the list of all time point scorers in Division III. Only 2001 Middlebury graduate Michelle Labbe put up more points over a career than Hurd with 240.
She started and ended her collegiate career playing in the national championship game, a feat that not many get to enjoy.
"It means everything [to me]," said a tearful Laura Hurd. "Everybody in the locker room knew what we wanted to do. We just had this dream of going out there and winning. We did it twice before, but it has been a little while since we felt it. Every game we knew that we had to win throughout the year, we just somehow did it. I thought that this game would be the same. Throughout my four years I never had one doubt that we would win a game that we needed to win. It worked out until today. But that is just the way that things go."
Hurd added to her points tally tonight with a highlight reel goal late in the second period. Hurd caught the puck at the blue line, skated in and finished the play with a sweet backhand flip for the Soaring Eagles' second goal of the game.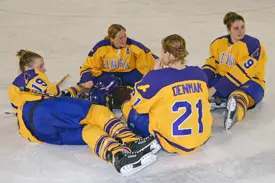 Following the awards ceremony after tonight's game, Hurd and fellow seniors Sonya Lynk, Lindsay Palmer, and LeAnne Denman sat in a circle near center ice reluctant to leave one last time.
"Whenever you are a senior, you obviously don't want to get off the ice," said Hurd. "No matter what game was our last, I wanted to stay out there as long as possible. Middlebury came in and took the game away from us. When they were on the ice celebrating, we didn't want them to be the last ones to leave."
Hurd is at the top of every offensive category in Elmira's record books. She leads in games played, goals, assists, points, and on down the list. This season, Hurd is second in the nation in points with 60, but leads in points per game with 2.19.
Streaks and Stats
The Middlebury women's and men's hockey teams pulled off the incredible double-double, both winning championships in the same two consecutive years.
"We take a lot of pride in our hockey in Middlebury," said Middlebury coach Bill Mandigo. "The men are excellent and we try to stay in step with them. We are good friends, help each other, and share everything. It is a great school and a hockey town."
"We are very lucky to be in an environment where we have the support of the townspeople and the men's team as well," added Middlebury defender Gloria Velez.
Last night saw two of Elmira's three players who had NCAA game scoring streaks come to an end. Tonight, the third fell as Jaclyn O'Neill failed to tally a point.
Elmira's only loss in NCAA tournament history before tonight was at the hands of Middlebury in the 2004 Quarterfinal round. The Soaring Eagles had never lost a championship game that they have played in.
Middlebury had the most potent power play in the nation all season long. The Panthers converted on a remarkable 26.9 percent of their opportunities, while only giving up two shorthanded goals against. What helped Middlebury's special teams was being off the radar in penalties minutes, ranked 31st in the nation.
A whole crop of tournament records fell during this championship game,
both on the individual and team level.
Individual Records
Goals in a Tournament – 4 – record tied by Emily Quizon (Middlebury) and Charissa Gawant (Elmira) who each scored two goals in their semifinal games and two goals in the championship game.
Goals in the Championship Game – 2 – Quizon and Gawant surpassed the old record of one.
Points in the Championship Game – 2 – Quizon and Gawant tied the record of two.
Team Records
Most Goals by both teams in the Championship Game – 7 – broke old record of six.
Fastest consecutive goals in Championship Game – 1:17 – Middlebury broke old record of 8:42 with goals by Gloria Velez and Emily Quizon in the middle of the third period.
All-Tournament Team
Forward – Emily Quizon (Middlebury)
Forward – Charissa Gawant (Elmira)
Forward – Laura Hurd (Elmira)
Defense – Andrea Peterson (Gustavus Adolphus)
Defense – Emily McNamara (Middlebury)
Goalie – Kate Kogut (Middlebury)