Tickets for the 2006 NCAA D-III Men's Hockey Championship will go on sale Friday, April 1. Elmira College will serve as the host institution with the tournament to be held at First Arena in Elmira, N.Y., home of the United Hockey League's Elmira Jackals.
The NCAA has also changed the semifinal and championship games from Friday afternoon and evening and Saturday evening to Saturday and Sunday afternoons.
Start times for the national semifinals are 12:30 p.m. and 4:00 p.m. Eastern time on March 18, while the national championship is March 19, 2 p.m. Eastern time.
Tickets for the three-game package are $26 for reserved seating and $23 for general admission seating. If the site is not sold out by March 15, 2006, single-session tickets may be available for individual sessions at an increased ticket price per game.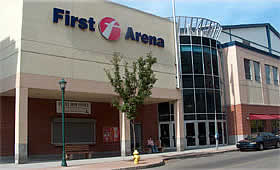 The change to a predetermined site and the switch in game times may make it easier to schedule a national television broadcast. While no deal has been made to televise the tournament, the NCAA would welcome a TV broadcast, according to an NCAA spokesperson.
The NCAA announced last year that the tournament will be held at predetermined sites for the next three seasons. After Elmira, Wisconsin-Superior will host the 2007 championship on campus at Wessman Arena. SUNY Potsdam and the Olympic Regional Development Authority will serve as co-hosts of the 2008 championship at the 1980 Rink, Herb Brooks Arena at the Olympic Center, site of the 1980 Winter Olympic Games and the Miracle on Ice.
Representatives from sponsoring institutions for upcoming years were in attendance in Middlebury to observe the administration of the tournament.
Tickets for the 2006 tournament will be available at ticketmaster.com and by phone at 607-722-3711.