North Dakota sophomore defenseman Robbie Bina underwent surgery Monday morning at Regions Medical Center in St. Paul to repair a shattered vertebra in his neck suffered last Friday during the WCHA Final Five.
In a statement released through UND, the Bina family said Dr. Daryll Dykes performed the surgery, which lasted from 8:20 a.m. to 12:30 p.m. Monday. During the operation, Bina was found to have a shattered C-7 vertebra. The entire vertebra was removed and the C-6 vertebra was fused to the T-1 vertebra.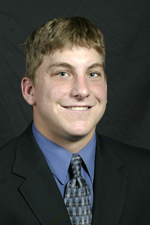 "He went into surgery this morning and it sounded like surgery went really well," said Sioux captain Matt Greene of Bina.
The 22-year-old Grand Forks native will spend the next several days recovering in St. Paul at Regions Medical Center. The statement said that doctors are hopeful for a full recovery.
"I've talked to Robbie every day since he's been in the hospital," Greene said. "I've called him and gone in to see him. It's really tough. It's tough to talk about it right now."
Early in the second period of the semifinal playoff game against Denver, 6-4, 215-pound Pioneer forward Geoff Paukovich checked the 5-8, 180-pound Bina into the boards from behind. Bina lay on the ice for about 15 minutes until being immobilized and taken off the ice on a stretcher.
WCHA referee Don Adam called Paukovich for boarding and assessed a two-minute minor penalty. Later that day, the league gave him a one-game suspension that was served during the Final Five championship game between Denver and Colorado College.
Greene talked about how the Sioux players and coaches reacted to Bina's injury during the game.
"It's not tough to play the game. That part's ingrained in you," he said. "You learn at a young age that you have to fight through what happens to your teammates. Injuries happen.
"But in a case like that, it's something you never want to see, whether it's to you, your teammate or somebody else on the other team. That part was really hard to get over. Just knowing that you have a friend — not a teammate, a friend — that's in the hospital and seriously hurt, you still have to go out there and play."
Greene said the urge to retaliate against Paukovich was strong, but he gave his teammates and the Sioux coach Dave Hakstol credit for maintaining order.
"Coach Hakstol brought us in and made some really good points on what we should do. Cooler heads prevailed in a situation where it could have got out of hand really easily," he said.
"It's not that it didn't cross anybody's mind to go after him," Greene said. "But you just can't do it in that situation. We needed to win that game. People get hurt and you have to respond in the right way. I did what I thought Robbie would want us to do, and that was to go out and play hard."
After taking the defending national champion and number-one tournament seed Denver into overtime, the Sioux lost the game 2-1.
Bina's father, Bob Bina, said the family extended a heartfelt thanks to all who expressed their support and concern for his son over the past several days.