At the end of last season, Hobey Baker finalist Zach Parise decided that his goal-scorer's touch better matched a New Jersey Devils uniform than North Dakota green. Immediately, Parise left his brother, goaltender Jordan, with a huge question — who would provide the offensive support that he needed?
The Fighting Sioux had plenty of answers. Of course, Brady Murray was expected to build off his 46-point sophomore season. Drew Stafford had just finished a 31-point rookie year and seemed poised to break out. Coach Dave Hakstol had recruited a pair of studs in Rastislav Spirko and Travis Zajac.
The young guys were ready: it was not a matter of if, it just was a matter of whom. And though nobody, of course, could fill Parise's skates, North Dakota has its answer. It wouldn't be playing for a spot in the Frozen Four Saturday night without him.
Colby Genoway.
Colby who?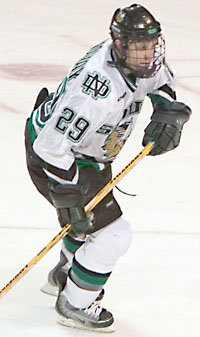 Amidst the high-profile youth in Grand Forks, N.D., Genoway, a senior, has emerged as the team's leading scorer. With two goals and an assist Friday night in No. 10 North Dakota's 4-0 win over No. 11 Boston University at the East Regional, Genoway now has 42 points for the year.
Murray, the projected team leader, has been bothered by injuries all season. In his absence, Stafford, Spirko, and Zajac all have had fine years. Still, Genoway, a veteran who is not even an assistant captain on the team, outranks them all.
Genoway has more than doubled his career point total this season. Enrolling at North Dakota after playing in the Manitoba Junior Hockey League, Genoway had to sit out his freshman season. In his two previous years, Genoway had amassed just 12 goals and 25 assists. Though 35 of those points came last year, his name got lost in the shuffle when examining the rest of the talented Fighting Sioux.
Genoway was seen largely as a support player, more known for assists than goals — though he certainly had his moments, notching back-to-back five-point weekends against Denver and Minnesota as a junior.
He now has seven goals in his last seven games.
"Colby had to sit out his first year and since then he's taken a big step forward," Hakstol said. "He had a very good season last year, but he didn't have the finish that he would have liked. He continues to do a great job on the power play at the point and five-on-five he's starting to bury the puck."
Genoway's metamorphosis into a full-fledged threat was on full display Friday night.
Standing at the top of the crease to BU goaltender John Curry's right, he one-timed a cross-ice pass from Rory McMahon at 4:01 of the second period that just slipped by Curry.
Later in the period, he returned the favor. Off the cycle, he picked up the puck in the corner and instantaneously slid a pass across the crease where McMahon could easily slam it home. 3-0 North Dakota. Game over.
In case you weren't impressed, he also finished a sweet breakaway on a classic forehand-backhand deke.
"If I knew why I was scoring, I would have been scoring a lot more." Genoway said. "Part of it came in switching me from center to wing. It has been getting me more chances and the bounces are going my way."
How does a player amass 42 points at a high-profile program like North Dakota and have nobody take notice? Consistency.
Genoway has had at least one point in 28 of North Dakota's 41 games, but before Friday night had only had more than two points twice, with one of them being way back on Oct. 22 against Minnesota.
While most of college hockey paid attention to the combination of Spirko-Zajac-Stafford, Genoway kept quietly contributing to North Dakota's 22-14-5 record.
"Genoway came here and he's continued to work very hard," Hakstol said. "He's built his performance up … Obviously, he's a real big part of this team."
Few have been heralding Genoway, ranked just 19th overall in WCHA scoring, for individual honors like Parise. However, he has a chance to have something on his resume that Parise didn't accomplish in his two years of school.
If North Dakota defeats Boston College Saturday night, he will have helped earned his team a spot in the Frozen Four, a place that the Sioux haven't been since they lost to BC in the championship in 2001.
Maybe in Columbus, somebody will notice him.