The distance between Rochester, Minn., and Colorado Springs, Colo., is 729 miles as the crow flies, but to get from the one city to the other, ice is a more convenient medium than air.
Colorado College's captain, junior Mark Stuart, and sophomores John Brunkhorst and Scott Thauwald are all Rochester natives, and are among seven players from Rochester to have worn the Tiger jersey, including defensemen Andrew Canzanello (2000-2004) and Mike Colgan (1997-2001), and Mark Stuart's older brothers, Mike (1998-2002) and Colin (2003-2004).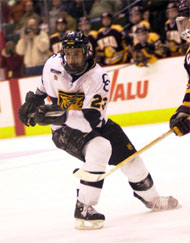 Mike was a blueliner, and Colin was the first Stuart to captain the Tigers.
"We just have had, historically, good luck with Rochester kids," said CC head coach, Scott Owens. "They're a good fit. They're sound academically, quite a few of the kids we have are spinoff kids from the Mayo Clinic … and we like the mentality of the kids, and they're good hockey players."
The Mayo Clinic connection is a strong one. Dr. Michael J. Stuart — patriarch of the Stuart hockey clan, which includes Cristin Stuart, a freshman defenseman for the Boston College women's team — is Professor of Orthopedics and Co-Director of Sports Medicine at the Mayo Clinic and the Chief Medical Officer of USA Hockey.
Dr. Stuart, who also served as team physician for the 2003 and 2004 U.S. National Junior squads, gives much of the credit for Rochester's youth hockey success to coaches Kirk Gill and Todd Lampman.
"I think Rochester youth hockey in general is the reason that our boys have had a lot of success," said Stuart. "I think it has to do with the commitment that the coaching community in Rochester has."
Gill is the father of former Notre Dame captain Aaron Gill and current Fighting Irish forward Tony. Lampman is the father of former Nebraska-Omaha players Josh and Bryce Lampman.
Rochester's contributions to Division I hockey don't end with the Stuarts, Gills, and Lampmans. No fewer than 21 D-I players have come out of Rochester youth hockey, including current Lake Superior State goaltender Jeff Jakaitis, former Findlay assistant captain Nate Markus, former Ohio State defenseman Reed Whiting, former Minnesota Golden Gopher Jake Taylor — Bryce Lampman's teammate with the Hartford Wolf Pack of the American Hockey League — and former Minnesota State Maverick B.J. Abel, now with the Trenton Titans of the AHL.
"If you look at the AHL and Division I hockey, Rochester is well-represented," said Dr. Stuart.
Nine years separate the oldest from the youngest of this batch of players, but many of them grew up playing on the same teams together, including the elder Gill and Whiting, friends since kindergarten. Gill also credits the Rochester coaches with the city's remarkable youth hockey success.
"We never had captains growing up," said Gill. "They expected everyone to be leaders. There was a good core group of good players, so they never thought of one single guy as a leader. It really taught us how to be good team players. That's what's helped us become the players we are today."
"We never had team issues," said Whiting. "There was just no question about selfishness. No problems with coaches, guys being a team, parents never had problems — I'm talking none. We were always a team."
All of that togetherness is another reason for the area's ability to produce outstanding hockey players. "They always had their peers," said Dr. Stuart. "They always play together."
"And they're all good friends, no matter where they end up going to school," added Owens.
Owens also thinks that the nature of the community helps to make Rochester such a factory for high-level players.
"I think Rochester has always been one of the top-10 most livable cities. I think they pay attention to their extracurricular activities. Hockey's been something that's been played there in a little bit of a white-collar town. I think that they have quality coaches and the youth program is good. I just think they're dialed in to play hockey and get a good education."
The success of Rochester at preparing players for competitive hockey may no longer be a secret, but Owens says that Colorado College may have the current advantage in drawing natives from the upper-Midwest city to the Rocky Mountains.
"In the old days, it seemed like Rochester kids used to end up in Wisconsin a lot, and now I think because of some of the success we've had and the way we pay attention to it, kids that have that mindset to get a good education and play quality hockey [come to CC]. We watch [Rochester youth hockey] very closely for top-end guys and for depth guys.
"Once a few guys start having a good experience, that takes care of itself."