Never underestimate the power of inspiration.
That's what Robbie Bina's Fighting Sioux teammates got from him just before they left for the NCAA East Regional playoffs in Worcester, Mass., last weekend.
Five days after suffering a broken neck during the WCHA Final Five in St. Paul and two days after surgery to repair a shattered vertebra, Bina was not only back home in Grand Forks, he was at Ralph Engelstad Arena to see his teammates off.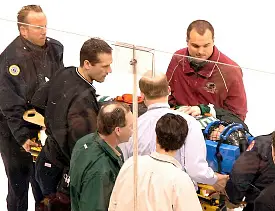 "Robbie got up in the early morning and was the first one to the rink before we left for Worcester," said North Dakota goalie Jake Brandt. "That just shows you how much he cares."
"It was a huge surprise," said senior defenseman Nick Fuher, who, like Bina, graduated from Grand Forks Central High School. "I think Robbie himself was really surprised. He was just as excited to be at the rink as the rest of us were."
Team captain Matt Greene said Bina's presence lifted the team.
"It meant a ton to us," he said. "It just shows what kind of guy he is. He's got a lot going on in his life with his injury, but he had the strength to come down and wish us well and wish us good luck. It was especially tough for him not being able to play with us."
During the playoffs in Worcester, Bina was never far from his teammates' minds.
"We had a picture of Robbie on the board in our locker room," Brandt said. "We told ourselves, 'Every time you're tired or something's not going our way, just think of Robbie and give it that extra effort.'"
It must have worked. While the other three WCHA teams to reach the Frozen Four played close, hard-fought games, UND steamrolled Boston University 4-0 and then pummeled number-one seed Boston College 6-3 to earn a shot at its eighth national title.
Bina will travel with the Sioux to Columbus, Ohio, where they'll face Minnesota on April 7. "We're playing for him right now as much as we're playing for ourselves and the team," Greene said.
On March 18 in a game between Denver and UND, the 5-8, 180-pound Bina was checked from behind by 6-4, 215-pound Pioneer forward Geoff Paukovich, sending him crashing head-first into the boards. He was immobilized, carried on a stretcher from the Xcel Energy Center to Regions Medical Center in St. Paul.
Although referee Don Adam gave Paukovich a two-minute minor penalty for boarding, the WCHA later suspended him for a game. DU coach George Gwozdecky suspended Paukovich for a second game, saying, "Hitting from behind in our sport is not condoned by the student-athletes or the coaches within the Pioneer hockey program."
Bina recounted how X-rays at the hospital initially showed no serious injury, and he hoped his stay there would be short. But an MRI revealed that he had a crushed vertebra in his neck.
"It was kind of a shock to find out how bad it was," he said.
Three days after he was injured, Bina underwent surgery. His entire shattered C-7 vertebra was removed and the C-6 vertebra was fused to the T-1 vertebra.
Bina expected to be in the hospital for another two or three days, but, "When the doctor asked me when I wanted to go home, I said, 'Today.'"
Much to his surprise, the doctor agreed. The day after the operation, he and his parents drove back to Grand Forks. The next morning, he was at Engelstad Arena sending his teammates off to Worcester.
Bina says he feels "pretty good" and expects to return to classes at UND soon. He'll wear a collar for six weeks to keep his neck immobilized. For an athlete who lettered in hockey, football and baseball, inactivity doesn't come easy.
"It gets a little boring just sitting around the house all day not being able to do a lot," Bina said.
Last weekend, he watched his teammate on TV as they rolled to victories over BU and BC. During the broadcast of the BU-UND game, ESPN sportscasters Bill Clement and Gary Thorne talked about Bina's injury. They also discussed it with Travis Roy, a former BU player who was paralyzed in a 1995 hockey game against UND.
"It was something I didn't really expect," he said. "It seemed strange to be watching TV and having people talk about me."
Gwozdecky has called Bina to find out how he's doing and wish him well. He said he hadn't heard from Paukovich. During the NCAA Northeast region playoffs, the Pioneers wore Bina's number 28 on their helmets.
Even though won't be on the ice for the Sioux during the Frozen Four, Greene said Bina will have a role to play.
"It means a little extra to get him this championship because he's done so much to get us here, including putting his life on the line," he said.