On the night of April 11, 1975, J.P. Parise scored the first of many memorable OT goals in New York Islanders' history. Almost 30 years later to the day, his son Jordan Parise wrote another chapter in the illustrious goaltending heroics of North Dakota hockey. In both cases their brilliance allowed their teams to avoid being bounced in pressure-filled one-and-done situations.
Parise made 28 saves, many spectacular, to give the Fighting Sioux a 4-2 win over hated rival Minnesota and a spot in the NCAA championship game. For Parise, heroics have been nothing new as of late. Since a win over Wisconsin on February 26, Parise has backstopped the Sioux to a two-game sweep of Minnesota Duluth in the WCHA playoffs, and then Final Five wins against Wisconsin in the play-in game, and against Minnesota in the consolation. He is riding a 12-game unbeaten streak (10-0-2) and is 7-0 in the playoffs.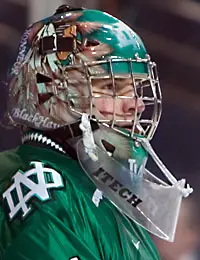 "Are you really old enough to remember 30 years ago?" Parise quipped when I asked him about his father's playoff legacy, and the one he is building right now. (It's obvious he didn't see the top of my head when he asked.) However, when he thought about it, he said, "You have to take advantage of these situations, and make the most of it. It's not often you have that opportunity."
Bred in the great hockey program at Shattuck-St. Mary's in Minnesota, Jordan Parise has had success in nets at every level, as well as other sports. A three-year letter-winner there, he also lettered in golf and baseball. He spent the 2002-2003 season with the Waterloo Blackhawks of the USHL, the first of three great Division I scholarship goalies to come from there (Kevin Regan of UNH and incoming freshman Drew O'Connell of Colorado College are the others). There he finished the year fourth in save percentage, fifth in goals against, and sixth in wins (2.55, .918, and 21, respectively).
What makes Parise's success is that he cannot be classified as a particular style of goaltender. He's not a Francois Allaire/QMJHL style butterfly goalie. He's not all reflexes like former Providence goalie Chris Terreri, and he definitely is not an angle tactician like former Wisconsin Badger Mike Richter. He's what goalie coaches strive for when developing a young goalie; he's situational.
The array of saves on display Thursday bore that out. On low shots, especially close in, Parise dropped to the butterfly and directed most shots to the corners or kept the rebounds close and covered them. If chaos ensued from a great chance setup or a loose rebound, his athleticism allowed him the poise to make a desperation save. When Minnesota's defensemen bombed away from the points, Parise stood his ground and handled the shots flawlessly.
The biggest element for elite goalies is their ability to use their feet and balance to explode on shots, and to react to second shots. Richter might have been the best at that. That is something that all four goalies in the FF have displayed as an area needing improvement. However, Parise has shown an ability to keep himself positioned so that second shots come from in front of him instead of from exposed areas to his sides. His crease awareness and ability not to get turned away from the puck have been factors in his success.
His most recent success, starting with the win at Wisconsin, came after a discussion with rookie coach Dave Hakstol as the Fighting Sioux's 2004-05 campaign hit the point of no return. Either they needed to become more consistent, or the season could go south.
"Right before that Wisconsin weekend, coach had a meeting with Phil [Philippe Lamoreaux, the freshman goalie] and myself and said that unless we started playing better, and more consistent, our season could be gone," said Parise. I got the Wisconsin game at home, we won, and we just rolled from there. I'm sure if Phil had got that game, he'd have gone on the same roll."
Parise was the incumbent with Jake Brandt when Lamoreaux arrived as the next great UND goalie. As with most goaltending tandems, competition was imminent as the vets looked to hold their spots and the kid looked to carve his own niche.
Parise knew he needed to do something to establish that he was the guy, and to show both Lamoreaux and the staff that he wanted to be the No. 1.
"Every day in practice, I would make sure I was dressed first and on the ice before him," said Parise. "Even if it was by a minute. Then he caught on, and he started to get there early, and I had to do the same."
The way this was developing, I could see Parise sleeping on the pavement outside the Ralph awaiting the morning crews at 6 a.m. to open the door.
"It got to the point where we'd both be on the ice 45 minutes early. We'd be out there by ourselves at times, so we did a lot of agility drills to improvement our movement, balance, and skating. I think it worked, all that extra practice time."
Parise, like many NCAA players, is the offspring of an NHL dad. Players like Eric Nystrom, Jeff Tambellini, Preston Callander, Justin Bourne, Kurtis Kisio, and Patrick Eaves have all talked about the benefits of that unique hockey upbringing, and all have said that the best hockey dads are the ones who have played the game at a high level.
"My dad, after the games were over and he was driving us home, he never wanted to talk hockey, or about the game," said Parise. "He was always ready to listen to Zach [his brother, now with the AHL's Albany River Rats] and me if we had questions, but never forced us to play or spend hours analyzing our play. Our mom is was the same way.
Being a goalie, Jordan lucked out because it was a position that his dad did not play. However, his comments are consistent with those of the aforementioned players, who have discussed at length how their fathers created an atmosphere where there was no pressure on the kid — other than the pressure the kid wanted to put on himself to be the best he could.
Well, now Parise is seeing the fruits of his labor, and has the Fighting Sioux poised to unseat the Pioneers as NCAA champions. Denver ended UND's season last season in the WCHA playoffs.
"We have been focused on the feeling that it doesn't matter who we play, as long as we are still playing," said Parise. "We are focused on winning, and this team will do whatever it takes to win. Whatever it takes to take control of that game Saturday night we're prepared to do."
Starting with another big effort from their starting goalie.
Dave Starman serves as an analyst on CSTV Friday Night Hockey and contributes weekly to CSTV.com. Starman has coached professionally and in the amateur ranks.