New Notre Dame head coach Jeff Jackson was the head coach at Lake Superior State from 1990-96. The Lakers won two national championships in that span, and made three straight title games from 1992-94.
Jackson left after the 1996 season, concluding with an NCAA quarterfinal loss to Vermont, to become the first full-time coach of the U.S. junior national program, where he would oversee the creation of the U.S. National Team Development Program in Ann Arbor, Mich.
He returned to college hockey when he was named at Notre Dame on Friday.
Q: Tell us about the process. How did this come about? When did you find out about the opening?
Jackson: Actually, I knew the day it happened rather quickly, because a former player of mine is the equipment manager there — Dave Gilbert. I believe it was the same night that I spoke to Tom Nevala, the administrator who oversees hockey.
Q: What attracted you to that position?
A: I've shown interest in a few other positions. The only one that I pursued directly, I interviewed with [athletic director] Pat Richter at Wisconsin [in 2002]. I drove down to Detroit to meet with him. I made the few investigative phone calls — one to Michigan State. I spoke to the athletic director about the Vermont opening [in 2003].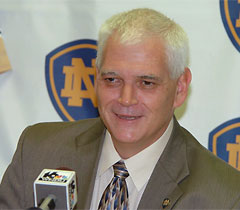 The biggest thing for me, when I left college hockey, it wasn't my intention to leave because I didn't like college hockey; it was more to expand my horizons. I wanted to do something in a positive mode for American hockey. It was really important to me. I thought we had a lot of work to do to make our country a much better hockey-playing country.
The moves I've made, I have no regrets. I learned a lot in the international game. I learned a lot in the OHL. You know, when you get to a certain level of coaching, you have to find new ways to learn. Even my last few years at Lake Superior, [former Maine coach] Shawn Walsh and I would have our own two-man coaches clinic. We'd meet in Traverse City — bless his soul — we'd meet face to face. Some of the stuff we talked about he beat me with [in the 1993 NCAA championship game]. But it's hard to learn from outside sources. So you have to learn by doing, experiencing different things. I was trying to be the baseball player that could play all nine positions.
Once I left USA Hockey [in 2001], I wanted to get to the NHL, to see what it's like. And going to the OHL was the best route from my perspective to prove I could adapt to that kind of game. That whole period of time, I was always watching to see which college program I thought was a sleeping giant. I loved my experience at Lake Superior and I'll never forget it. I wanted to opportunity to come back and coach at a university that had the support and motivation to succeed.
Q: Were you sure you could get that at Notre Dame?
A: That's what I had to find out. Long before Notre Dame became a job opening, I made a commitment to go to the coaches convention [in April in Naples, Fla.] to make a presentation. So I arranged to meet with the athletic director and the assistant athletic director at Notre Dame as soon as they arrived. I met with them there, listened to what they had to say and I told them what I thought was necessary to take the next step. And they brought me in three days after I got back. I explained again what I thought was going to be important.
Q: What kinds of things is that?
A: Some of the things were already in place. They have a full-time strength and conditioning coach, they have a full-time compliance coordinator, they have a full-time academic advisor that basically tells us when we need to address a kid; they have a full-time video guy; they have all the resources in place and the only thing that I thought was going to be a factor was the ability to have the best possible coaching staff, and that was going to take salaries. Hand in hand with that, I thought the recruiting budget was good, but it needed to be upgraded. Especially if more than one coach was going to be on the road — which is [all they've had], just Andy Slaggert. And I anticipate more of a two-man, three-man staff.
Q: And it's more of a year-round thing now.
A: It was starting to go in that direction when I left, you had to go to all the camps in the summer.
But everything was in place. I just wanted to make sure I could put together the best staff we could, enhance the recruiting budget — and the biggest obstacle in the process will be making the arena presentable to the fans, the university and recruits. But that was a secondary issue to me because the university has already made a commitment to a $15 million project. They're hoping it will happen in the next three years.
Q: You were quoted a number of years ago of saying that you were not as enamored with the college game anymore, or something to that effect. Was that accurate, has your mind changed?
A: In my time in Guelph, I had to tell a few players, one being a Notre Dame player, to stay in school. I never recruited against college hockey. I never downgraded college hockey while I was there.
Q: My understanding is, the comments were to the effect that the NCAA was making things too restrictive.
A: It might have been before I went to Guelph, I was talking about how difficult it was if you didn't have the support. I totally agree. If people cheat there's going to be rules, we never cheated at LSSU. Especially after I became athletic director, compliance was self-controlled. We didn't have a compliance officer. You have to have the support now. You need someone who can help you through it, because you don't want to make a mistake.
Q: So does this feel like a coming home kind of thing, or do you still hold out thoughts of the NHL one day?
A: This move was meant to be — I'm hoping I can do what [Michigan's] Red [Berenson] did. I'm hoping it doesn't take as long — and it might — that doesn't say anything about Red. But to build a college program it takes time. It took [Duke basketball coach] Mike Krzyzewski five years and they were going to fire him after three. I want to make the transition easier with the players that are already here. If we can do that, we can eliminate the couple years of misery that happens when a new coach takes over. My goal is to think of the existing group of players instead of trying to force kids out, clean house. That's not my intention. I want to get this group of kids to buy in. I'm not sure how good a hockey players they are — I have to watch film — but I look at grades, how they present themselves, and their potential.
Q: What about Michigan State. People thought maybe you were holding out for there. Is that still in your mind for one day?
A: I didn't get a nod the first time through [when Rick Comley was hired in 2002], so I can't anticipate getting that the second time through. And I think Notre Dame can be as good as Michigan State as far as a college hockey program is concerned — if the facility gets in place.
Q: Ten years ago, it was easier for schools like Lake Superior to do well, and that was partly because of the job you did there. But things have changed with the schools like Lake Superior and Clarkson and so on to compete. Do you agree with that, and is that just cyclical or just one of those things we have to accept?
A: It has become harder, there's absolutely no question about it. What we had at Lake Superior was special. And remember, at one time it was Michigan Tech, and at one time Bowling Green. It can still happen — last year, Minnesota-Duluth had a great season — schools can have it, but I'm not sure they can consistently maintain it like Minnesota, Wisconsin.
Q: Is that a shame, or is it something where, there's nothing that can be done about it, so we just have to live with it?
A: I haven't got the answers for that. [But] it's unfortunate because that's what makes college hockey so special. When Lake Superior and St. Lawrence can play for a national championship in '88, some people thought that was a problem. I didn't think it was a problem, it was great.
But St. Lawrence hasn't got the financial resources to do what other schools do. It's the same at Ferris State. It's hard to compete when you're going up against Mariucci Arena [in recruiting], or North Dakota's rink, or Wisconsin. Unfortunately, kids are more materialistic today. That's one of the reasons I wanted to complete the "Gem of the North" at Lake Superior [to expand Taffy Abel Arena], because if I ever left, I wanted the program to sustain itself.
But it's a matter of getting breaks [too]. Lake Superior wouldn't have broken through if we didn't recruit Jim Dowd, Bruce Hoffort. … Those things can still happen.
Q: I'd imagine one of the first orders of business is getting together a staff. Any chance Ron Rolston joins you as an assistant?
A: I'd love to have him on my staff, but he's on a different path. He's been there and done that, and he needs to be a head coach. He's worthy of being one. But that was one of my first things this morning — I want to sit down with the staff here first. They're just part of the breakup, it's not necessarily their fault. I owe it to them — they're loyal soldiers, Andy [Slaggert] is an alum here, he has a passion for Irish hockey. I want to make sure I give them a real hard look.
Q: I want to get back to the feeling of coming back to college hockey. I think there's a lot of people happy you are back, because it's good for the game to have as many good people in it. Is it like a homecoming?
A: It's not like I didn't want to ever come back to college hockey.
It's the one thing I missed, the relationships. I think it really hit home in the last 12 months because I wasn't coaching with the Islanders because of the [NHL] lockout. But last summer we had a reunion of the '94 [LSSU championship] team. To see those guys and how much they cared about each other, it made me realize how I missed the relationships you establish. And I had a beer with those guys for the first time in my life.
Unfortunately, a lot of it came from a negative. We were at the funeral for [former LSSU player] Tim Breslin. He was 37, he died from cancer. … I recruited him out of Dubuque. … That just made me recognize how much I missed it. Those kinds of relationships are special.
Q: Of course, the obligatory question is, what is your favorite memory? Obviously, you won the two championships, but is there something outside of that, a moment that really captures the essence of your time at Lake Superior?
A: It may stick out just because of recent events. In my first year — I learned a hard lesson at the end — but with the 11 seniors that I recruited as freshman in my first year [as assistant coach] … My first [recruited] class won the national championship as freshmen [under Frank Anzalone]. Then, as seniors, winning the CCHA playoffs for the first time [in 1991] with Clayton Beddoes scoring the winning goal. After that game — it was a sign of weakness in some ways — I had a relationship with those kids as an assistant as a buffer with the head coach. And they were coming up and hugging me after that win. And the first three guys that did were Breslin, [Jim] Napierala and Dowd. That memory sticks out.
We won the regular-season championship, we won the conference championship, and we lost to Clarkson in the NCAA tournament [quarterfinals]. It was my defining moment as a coach. As an assistant, I had too close a relationship with that team. And the thing that beat us was probably discipline. That was probably our most talented team in my time at Lake Superior. And a year later, without 11 seniors and Doug Weight, who left early for the pros, we won the championship against a team which had their own discipline issues. I made sure discipline was never an issue again.
Q: People talk about that Lake Superior style, the big, strong players, work hard, bang, play defense. Is that what we can expect to see at Notre Dame?
A: Since I was with USA Hockey and Guelph, I learned to base the style on the personnel. It may start one way, but down the road, we could play anything. It may be an up tempo style. I still don't know the skill level of the players we have. I'm getting to know the players.
We built that team based on Frank Anzalone — big, strong, skate, physical. We had a reputation because we were good defensively … I remember the words "clutch and grab." But we were always in the top 10 scoring teams in the country. We are always on top defensively, but we knew how to score. People should ask [BU coach] Jackie Parker if we could score. [LSSU defeated BU, 9-1, in the '94 title game.]
Initially, we'll take advantage of what we have. I'd be stupid to play a physical, forechecking game if we have a bunch of scooters.
Q: But will you recruit that way?
A: We'll want the most talented players we can get who have character.
Q: The National Program. Even though your time there may have ended on a sour note, are you still able to look back with pride in the job you did there?
A: What we did in putting that program together created not only an opportunity to compete at a higher level, but it installed quality coaching, education counseling — it was a total hockey indocrtrination while keeping them eligible for college hockey. And we see now, there's people from that program more and more in pro hockey. My guess is that in 2010, the Olympic team could be half from the NTDP. Guys like [Jordan] Leopold, [John-Michael] Liles, [Rick] DiPietro, it's already starting to show its way.
It was disappointing because they changed Executive Directors and there was a change in philosophy. When I was hired it was all about development, and in the end it was all about winning. I think we were heading towards winning, but it was going to take time.
Q: Maybe they were spoiled because of the silver medal right out of the gate [in 1997].
A: We hadn't even started the program yet at that time. I remember asking [Marty] Reasoner, [Erik] Rasmussen what they thought because we were still in the stages of putting it together. I asked the guys from back East, 'Would you consider something like this?' We were in the process.
Timing is everything in life. That last year [2000], we were on the verge of maybe medalling and perhaps a gold medal and I had to leave [the World Junior tournament] because my mom had a stroke. I was in the hospital with her for the rest of the tournament.
Q: That's still something you can look back on with pride, then, despite the way it ended?
A: I wasn't fired. They wanted me to do one of two things — and I can't tell you because it was written in the contract when I left that I can't say.
But that whole staff are my people. [Under-18 coach] Ron Rolston was my first assistant at Lake Superior. [Under-17 coach] John Hynes was a graduate assistant with the national program [and Under-17 assistant coach Darrin Madeley also played at Lake Superior]. [Director of Operations] Scott Monaghan was my assistant athletic director. [Director of Player Personnel] Ken Martel is a graduate from Lake Superior. The secretary is from Lake Superior, the trainer is from Lake Superior. I'm proud of that. I'm proud of the kids that have come through the program. Every time someone came through in the NHL — when the Islanders played Colorado, when John-Michael Liles saw me … I established a special relationship with those kids.
Q: How do you think Greg Cronin [who coached in the Islanders organization] is going to do at Northeastern?
A: I think Greg is going to be awesome. He's a perfect fit for Northeastern. He's an excellent teacher, he has a great way of communicating. Players will love playing for him. … Greg has gone through changes in his life in the last five-to-six years. I consider him a great friend and a tremendous coach.
Q: How was the time with the Islanders? I'd imagine it's a lot different coaching NHL guys.
A: We had a great group of guys there. I never had an issue with any of our guys. I was fortunate to be in the same office every day with [assistant coach] Curt Fraser. [Head coach and former BU goalie] Steve Stirling gave me a lot of responsibilities. It wasn't like I was just a figurehead. I ran parts of practice, I ran the penalty kill, I did all our pre-scouting. I'm a hockey-holic, so for me that was a great experience. … [General Manager] Mike Milbury gets a lot of grief, but he's one of the most intelligent men I know. And just in getting out of my contract [to take this job] and talking to Steve and Mike, he was so positive and good with me. I can't say enough about him.
Q: And you guys drafted a Notre Dame player last year.
A: Wes O'Neill. The good thing is, the Islanders will probably be happy I'm there making sure he plays for the Islanders one day. The bad thing for Wes is I'll be there day to day to make sure he eventually plays for Islanders. If anything I'll be harder on him.