Les Reaney is quickly becoming a household name in western New York.
The Niagara freshman led the [nl]Williams Lake TimberWolves and the entire British Columbia Hockey League in scoring last year with 38 goals and 100 points and through eight games this year is tied for the NU scoring lead with senior Randy Harris. Both have 11 points.
But even so, the Division I recruiting season didn't start until a few months ago for Reaney.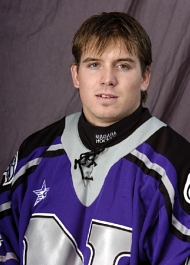 "Niagara started talking to me at the end of last season," said Reaney, a 21-year-old native of Ceylon, Sask. "I had planned on going to Alaska-Fairbanks, but then they didn't have any money for me and I was set with nothing. Then Niagara came into the picture, made me an offer and without even a fly-down, I accepted and here I am."
With big numbers in juniors, one would think more schools would have been all over Reaney for his offensive prowess. The one factor many said was holding Reaney back was his conditioning.
"Les played last year at 253 pounds and he'll tell you that, too," NU head coach Dave Burkholder said. "Now, he's down to 217. He's on our top line with (Sean) Bentivoglio and (Justin) Cross and the chemistry there is unbelievable. 'Benti' is the speed, Cross is the playmaker and Reaney provides the physical aspect with the ability to score. He wasn't signed at the end of last year and I know he was looking at going pro, but no school had pulled the trigger, so we got in there and got him signed."
"At our first captains' practice, (Bentivoglio, Cross and I) all put on the same jersey as a line and just clicked right away," added Reaney. "We haven't been split up since."
This weekend's series at Alabama-Huntsville will be Reaney's first trip to so-called "foreign land."
"Back home, I'm just north of the Montana-Canada border," said Reaney. "Going to Alabama will be interesting because I've never been further south than, well, South Dakota. Being here at Niagara has also been a culture shock. I'm from a farm community and am used to it being just me and the cows. Here, there's the big city (Buffalo) and just a totally different atmosphere. It's hard to explain, actually."
Reaney is the reigning CHA rookie of the week after a four-point performance against Wayne State at Dwyer Arena last weekend that included the overtime game-winning goal Friday night. He admitted many freshmen don't see much action during their first year at any campus, but he was told by the Purple Eagles' coaches at the end of the summer that he'd be looked to for some scoring punch.
"Everyone was concerned about our offense heading into the year," said Burkholder. "We knew we'd have guys like (captain Jason) Williamson, (Matt) Caruana and Bentivoglio back, but to have Reaney's line making such an impact, no, we didn't expect that. That line has kept us in a lot of games so far."
"I guess since bantams I've had the role of being a scorer," said Reaney. "I love it. It's a role I'm happy with, but I know it comes with pressure. You just have to prepare right for each game with a solid mental set and try to keep it going."
Burkholder likes Reaney's demeanor, saying, "I don't think I've ever seen the kid without a smile on his face. He's a fun-loving guy who is really a calming influence in the room.
"He knows how important he is to this team."
Chargers Get Second '06 Recruit
Springfield Jr. Blues defenseman Davide Nicoletti has committed to Alabama-Huntsville for next year. The 6-foot-3, 210-pound Nicoletti currently carries a 3-7-10 line with a plus-8 rating in 17 games for the Jr. Blues of the NAHL.
"We are very happy for Davide's decision to play for UAH next season," said Jr. Blues coach-GM Nick Pollos. "Davide is a first-class player and a first-class kid all around. He will be an asset to Coach Ross' squad next season."
Nicoletti, a 19-year-old from Etobicoke, Ont., came to Springfield from the Wexford Raiders of the Ontario Provincial Junior League.
"(Alabama-Huntsville) scouted me at Wexford last season and I went for an official visit last summer," Nicoletti said in the (Ill.) State Journal Register. "I fell in love with the campus and players. I felt I could excel in hockey and education. I have pride playing for Springfield and I can't let Alabama down by coming in there out of shape. I just love the game too much not to play hard."
Colonials Also Get Another Newcomer For Next Fall
Aaron Clarke becomes eligible for Robert Morris next month after transferring from Niagara and next season, the Colonials will add Army transfer Ryan Cruthers and Oakville (Ont.) Blades left wing Kyle Frieday.
Frieday is a diminutive 5-foot-8, 175-pounder who has 16 points in 19 games thus far for Oakville.
Robert Morris doesn't look to be adding many recruits any time soon as their current roster has one senior in Kurt Wright, three juniors in Bryan Mills, Doug Conley and Clarke (all three, ironically enough, started at Niagara before transferring), 17 sophomores and seven freshmen.
"I believe we're off to a good start in our recruiting efforts this season with this signing," said RMU head coach Derek Schooley. "This season's recruiting class won't be large in numbers as only Wright will graduate from our team this season. However, I believe Kyle and our future recruits will be capable of making a significant contribution during their careers."
Wayne State Still Looking For First 'W'
After Wayne State lost and tied at Niagara last weekend, the Warriors are still without their first win of this season.
Picked third in the preseason coaches' poll, WSU is 0-5-1 overall with two games this week at home against Bemidji State. Even so, the team isn't getting bogged down.
"We had our chances, no question, I thought we got a great effort from the team," WSU coach Bill Wilkinson said to USCHO after Saturday's 3-3 tie. "We battled pretty hard last night and it was frustrating not to come out with any points. We would have liked to get a win, but it's nice to get a point on the road. I told the team after it is a building block for us and we have to keep putting blocks on top of each other."
Sophomore forward Stavros Paskaris remains sidelined with a shoulder injury.
Bemidji State Celebrating 50 Years Of Hockey
This year, Bemidji State and the BSU Athletics Department have come together to celebrate 50 seasons of history for the hockey program. The 2005-06 season represents the 50th season of competition for Beaver men's ice hockey, which began intercollegiate competition on Jan. 18, 1948.
Throughout 2005-06, Bemidji State athletics will pay special tribute to the men who helped establish the Beaver program over the last 49 seasons. To celebrate this historic anniversary, BSU will announce a lineup of the 50 greatest players in the history of the program and recognize those 50 at a special ceremony during the Robert Morris series, Feb. 17-18, 2006.
The lineup of "50 Greats for 50 Years" will be announced 10 players at a time, in alphabetical order, at various times throughout the season leading up to the Robert Morris series. Other events associated with the anniversary celebration are planned and will be announced at later dates throughout the season.
And before anyone questions the math, the program was on hiatus from 1951-59.
Air Force Defender Likes Team Chemistry
Junior defenseman Brian Gineo says his Falcons "just want to do as well as we can," and though Air Force is off to a shaky start at 2-6-0, team chemistry isn't suffering. In fact, Gineo says this year may be the best, chemistry-wise, that he's seen.
"My freshman year, the seniors seemed to be on their own time," said Gineo. "But this year, we're all on the same page. We trust that if someone makes a mistake on the ice that on their next shift they'll put it behind them and compensate."