The post-holiday slate of games presents some intriguing matchups for the ECACHL teams, none more so than the set of games scheduled for the North Country this weekend. The games in Potsdam and Canton will feature three of the ECACHL's five ranked teams in No. 12 St. Lawrence, No. 14 Harvard, and No. 19 Clarkson, as well as an improved Dartmouth squad.
All four teams enter the game on winning streaks of various lengths. The Crimson, after a 2-2 tie against Boston University, has gone 4-0-1 over its last five games. The Big Green has won three straight, as have the Golden Knights. Saint Lawrence, the highest ranked team, has actually won the fewest consecutive games with only two wins in a row.
"They are two of the top teams in our league, even though Dartmouth has gotten off to something of a slow start," said Clarkson coach George Roll. "Both teams present different challenges."
Up first for the Clarkson is the Harvard Crimson; the Golden Knights have struggled against the Crimson during Roll's tenure, going 1-3-2 over the past two seasons, and have never beaten Harvard at Cheel Arena during that span.
Roll emphasized that his team needed to be disciplined and not give extra opportunities to a Crimson power play that has converted on almost 27 percent of its chances.
"Harvard is a very skilled team that can get up and down the ice, and they obviously have very good special teams," Roll said.
"This weekend gives us a real barometer of where we are in the league."
Strong Road Performances
One of the biggest surprises of last weekend was the way that Rensselaer and Union played during road games at Cornell and Colgate, taking two points each before heading back to the Capital Region.
The most surprising development of the weekend may have been the Dutchmen's 2-1 upset of Cornell, but RPI's strong play in forcing a pair of 1-1 ties with the No. 5 and No. 17 teams in the country was equally noteworthy.
"I thought we played pretty well in both instances," Rensselaer coach Dan Fridgen said.
The performance by freshman goaltender Mathias Lange enabled the Engineers to keep pace with the potent offenses of Colgate and Cornell. Lange stopped 28 shots in the draw at Colgate, and then turned aside 35 in the tie at Lynah Rink.
"Cornell certainly comes at you," Fridgen said. "In their building it's quite the atmosphere to play in and quite an environment with those fans.
"Mathias is giving us an opportunity to win hockey games," Fridgen said. "He comes up with the big saves for us when we need him."
One element of an otherwise-successful weekend concerned Fridgen, and that was his team's struggles on the power play. While the Engineers were moderately successful with their penalty kill, holding Colgate and Cornell to a combined 2-for-12, they could not manage to find the back of the net on any of their dozen power plays.
"We need to work on our power play because that would have gotten us over the top this weekend," he said.
For his part, Union coach Nate Leaman was pleased with the effort his team put in. On Friday, the Dutchmen shocked the Big Red 2-1, and though his team struggled in a 5-0 loss on Saturday, Leaman saw the effort and desire he wanted.
Despite being outshot 33-13 by Cornell, the strength of Kris Mayotte's play between the pipes and two goals a mere 18 seconds apart in the first period helped the Dutchmen capture a 2-1 win.
"I thought it was really good for our team going in and playing the No. 5 team in the country in probably the toughest building to play in our league," Leaman said.
"I don't think we had our complete 'A' game, but our guys still found a way to win."
The following evening was a different story, though, as Union was again outshot by a wide margin but Mayotte was unable to stand on his head for the second night in a row.
"Colgate's got the best power play in our league," Leaman said. "We took two or three penalties and that set us back on our heels. The remainder of the game we were pretty much on our heels and they continued to take it to us.
"We kept digging ourselves a whole and we couldn't get out of it."
Exam Period Pressure
Part of the reason that Leaman was so proud of his team was because the practices for and the road trip up to Cornell and Colgate came in the midst of Union's exam period. The school, unlike the rest of the ECACHL, is on a trimester system that brings an intense exam period before Thanksgiving every fall.
The uniqueness of Union's exam schedule presents a challenge for both Leaman and his players as they attempt to practice, study tape on opponents and their tendencies, and prepare game plans for the weekend all while making sure they perform well on their final exams.
"I think it's next to impossible to win tough games during exam period," Leaman said. "It's tough enough for kids to do both classes and hockey, but to have exams and also be on the road. … That's why I was so proud of the way we were able to get the win at Cornell.
"Next year, we're taking the exam weekend off and the weekend immediately after we'll only have one game," he continued. "It'll be similar to every other school in our league and pretty much every other school in the nation."
Mark One In The Win Column
After a slow and disappointing start to the season, the Yale Bulldogs finally notched their first victory of the season on Tuesday night against the Atlantic Hockey-leading Lakers of Mercyhurst. Yale outshot the Lakers 39-27 and benefited from a late power-play goal that proved to be the game-winner in the 6-3 contest.
"Obviously it was a much-needed win," said Yale coach Tim Taylor. "We had played some pretty strong games and came out on short end of the score despite playing well.
"We're hoping it's a springboard to some more good things to come."
The win over Mercyhurst came at an ideal time for Yale, as the team prepared on Wednesday night for its trip to Minnesota and a pair of games against the Bulldogs from Minnesota-Duluth.
"It's going to be a challenging trip," Taylor said. "Good for our kids to rally together and bond."
Taylor planned to take his team through a holiday practice on Thanksgiving Day near Minneapolis, then have a team dinner at a local parent's house, and to hopefully reach Duluth by bus before midnight.
"We're looking forward to just concentrating on the games," said Taylor. "Obviously the WCHA has a great reputation, so we're looking forward to the challenge."
Yale's travel partners, the Brown Bears, were also getting set to embark on a long trip out west for a pair of contests at the National Hockey Center against WCHA foe St. Cloud State.
"We're excited about it," said Brown coach Roger Grillo. "To play some non-league opponents, and try some different things and take a good look at our guys — we're looking forward to it.
"It's a good test for us," Grillo added. "We need to work on some things and get better in some areas, and this trip gives us an opportunity to do that."
Happy Holiday Tournament
While Taylor and Grillo may be excited to travel west over Thanksgiving break, count Rensselaer coach Dan Fridgen among those who enjoys being home for the holidays.
"We enjoy being at home over Thanksgiving," he said. "I think it's great that we don't to travel, worry about where we're going to be. If parents want to arrange a trip to Troy to see their kids, have a family dinner, and watch some hockey, then they know where we're going to be."
Fridgen has the luxury of knowing his Thanksgiving plans well ahead of time, because his is the host school for the oldest holiday hockey tournament in the country; this year marks the 55th Annual Rensselaer Holiday Hockey Tournament.
Houston Fieldhouse will be site of match-ups between Rensselaer against Holy Cross, and of Nebraska-Omaha against Providence on the first night of play. It's a diverse and challenging field with one representative each from the ECACHL, Hockey East (Providence), Atlantic Hockey (Holy Cross), and the CCHA (Nebraska-Omaha).
"I know that Providence is doing pretty well, and Nebraska-Omaha just came off a big sweep of Michigan State," Fridgen said. "Those two teams are going to be exciting, and we're going to have our hands full with Holy Cross."
ECACHL Honor Roll
Familiar and expected faces make up this week's ECACHL Honor Roll as Colgate's Mark Dekanich was named the league's Goaltender of the Week (GOTW) for the second time in three weeks. Joining Dekanich was Dartmouth captain Mike Ouellette, a selection for the Preseason All-League Team, who was tabbed as the league's Player of the Week (POTW) for the first time this season.
Player of the Week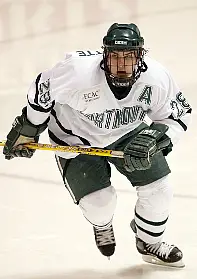 In a strong weekend where the Big Green swept Brown and Yale at home, Ouellette collected seven points, including both game-winning goals. Over Dartmouth's three game winning streak that included a 6-1 win over Cornell and last weekend's home stand, Ouellette has scored nine of his 10 points this season.
During last Friday's game against Brown, Ouellette had an assist and scored the game-winning goal in the 3-2 Big Green win. The next night, Ouellette led an explosive Dartmouth attack that potted nine goals against Yale en route to a 9-4 blowout. The captain set a career high with five points on the strength of three goals, including the game-winner at the start of the second period, and two assists.
Ouellette's play particularly impressed Yale coach Tim Taylor.
"Ouellette's a kid who has a lot of confidence," Taylor said. "He's smart, plays very hard, and knows how to finish. And he shows great leadership skills on the ice."
"He's one of the top forwards in our league," he added.
Goaltender of the Week
Colgate sophomore Mark Dekanich was named Goaltender of the Week due to his strong play in net against Rensselaer and Union during the Raiders' three-point homestand.
On Friday night against the Engineers, Dekanich and Mathias Lange both played strong in net during the 1-1 tie. Dekanich stopped 30 shots on the night, including 16 of the 17 he faced during a second period dominated by Rensselaer. The next night during a 5-0 Raider win over Union, Dekanich pitched his second shutout of the season.
Through 10 games, Dekanich has a 6-1-2 record. His 1.76 goals against average is fourth best in the nation, and his .939 save percentage is fifth overall; both are tops amongst netminder in the ECACHL.
Record Versus Non-Conference Foes
A month and a half into the season, the ECACHL has fared well against the competition from Atlantic Hockey, the CHA and Hockey East. The league's teams have struggled against squads from the CCHA and WCHA thus far, but will have the opportunity to gain ground this weekend on both conferences.
Brown and Yale will travel to Minnesota for a pair of games against WCHA opponents St. Cloud State and Minnesota-Duluth, and Colgate will host CCHA foe Western Michigan.
The ECACHL will also host two CHA squads-Niagara and Wayne State-in two game home series at Cornell and at Union, allowing the league another chance to improve its record against teams from College Hockey America.
vs. AH 9-1-1 (Bentley, Sacred Heart, Connecticut, Army, American Int'l., Mercyhurst)
vs. CCHA 2-5-2 (Michigan, Lake Superior, Michigan State, Notre Dame)
vs. CHA 6-2-1 (Niagara, Air Force, Wayne State, Robert Morris)
vs. Hockey East 8-3-1 (UMass-Lowell, Providence, Massachusetts, BU, BC)
vs. WCHA 2-5-0 (Wisconsin, Michigan Tech, Colorado College, Alaska-Anchorage)
vs. Independent 2-1-0 (RIT)
Overall 29-17-5
USCHO.com/CSTV Division I Men's Poll (Nov. 21)
No. 11 Cornell — A week removed from a surprisingly resounding defeat at Dartmouth, the Big Red struggled in the friendly confines of Lynah Rink against Union and Rensselaer. Partially due to strong goaltending play from Kris Mayotte and Mathias Lange and partially due to a sudden difficulty in putting the puck in the net, Cornell lost 2-1 to Union and then tied Rensselaer 1-1 the next night. The three-game winless streak prompted voters to drop the Big Red six spots from last week's poll.
No. 12 St. Lawrence — The Saints jumped three spots from last week's poll on the strength of a pair of solid home wins over Princeton and Quinnipiac. Voters are starting to forget the road loss at RIT that hurt perceptions of the team earlier in the season and are focusing more on the team's 9-3-0 overall record.
No. 14 Harvard — The Crimson was ranked 19th in last week's poll, but put together a string of three victories in a week that impressed voters: Harvard had the largest jump on any team in the Top 20. On Tuesday night Harvard traveled to Chestnut Hill and pulled off a 5-3 road win over Boston College. The Crimson followed that success with a 4-3 OT win against Yale, and a 2-0 shutout of Brown.
No. 15 Colgate — The Raiders hopped up two spots in this week's poll after taking three of four points on a weekend home stand against Rensselaer and Union. Friday night's 1-1 tie with RPI was a goaltender battle between Lange and Colgate's Mark Dekanich, and the Raiders came off that game with a strong performance in a 5-0 defeat of Union on Saturday.
No. 19 Clarkson — The Golden Knights weren't ranked in last week's poll, but a four-point showing at home, the result of a pair of 4-3 wins over Princeton and Quinnipiac, was enough for voters to elevate them ahead of Boston University into the 19th slot.
Dropped
No ECACHL teams fell out of the Top 20 this week.