For ECACHL fans, this weekend and early next week represent a great opportunity to assess four of the league's teams from the warmth and comfort of your own living rooms. There'll be no need for traveling, and no need for tickets because starting Saturday, December 3, three ECACHL games will be broadcast by local and regional cable channels over a four-day span.
On Saturday night, NESN will have the broadcast of the Quinnipiac Bobcats' first visit to Lynah Rink as a member of the ECACHL starting at 6 p.m.. The next day, cable network CN8 will air a matinee matchup between Harvard and Yale at Ingalls Rink beginning at 2:30 p.m.. And two days later on Tuesday evening, both the Bobcats and the Crimson will again be on TV, this time for a 7 p.m. faceoff at the Bright Hockey Center.
While Harvard and Cornell may be relatively used to the spotlight that comes with games on television, league newcomer Quinnipiac is not. But it was at least partly for that reason — increased exposure and media attention — that Quinnipiac made the move from Atlantic Hockey to the ECACHL.
"We extremely excited to be in the ECACHL, but you've got to be careful what you wish for and our schedule is a great example of that," said Quinnipiac coach Rand Pecknold. "We're playing three nationally-ranked teams on the road in five nights, and two of the three games are on TV.
"It'll be a great challenge for this program, and it's something that we're really excited about."
---
Though it won't be broadcast on NESN or CN8, the always entertaining battle for D-I bragging rights in the Ocean State starts at 7 p.m. on Saturday. The 20th Annual Mayor's Cup will pit Providence against Brown in the Friars' Schneider Arena.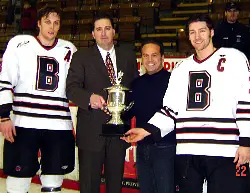 The Bears won last year's Cup in a 5-1 beating of Providence at Meehan Auditorium, and they'll be hoping to extend the streak. Over its 20-year history, though, the Cup has gone to Providence on 10 occasions and to Brown on only seven (there have been two ties in the Cup's history, including the 2003-04 game at Schneider that ended locked at 1-1).
"The Mayor's Cup game is something that takes care of itself," said Brown coach Roger Grillo. "That game adds a little extra; there's some kind of spark because of the proximity of the two schools.
"And because it's two different leagues," he continued, "you're battling for league bragging rights, too."
A Travel Partner Pair
New travel partners Princeton and Quinnipiac played a holiday home-and-home of sorts around the Thanksgiving break. On the Tuesday before Thanksgiving, the Bobcats took a 3-2 win over the Tigers at Hobey Baker Rink that left Princeton's players and coaches frustrated.
The game was back-and-forth until Quinnipiac's Chris Walsh netted the game winner at 18:54 of the third. Walsh may not have had the game-winner, though, had a late Princeton not been disallowed.
"We actually came back and scored a goal with 29 seconds to tie it up," said Princeton Coach Guy Gadowsky. "The goal was disallowed and we absolutely felt that it should not have been.
"It was disheartening," he added.
When the team's next met again on the Saturday after Thanksgiving for a Quinnipiac "home" game at Ingalls Rink in New Haven, the opening moments seemed to suggest the Tuesday's bad luck and the disallowed goal had followed the team up from New Jersey.
Quinnipiac scored twice in the early going, taking advantage of Princeton penalties to grab a 2-0 lead by 6:08 of the first. From there, though, the Tigers rallied, scoring six straight goals and chasing Bobcats netminder Bud Fisher from the net.
"We were very proud of the guys," Gadowsky said. "To start the game on Saturday down 2-0 on two five-on-three power plays within three minutes of one another was disheartening. But they came back."
Pecknold was impressed with the way Princeton responded to Tuesday night's loss and the opening minutes of Saturday's game.
"I give Princeton a lot of credit," Pecknold said. "They came in with a lot of emotion and a lot of intensity and got some big goals."
---
Princeton and Quinnipiac will be on the road for a challenging series at Colgate and Cornell, the No. 13 and No. 11 teams in the nation.
"They're both excellent teams, and both are fun buildings to play in," said Gadowsky. "The guys are really welcoming the challenge and looking forward to playing two tough games."
Gadowsky's comments were reciprocated by Colgate coach Don Vaughan, who has been impressed with the strides that both of the programs have made over the last few seasons.
"Both of them are good teams, they've both played great," he said. "They've been in almost every game they've played."
Though Quinnipiac has six more wins than Princeton, Vaughan's words apply particularly to the Tigers, who have lost four times this season by a one-goal margin. That includes an early-season 2-1 loss at home to Harvard, and then three close losses in a row: 4-3 in overtime at Clarkson, 3-2 at St. Lawrence, and again 3-2 at home against Quinnipiac.
"They're both good teams," agreed Cornell coach Mike Schafer. "Both Quinnipiac and Princeton have pretty good power plays."
---
As for the question of how his team will respond to the strength of its opponents, Schafer stressed the need to prepare his own club.
"With any one game, we pride ourselves on our game and what we can do rather than our opponents," he said. "We need to play 120 minutes [in a weekend] and play with passion and enthusiasm."
During his team's two-game homestand against Niagara, Schafer felt that those elements were not always present.
"It was kind of an up and down weekend," he said. "We got on track offensively; guys relaxed around the net and started burying their chances. But we also had a couple of leads that we let get away; we gave up a little more defensively than you'd like."
---
Though his team came away from its holiday homestand against a non-conference foe with one fewer point than did Cornell, Vaughan was thrilled with the weekend series that Colgate had against Western Michigan.
"They were just two great college hockey games," he said. "The scores [a 2-2 tie and 4-3 OT win for Colgate] were indicative of how closely matched the two teams were. They were two very good skating games; the game had a good flow, and the momentum shifted back-and-forth. I had people come up to me after the game and during this week and tell me how much they enjoyed watching them."
"And it's great to get a tie and a win against a non-conference foe," he added.
A Restful Stretch for RPI
Few people, myself included, expected the Holy Cross Crusaders to be playing in the championship game of the Rensselaer Holiday Hockey Tournament, but that's exactly what happened this past weekend. The Crusaders took a hard-fought 3-2 victory over the hosts into the championship against Nebraska-Omaha, but were outshot and outmatched and lost 6-1.
"Unfortunately we weren't in the championship," said Engineer head coach Dan Fridgen. "Holy Cross' goaltender played really well and they got a couple of goals and we fell one short."
Tony Quesada was in net for Holy Cross on both nights; against the Engineers he stood on his head, allowing two goals on 35 shots and outbattling RPI's talented young netminder, Matthias Lange. The next night though, Quesada faced two fewer shots from the Mavericks and allowed four more goals.
"Against Rensselaer, Quesada played well and we did a good job of keeping the puck to the outside," said Holy Cross coach Paul Pearl. "We had a lot of odd-man rushes and we buried some of them."
Those odd-man rushes and the struggles his team had in crashing the net and forcing second and third shots on Quesada are some of the areas that Fridgen will be exploring over the next two weeks of play.
The Engineers have an enviable schedule over the next month; they host Sacred Heart at home this weekend for only one game, and next weekend they'll do the same for RIT. Then Rensselaer will have almost three weeks to get ready for the next set of games, an opening-night matchup against No. 8 Miami in the Ohio Hockey Classic.
"We've had a pretty tough first half from the perspective of traveling and games," said Fridgen. "We're going to be trying out some things [over the next few weeks], but we're just looking to play consistent hockey going into the break.
"I'm looking forward to Sacred Heart," he continued. "They're playing very, very well of late. We have to be prepared, there's nobody that you can take lightly in college hockey these days."
ECACHL Honor Roll
For the fourth time this season, a Colgate forward was named the ECACHL's Player of the Week. This time it was senior captain Jon Smyth who earned the honors, after a three-point weekend in which he scored a game-winning overtime goal to help Colgate down Western Michigan. Joining Smyth in the Honor Roll was Harvard netminder Justin Tobe, who was named the league's Goaltender of the Week after he stopped 43 shots in Harvard's 4-3 win over St. Lawrence.
Player of the Week
Though his point total for the weekend wasn't as gaudy as last week's seven-point showing by Dartmouth captain Mike Ouellette, Smyth produced when it counted most, scoring on a breakaway 20 seconds into overtime to give his team the win over Western Michigan.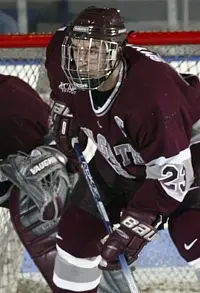 Smyth added a power-play goal in Friday night's 2-2 tie, and then assisted on another power-play score on Saturday night. But it wasn't any of the points that Smyth scored, not even the game-winner, that most impressed his coach.
"He's a great player," said Colgate coach Don Vaughan. "We expect so much out of him; he might go unnoticed because he's so steady."
One thing that Vaughan clearly noticed was the impact that Smyth had on Saturday night when an injury to winger Liam Huculak kept him out of the lineup and in turn forced Vaughan to shift his line combinations.
Smyth usually anchors the Raiders' top line alongside Tyler Burton and Jesse Winchester. Instead Vaughan sent Smyth down to the third line to take Huculak's place with center Ben Camper and right wing Zac Tataryn.
"We had to switch lines on Saturday to offset for an injured player," said Vaughan. "Jon Smyth's the kind of guy who makes all the players around him better; good players do that.
"A lot of guys look up to him," Vaughan added. "And that's what you want from your captain."
Goaltender of the Week
It's unusual for a backup netminder to be tabbed as the league's Goaltender of the Week, but that's exactly what happened last weekend. Harvard junior Justin Tobe had appeared in only one game this season before last weekend, and during that game he played poorly, allowing four goals on 22 shots during Harvard's 5-2 loss to Quinnipiac.
But when Tobe was brought in to start the third period against Clarkson in relief of starter John Daigneau, he played solidly in net. Tobe stopped all nine pucks he faced and was judicious in his decisions to leave the net, an area that caused him problems during the loss to Quinnipiac.
Tobe was in net the next night for the Crimson, and it was his performance against St. Lawrence that won him the GOTW. The junior was strong in net, particularly under a barrage of 19 shots throughout the third period and three separate five-on-three penalty kills in the second period.
All told, Tobe allowed three goals and produced 43 saves and was the main reason that Harvard was able to keep pace with a strong St. Lawrence team that outshot the Crimson 46-16. His play impressed his coaches and teammates.
"I thought he was outstanding," said Harvard coach Ted Donato. "He really gave us a chance to win that game. When you face that many penalties and three five-on-threes in the period…
"I thought he was outstanding and really gave us a lift," Donato continued. "There's no question when a goalie is on like that it gives your team a huge lift."
"He was deserving of being named GOTW," he added. "On the road, in a tough place to play, he came in and gave us a chance to come back against Clarkson in the third period and then helped us to the win at St. Lawrence."
Record Versus Non-Conference Foes
A busy weekend for non-conference play just concluded, and ECACHL continued to play well against opponents from Atlantic Hockey and the CHA. The ECACHL improved its standing somewhat when Colgate took three of four points from CCHA foe Western Michigan, but the conference also lost ground relative to WCHA opponents Minnesota-Duluth and St. Cloud State. Together the Bulldogs and the Huskies took seven of eight points from Brown and Yale.
vs. AH 9-1-1 (Bentley, Sacred Heart, Connecticut, Army, American Int'l., Mercyhurst)
vs. CCHA 3-5-2 (Michigan, Lake Superior, Michigan State, Notre Dame)
vs. CHA 8-2-1 (Niagara, Air Force, Wayne State, Robert Morris)
vs. Hockey East 9-3-1 (UMass-Lowell, Providence, Massachusetts, BU, BC)
vs. WCHA 2-6-1 (Wisconsin, Michigan Tech, Colorado College, Alaska-Anchorage)
vs. Independent 2-1-0 (RIT)
Overall 35-19-6
Commissioner's Cup Update
The ECACHL won the inaugural Commissioner's Cup Series a year ago, and through December 1 the league is again atop the Cup standings. The league has only had one game count towards the Cup since the middle of October, and that was Brown's 4-1 loss to St. Cloud State on day after Thanksgiving.
Through seven games played, the ECACHL is 5-2-0 and tied with Atlantic Hockey for first place with 10 points despite having played three fewer games. The league's next Commissioner's Cup games are scheduled for mid-December; Princeton will host Alabama-Huntsville on December 10, and Dartmouth will travel down to Mass.-Lowell the next night.