Midway through RIT's inaugural season at the Division I level, both the coaching staff and the administration are happy. With a 5-11-1 record, the Tigers, a former national champion at both the Division II and Division III level, appear to be making the transition in a strong fashion.
"I have been quite happy with how things have gone from a team standpoint," said RIT coach Wayne Wilson. "We are learning and everything has been somewhat positive all of the way through. There has been a lot of work involved not only on the ice, but off the ice as well. Our guys have been willing to put the work forth. We have had some good results, but some disappointing results as well, but that is all part of making the jump up."
"I am very pleased. It has surpassed my expectations," said Lou Spiotti, Director of RIT's Center for Intercollegiate Athletics and Recreation. "A lot of wonderful things have happened already. The team is very competitive. We certainly would like to have more wins, but we have been competitive in every game we have played. We have been in every game against some really good teams. We have had some nice successes already."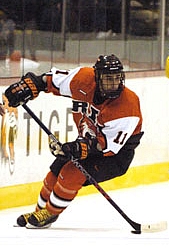 RIT has been working hard to make the transition a success ever since the announcement of the move a little over a year ago. Foremost on the list was to ensure that the support from the institution was in place.
"Advocating for the right support for the program, so the coaches and athletes have a chance to be successful, has been the most important thing," said Spiotti. "As a former athlete and a former coach, I know you need to have a certain amount of resources to get the job done. I had in my mind what we needed to do, and we advocated hard for the right resources and budget to get it done. We are not totally there yet, but we are close in terms of the right formula."
While Spiotti has been concentrating on building the off-ice foundation, Wilson and his staff were busy preparing the players.
"Our guys have been able to raise their level of focus," said Wilson. "It really started in the spring with our spring workouts. We followed through to bring the guys back in mid-summer to do more physical testing. We wanted to let them know that this isn't something where you work hard in the spring, and then go home and relax before working out again in August. It has to be part of your daily routine. We set up numerous programs in different facets of hockey and in life, preparing them in a more professional manner in how they present and prepare themselves."
With the exception of its very first Division I game that RIT lost to Quinnipiac 6-2, the Tigers have been in every contest this season. RIT hasn't lost any other game by more than three goals, and has tallied wins against Division I opponents Air Force, Canisius, AIC, and a stunning 3-2 victory over then-No. 18 St. Lawrence.
"[Hockey] is a funny game," said Wilson. "St. Lawrence was clearly a better team than we were. A year from now, all it is going to be is a side note. It was an unbelievable individual effort by [goaltender] Jocelyn [Guimond] that got us the win. It showed our players and fans that on any given night you can win a game. Maybe it sent a message to Atlantic Hockey that we are going to come in and compete right away [next season]."
Prior to the season, the coaching staff set a goal of winning at least one point every weekend this season. But after finding success on the first night four separate weekends this season, the Tigers were beaten on the second game of the weekend. Perhaps the Law of Unintended Consequences has reared its ugly head, as RIT has appeared a little more complacent the second game on those weekends.
The home-and-home series against Canisius the third weekend in October is a good example. The Tigers played an inspired game on the road Friday night, aggressively attacked the Griffs all game, and won 5-3. But then RIT came home on Saturday night, sat back on its heels a little bit, and never really got going as Canisius won 2-1.
"We played a very good game in Canisius and then kind of sat back at home," said Wilson. "Not on purpose, but we just didn't play with the same kind of edge when we came back home for the second game. We were a little bit content, right from the coaching staff all the way down. That is a game that we wish we had back."
Being able to maintain a high level of competitiveness, night in and night out, over a longer season, is one of the challenges that RIT is facing as it tries to make the transition.
"Since [assistant coach] Brian [Hills], [assistant coach] Scott [McDonald], and I have all been in Division I, we all new what to expect from a competitive standpoint," said Wilson. "I have been pleasantly surprised with how well our young guys have done, and we have had tremendous leadership out of guys like Marc Hyman, Darren Doherty, and some of our upperclassmen. The biggest change was going to be the competitiveness, game in and game out. With 10 extra games, or five extra weeks, it is a longer season and a harder season to play."
Even though the school is just three months into its transition year, RIT is already seeing the benefits of moving up to Division I. Most noticeable is the buzz it has created around campus.
"It has certainly been a help for campus spirit," said Spiotti. "The students have rallied around it, and we have a lot of excitement on campus."
"You walk by one of those campus tours, and you overhear them saying we have a Division I hockey program and it kind of perks everyone's ears up," added Wilson. "There are some subtle things [that it has changed]."
Community and fan support has increased as well. Attendance at games this season is up 24 percent, averaging 1,837 per contest, and already equaling last year's tally of three sellouts despite playing four fewer games at home so far.
"Our attendance has shot up," said Spiotti. "We are averaging several hundred more spectators per game this year. Our overall attendance per game is higher than a lot of established programs already. The community is supporting it. We have very well-versed, astute, and loyal hockey fans. We have lost some games, but they still come to support us and have hung in there."
An important reason cited by the administration for upgrading the men's hockey team to Division I was to help increase the visibility of the school on both a regional and nationwide basis. Establishing a comprehensive media package for game coverage, as well as a recent ESPN.com article, have helped to achieve that goal.
"We have gotten tremendous press coverage," said Spiotti. "We have wonderful radio coverage through WITR and WYSL, and 11 games televised through UPN. The ESPN article is a good testimony that people have stood up in the hockey community and seen us make a good start at a transition already. There is still a lot of work to do, but we have made some wonderful progress."
Both on the ice and off, RIT appears to be well on the way to a successful transition. The support from the administration, students, community, fans, and alumni is solid. The Tigers have a long way to go both this season and beyond, but so far, so good.
With the men's hockey team transition going so well, RIT is now evaluating an upgrade of the women's hockey team to the Division I level.
"We are seriously talking about moving women's ice hockey to Division I," said Spiotti. "I wouldn't use the term inevitable, but I feel confident that that is going to happen. We want to do things right for our women's hockey program. I think it will come sooner than later."