For Niagara, the sting of consecutive lopsided loses to Minnesota should fade quickly as the Purple Eagles rejoin the CHA schedule and prepare for a dogfight finish in conference play. The Purple Eagles regularly trek to some of college hockey's highest peaks (Michigan's Yost in '04, Maine's Alfond in '05), and now having attempted Mariucci (the Everest of the sport),there is something to be said for the noble pursuit of a summit that remains, as yet, unreachable.
Niagara's coach Dave Burkholder maintains a sacred contract with his recruits: come to Niagara, work harder, supplant your personal assumptions with team goals, go to class and graduate, and you will have the opportunity to play against the very best teams in college hockey. He does not schedule down for personal records or for stat-padding.
But it does not stop there. If you look at the fine print of this contract you will see that Burkholder impresses upon his players that the expectation in scheduling these games is to win, not just compete, against the nation's elite programs. He has created a culture where his players are given the opportunity to make plays.
Hockey's brutally simple logic dictates that there is nowhere to hide on the ice. At Mariucci, Niagara received a full dose of this reality on an Olympic-sized sheet against an opponent chock-full of NHL draftees. How did the Purple Eagles come to this fate?
It began, of course, in practice.
Practice, Practice
Fresh off a late December victory over then-No. 13 New Hampshire, the Purple Eagles took to practice the week preceding the Minnesota series in a semi-euphoric state. They returned from their holiday break in excellent physical condition and that seemed to give them an edge against the Wildcats.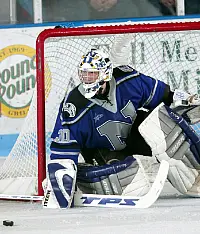 Purple Eagles netminder Jeff Van Nynatten ended Tuesday's practice with a showdown challenge against winger Marc Norrington. Once he had seen enough pucks, Van Nynatten skated off to the locker room to discuss the upcoming series against Minnesota.
"I can just see it right now," the senior goalie said, closing his eyes "I already know what type of games they will be. They'll come at us in waves. Crossing. Drop passing. No throw-ins. I can see the whole thing right now."
Van Nynatten could be forgiven if he underestimated the amount of rubber he would see against the Gophers. In order to envision the entire 119 shots he would face, Van Nynatten would have had to channel the ghost of one of the most famous goaltenders ever to play in the state of Minnesota — Gump Worsley.
Worsley's famous explanation for a goaltender's worst nightmare came in an interview with Bill Hewitt during a Hockey Night in Canada broadcast when Worsley played for the New York Rangers.
Hewitt asked Worsley which team he feared most, and, without pausing , Worsley replied — "My own, the New York Rangers."
Arriving at Mariucci
Niagara arrived Thursday afternoon in Minneapolis and immediately bussed to the arena to set up their locker room. While the players caught their first jaw-dropping glimpse of this state-of-the-art maroon-and-gold facility, the olfactory task of organizing the equipment fell to Chanin Martin, who for eight seasons has held the distinction of being the only female equipment manager in Division I hockey.
Martin could be seen wearing a surgical mask as a precaution during the third month of her pregnancy as she went about the business of sharpening skates and hanging jerseys. In a poignant juxtaposition of role reversal, the skating Gopher cheerleaders (an assemblage of real-life skating Barbies) walked past Martin during the second intermission of the first game and were astonished at the sight of a woman hacksawing a one-piece Easton stick to its desired length.
Game Day
The lore of life on the road in the hockey world is legendary, but the reality of D-I is that it is fully regimented and the players spend most of their downtime in a semi-meditative state in preparation for the game. Breakfast was served at 9:30 a.m. and talk at the table centered around sports trivia.
Niagara assistant coach Jerry Forton and senior winger Randy Harris battled back and forth with trivia zingers while Forton claimed victory by rapidly naming racehorses Secretariat and Bold Ruler as the first non-consecutive father-and-son duo to appear on the cover of Sports Illustrated.
From breakfast, the players embarked upon a five-minute walk to the arena that guided them past a maze of athletic facilities, totaling over a billion dollars in bricks and mortar, and which would have easily engulfed the entire Niagara campus back on Monteagle Ridge.
Pre-Game Skate
The Purple Eagles took to the ice at 10:20 a.m. and spent the next 20 minutes in skating and shooting drills. This was a mandatory skate and senior captain Jason Williamson led a spirited stretching session at its conclusion. Williamson has embraced his role as captain by being a vocal leader on the bench who backs up his talk with gritty play on the ice.
He is not afraid to enforce team rules in the privacy of the locker room when it matters most — in the absence of the coaching staff. His parents traveled from the wilds of 150 Mile House, B.C., to see their son play against the Gophers, and thought nothing of the hours and distance they had endured to support his hockey career.
Shortly after Niagara skated off the ice, the Gophers began their session without full equipment. Somehow, in their pared-down practice apparel they looked less intimidating, even approachable.
That was until they began 3-0 breakout drills.
"They're smooth," freshman Les Reaney said in praise as he looked on through the tunnel. "They're real smooth."
Left pondering a rejoinder, sophomore Mike Novosad finally added in true hockey-speak: "We'll grind it out tonight."
Pre-Game Meal
The pre-game meal occurred back at the hotel at 2:30 p.m. Forton is the stickler for anything to do with what is consumed by the team and his pre-game menu is unchanging: chicken, pasta, baked potatoes and mixed vegetables. The tone of conversation was less jovial than at breakfast. Many of the players ate in silence then quickly disappeared back to their rooms until it was time to leave for the game.
At this moment, one realizes that the iPod has become almost as important in hockey as the curvature of one's stick and the cut on one's skate blades Players everywhere broke out these digital conversation-stoppers and attempted to relax for a few more hours.
Van Nynatten retreated to his room alone and participated in a more old-school relaxation technique: he took a bath. Nobody talks to Van Nynatten after the pre-game meal and nobody wants to room with him on the road. A goaltender is not the ideal traveling companion.
Game Time
One of the most fascinating times to observe a hockey team is when each player prepares himself for the final moments before taking the ice for warmups.
Marc Norrington and Andrew Lackner ran the stairs of several sections of the arena to "get their legs." Sean Bentivoglio and Scott Langdon kicked a soccer ball around the corridor. Ted Cook did a series of bodyweight walking lunges then joined Pat Oliveto as they applied baby powder to their sticks. Players filed in and out of the locker room, checking and re-checking their sticks then stalking the hallways with winter skullcaps on and iPods registered to full volume.
At 5:30 p.m., the coaching staff entered the dressing room for the final chalk session. Head coach Dave Burkholder took control.
"The keys to tonight's game are staying out of the box and transitioning to defense," he said. "We had a season-low 13 turnovers against UNH and that's the type of game we need tonight."
Burkholder then turned the floor over to Forton, who covered the penalty kill. "Once they establish control in our zone," Forton said, "don't get too crazy going down to block shots. Stay upright and fronting when you can. Watch for the pump-fake."
Albie O'Connell, Niagara's other assistant coach, diagrammed the power play, multiple packages of looks that he hoped would initially cause the Gophers hesitation. Burkholder finished the blackboard session by drawing up the Gophers' favorite offensive-zone faceoff play and how Niagara would defend it.
Burkholder's summation began.
"I want everybody back in this dressing room at 9:30 exhausted, leaving everything out there on the ice. I don't want you to be afraid. This is why we do all this practice and take the long trips. You have to make plays out there , and you have to want the puck. I want you swinging for the fences. It's your locker room, boys."
With that the coaching staff left and the players were alone while the Minnesota marching band struck the first chords and a crowd of nearly 10,000 season-ticket holders (many of whom had never heard of Niagara) filtered into their seats.
Thirty minutes later, with the players fully dressed, the coaching staff came into the locker room for a final moment to pass out "claw" awards for excellence in play during the previous contest against UNH. Howls went up as the prized stickers were given out and applied to helmets.
Sophomore Tayler Simpson led the charge out of the locker room. He is the smallest starting centerman on the team and his voice soared above all others.
"Let's go, boys, let's go," Simpson's accent was pure Canadian tenor. His mantra was a symphony to anyone who had ever played the game and cared enough to chase the butterflies out of the pit of one's stomach. "Time to go now. Time to go."
After the anthem, Burkholder let out the final instructions from the bench: "Get a bump on 'em. Get a good bump."
Two hours and five minutes later, 55 shots against, five goals opposing, two goals affirming, and a totally spent Purple Eagles team headed back to the locker team with the resigned look of having faced a superior opponent.
Short Trips
Niagara played a much better game on Saturday night, despite losing by the wider margin of 7-1. Van Nynatten faced 66 shots, including a penalty shot which he stopped. Gophers head coach Don Lucia was lobbed a softball question by one of the local beat reporters after the game which he graciously swatted back.
"Was it nice to have two easy ones?" came the query.
"Niagara plays the game the way it is supposed to be played," Lucia said firmly. "I'd schedule them again. They had their chances all weekend. Our top-end speed was what enabled us to ultimately prevail."
Minnesotans love to talk, and they love to talk about hockey. This reporter personally experienced this epiphany on the shuttle back to the airport when the driver spoke in exquisite detail about the second Minnesota-Niagara game, which he had attended.
"So you're from Niagara," he said finally.
"Yes, I'm here covering the games," I replied.
"We had the team here at the hotel," he said. "Very good bunch of guys. I just wish the refs would have treated them as fairly last night. That penalty-shot call was horse[bleep]."