He leads Hockey East with a plus-minus of +20. Last year, that same mark over 35 games placed him third in the league. As a freshman, the first year in which Boston College compiled the statistic, he finished with a plus-19.
Over his first three years he scored 14 points and then 16 twice in a row.
If Peter Harrold isn't the model of consistency, it's hard to imagine who is.
"I'm probably most proud of my steadiness," Harrold says. "I'm pretty responsible in my own zone. I try to take care of our own zone because the fabric of our team is defense.
"We take care of our net and we move out. That's what the coaches have ingrained in us. I take a lot of pride in that."
It isn't the stuff of highlight reels or headlines, but it is the stuff of wins.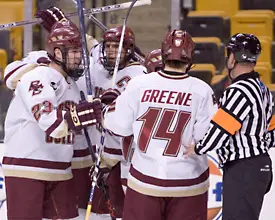 "Steady defense, get it out [of the zone] and get it in, that type of thing is crucial to a team," he says. Making sure to deflect credit to his fellow blueliners, he adds, "They may not get the headlines, but they're just as important as the guys who put the puck in the net."
That said, Harrold became one of those guys who put the puck in the net in the Beanpot opener against Northeastern. Harrold rolled down the right boards, cut in toward the crease and scored a huge goal, part of a 3-0 first-period cushion that led to the Eagles' 5-2 win.
"It is nice to get a goal on a stage [of this size]," he says. "The Beanpot is obviously the biggest tournament in Boston. We look forward to it every year. To get a highlight in it is really special."
The goal exemplified how Harrold has taken his game to another level this year, already surpassing his goal and point totals of past years.
"He's been a quiet leader for us [in the past]," BC coach Jerry York says. "He's been an honorable mention all-league type player for three years. People have liked him and he's contributed.
"But all of a sudden this year everything has gone to another level. He's stronger; he's more assertive. He can beat you defensively with the big stop or offensively with a breakout play or a goal.
"Chris Collins [who has emerged to run away with the Hockey East scoring title] and he are both players who were good players that this year have gone to All-American and First-Team all-League type of status."
Harrold credits the opportunity to work with assistant coach Greg Brown, the two-time All-American and Hockey East Player of the Year.
"He's really helped me out a lot," Harrold says. "He was an offensive defenseman when he played. You watch video with him and talk to him — he's invaluable.
"He helps me see when to go and when not. You can take some risks and get away with it. He's been really helpful in doing that with me. It's really helped my offensive output because it hasn't been much in past years, but it's getting higher."
Harrold has certainly been shouldering a bigger load than in the past. Logging close to 30 minutes a game, he's the lone veteran on the blue line to go with sophomore Mike Brennan and freshmen Tim Filangieri, Anthony Aiello, Brett Motherwell and Tim Kunes.
"He's really a rock back there," goaltender Cory Schneider says. "He's a great blend of speed and puck-handling skills. Our four freshman defensemen are really following in his footsteps and are starting to emulate his style of play. He's one of the best defensemen in the country."
Harrold, however, returns the compliments to Schneider — "having him has been awesome all year long" — and Brennan — "he's been unbelievable for us the last two years" — as well as the freshmen.
"It wasn't too hard a transition period because the four D that they brought in are really talented and we're lucky to have them," Harrold says. "They've adjusted to the speed pretty well and Greg Brown has been working with them on that.
"We haven't had to do too much with them. They're really just good hockey players. It's just little tips here and there and they figure it out pretty well on their own."
Even so, Harrold values the words of praise his teammates shower him with.
"That's the greatest compliment you can get," he says. "Your teammates see you every day and watch all your mistakes and highlights."
There's still unfinished business, however. Last year, Harrold had to sit in the stands with mononucleosis as his teammates, so dominant all year, fell to North Dakota in the NCAA tournament.
"It's awful to sit up there and watch your team lose," he says. "I was rooting so hard for them to win. I think if we'd made it to the Frozen Four, I would have been cleared to play. So it was really tough to watch. It was just really unfortunate timing."
As a senior, this year will be Harrold's final shot at a national title. The Eagles should be very serious contenders. They may be very young, but they're very talented.
If they follow the lead of their blueline leader — steady as a rock while elevating their game — they'll be just fine.