The single biggest game of the weekend, and the biggest event on any RPI hockey fan's calendar, is Saturday night's Big Red Freakout! against Brown.
In addition to being a part of the most exciting atmosphere that many college hockey fans will ever experience, this year's attendees will have a chance to aid RPI in its continued efforts to support the Lance Armstrong Foundation in its battle against cancer.
While the Big Red Freakout! may be the highlight of the weekend, there are a number of other games on the schedule that are worthy of note. Foremost amongst these is a rematch between travel-partner pairs as Colgate and Cornell travel to the North Country to take on Clarkson and St. Lawrence. These four games will have wide-reaching ramifications on the hunt for the regular-season title, the ECACHL playoff picture, and the national PairWise Rankings.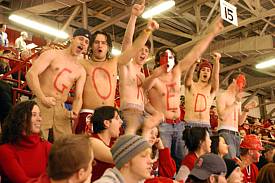 And while the Harvard Crimson will host Princeton Friday night to conclude its season series against the Tigers, the Crimson's most important upcoming game will be on Monday night in the Beanpot consolation against Northeastern.
The Crimson fell short in its comeback attempt against BU on Monday night in the opening round of the Beanpot, and so Harvard will attempt to break its streak of Beanpot futility — it hasn't won a game since 2003, and it hasn't won an opening-round game since 1998 — against the Huskies.
Playoff seeding will be on the line Friday night when Yale skates into Houston Field House; the Bulldogs and the Engineers are currently tied for seventh place in the conference standings. And the Big Green will have a chance to improve upon its own playoff position with a pair of games against Quinnipiac and Princeton.
Currently in third place, Dartmouth could gain ground on Harvard by virtue of having one more game this weekend. And the Big Green might also close in on its primary competitors for a first-round bye, as Cornell (first), Colgate (second), and St. Lawrence (fifth) will be battling up north.
---
An RPI tradition, the Big Red Freakout! first began in 1978 during a game against New Hampshire. According to the Rensselaer Men's Hockey Media Guide (and Sports Information Director Kevin Beattie), "fans were urged to wear something red, bring noisemakers, enjoy free skating after the game and enter the banner contest."
The Engineers went on to win the inaugural Freakout! 6-5 in overtime in front of a crowd of about 4,600, and a tradition was born. Over the previous 27 years, the Freakout! has featured some truly great games and some exceptional events off the ice as well.
The tradition has seen record crowds and the incorporation of a "gift" for fans from the student union. That gift-giving tradition, in turn, led to an NCAA restriction on the type of "favor" that could be handed out to fans because of a game against Brown in 1987 where the amount of noise become almost unbearable (pun very much intended).
In addition to being a major social event in Troy and the focal point of the hockey calendar, or perhaps because of it, the Big Red Freakout! has prompted strong performances from the Engineer hockey team. The team has gone 17-7-4 all-time in Freakout! games, and is undefeated (11-0-4) during the last 15 years.
"It's one of the few nights of the year where the building will be just packed; the fans and the atmosphere are just incredible," said Rensselaer coach Dan Fridgen. "Players have fed off that energy and enthusiasm, and it has motivated them to have a good record in this game over the years."
Before his team gets to the Freakout!, though, the Engineers must take on a surging Yale team that is currently deadlocked with RPI for seventh place in the league standings.
"Yale is certainly a team that has found its confidence and is playing very well," Fridgen said. "What makes [this game] even more important is that we're tied with Yale for points in the league standings. It doesn't leave any room for error."
Fridgen wasn't worried about his team looking past Yale towards the Freakout!, in part because of the playoff ramifications that Friday's game could have. But he also knows his players will be motivated by the memory of the last time they played Yale.
"They left a sour taste in our mouths the last time we visited them," he said. "They bounced us pretty good, 5-0."
---
Continuing its efforts to raise both awareness of and funding for testicular cancer, the Rensselaer men's hockey team is poised to raise more than $6,000 during this weekend's Big Red Freakout! The funding will be donated to the Lance Armstrong Foundation; the foundation battles cancer extensively in both the United States and in Canada by advocating for government support, educating communities about cancer and promoting awareness, and funding scientific research.
Co-captain Kirk MacDonald, who was diagnosed with testicular cancer in April 2005, chose the Lance Armstrong Foundation as the beneficiary of the team's fundraising efforts after researching cancer programs that did extensive work in both the United States and Canada. MacDonald has sat out this season while recovering from cancer treatment, but expects to be back on the ice in an Engineer uniform for the 2006-07.
In an earlier column this season, I highlighted the Black Friday jerseys that Rensselaer was auctioning to benefit charity. The major effort that the team has made to raise cancer awareness involves every team member having his head shaved after one of the Engineers' home games. MacDonald and fellow senior Kevin Croxton will have their heads shaved on Saturday, and are hoping to raise at least $1.00 from each of the more than 5,000 fans that will be in attendance.
Also adding to the fundraising cause is another jersey raffle on Saturday night. The jersey in question was donated by a friend of MacDonald's, Matt Pettinger of the Washington Capitals; it includes the signatures of nearly all the Capitals' players, including rookie phenomenon Alex Ovechkin.
Anyone who wishes to contribute to the Rensselaer men's hockey team's efforts in raising money for cancer research, please contact Kevin Beattie, RPI's Sports Information Director, at [email protected].
---
St. Lawrence coach Joe Marsh also had a sour taste in his mouth after a pair of defeats last weekend against Princeton and Quinnipiac.
"Last weekend left a lot to be desired," Marsh began. "We played four pretty solid periods of hockey out of the six total periods.
"It wasn't enough," he added.
His team matched the Tigers almost shot-for-shot and outshot the Bobcats, and the power-play chances were even throughout both games. The most disappointing part of the weekend for Marsh might have been the way that the Saints surrendered a pair of leads in the third period to Princeton.
"We played pretty well against Princeton but we saw what a tough team they are," he said. "They got the jump on us late in the game and got a few big goals."
Protecting leads was a topic Marsh emphasized. He cited his team's last five games — the Saints have gone 1-4-0 over that stretch — as a prime example of close losses that result from a lack of timely goal-scoring. During that span, St. Lawrence has won or lost each game by a goal (with the exception of a 3-1 loss to Quinnipiac that included an empty-net goal in the last minute of play).
But Marsh also emphasized that despite his team's struggles during the second half of the season, he doesn't believe his team will (or should) become uncertain of itself.
"For us, we can't let the lows get us too low," he said. "More importantly we can't let the standings affect our mindset. We need to be resilient."
---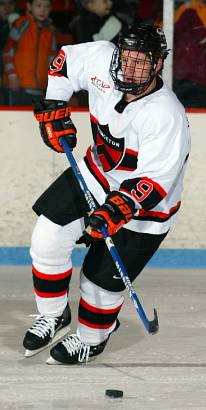 The next two weekends will each feature a pair of games on television for ECACHL hockey fans, including two afternoon contests on national television.
This Saturday afternoon in Hanover, N.H., ESPNU will broadcast a 4:30 p.m. clash between Princeton and Dartmouth. Later that same evening, Time Warner cable in New York will air the Yale-Union game with a standard 7:00 p.m. start.
Next weekend will bring more of the same; CSTV will broadcast live from Lynah Rink at 5:30 p.m. when Cornell hosts Harvard. And Time Warner will air the 7 p.m. faceoff between Dartmouth and Colgate from Starr Rink in Hamilton.
---
Commissioners' Cup Update
With Yale's 4-3 win over Connecticut on Sunday afternoon, the ECACHL once again claimed the Commissioners' Cup. The league finished with a record of 7-4-0 in contests designated for the Commissioners' Cup Series and finished but one point ahead of the CCHA.
With a 2-1 victory by Northern Michigan (CCHA) over Wayne State (CHA) on Saturday evening, the CCHA held a one-point lead on the ECACHL with one game to play-the Yale-UConn game, which was scheduled as a matinee on Super Bowl Sunday.
The Commissioners' Cup Series is not an exact comparison of the strengths of the respective conferences; the Commissioners can only choose to designate games that are currently scheduled (and many teams are partially scheduled two or three years out), so the Series does not necessarily pit the best teams from each conference against each other. The ECACHL's win, in other words, doesn't make it the best conference in college hockey.
"What it means is that teams from our league did well in games that we designated as part of the Commissioners' Cup," said ECACHL commissioner Steve Hagwell.
"The intent behind the Commissioners' Cup was to give a little more publicity to the game of college hockey and to help build up some inter-league rivalries," Hagwell noted. "But you already have some natural inter-league rivalries — like Harvard versus BU or BC, for example."
"Every team takes great pride in representing the league, I think," Hagwell added. "Every team wants to win any non-league games that they play; they don't need any added incentive."
Record Versus Non-Conference Foes
With Yale's win over UConn, the ECACHL collected its second consecutive Commissioners' Cup. The win also added to the league's strong overall performance against teams from Atlantic Hockey; the ECACHL won the season series 13-5-1 thanks to victories over Connecticut and Sacred Heart and despite losses to Holy Cross.
The ECACHL won the head-to-head matchups against CHA teams like Niagara and Alabama-Huntsville with an overall record of 11-5-2. And league teams also recorded a 9-1-0 record against Division I independent RIT, with St. Lawrence's loss to the Tigers the only blemish.
Regardless of whether Harvard defeats Northeastern in the Beanpot consolation Monday afternoon, the ECACHL will finish with a slightly below .500 record against teams from Hockey East. After a promising start (the ECACHL led Hockey East with an 11-6-1 record on Dec. 8, for example) the league lost a number of close contests down the stretch. The league was not nearly as close when compared to teams from the CCHA or WCHA; in head-to-head matchups against teams from those leagues, ECACHL teams struggled to records of 4-12-3 and 4-9-4, respectively.
vs. AH 13-5-1
vs. CCHA 4-12-3
vs. CHA 11-5-2
vs. Hockey East 13-15-1
vs. WCHA 4-9-4
vs. Independent 9-1-0 (RIT)
Overall 54-47-11
USCHO.com/CSTV Division I Men's Poll (Feb. 6)
No. 3 Cornell — Cornell rose two spots to No. 3 in the nation in this week's poll, and the Big Red also received one first-place vote. Cornell assembled an impressive pair of wins over formerly-ranked Colgate to advance in the polls; the Big Red's success, coupled with a Boston College loss, prompted voters to swap the positions of the two, leaving Wisconsin, the team at No. 4 in both last week's and this week's polls, unchanged after a road split with Minnesota-Duluth.
No. 17 Harvard — Harvard moved up three slots from its No. 20 position last week, a move perhaps more attributable to the struggles of the teams around the Crimson — St. Lawrence, Colgate, and Lake Superior — than a reaction to Harvard's 2-1 overtime win at Brown.
Since last week's poll was announced on Monday afternoon, voters did not have Harvard's Beanpot loss to consider when ranking the Crimson. I'm unsure whether voters will drop the Crimson at all, though, because A) the loss came against the hottest team in the country in the form of Boston University, and B) it's often hard to weigh losses from a week ago as heavily as more recent losses, which is what voters will have to do this coming Monday.
Dropped
Colgate, which was No. 17 in last week's poll, dropped out of the Top 20 this week after being swept in a home-and-home series against Cornell. St. Lawrence, which clocked in at No. 18 last time out, also fell out after suffering a road sweep at the hands of Quinnipiac and Princeton.
The PairWise Rankings
As in previous weeks, I'd like to include with my weekly column a short section focusing on the top three or four ECACHL teams and their particular PairWise situations. This section of my weekly column is intended solely to serve as a broad overview. For more detailed information, make sure to read senior writer Jayson Moy's "Bracketology" articles and executive editor Scott Brown's "PairWise Analyzed" articles every Wednesday.
For my analysis, I'll utilize .004 Road, .0025 Neutral, and .001 Home for calculating the RPI "bonus." Using those numbers, here's where the ECACHL teams fall:
Cornell
Record: 15-4-3
RPI: .5528
PWR: Tied for 4th (6th after tie-breaker)
Strong Wins:
• 4-2 win versus Michigan State
• 4-3 win at Harvard
• 5-2 win versus St. Lawrence
• 4-1 win versus Colgate
• 3-2 win at Colgate
Disappointing Losses:
• 6-1 loss at Dartmouth
• 3-0 loss at Princeton
Notes: Cornell continues to improve its stellar winning percentage, and collected a pair of victories against Colgate (a Team Under Consideration) last weekend. Cornell can further improve its standing for the NCAA tournament with a repeat showing of last month's sweep of Clarkson and St. Lawrence. While the Golden Knights are no longer a TUC, the Big Red's win over St. Lawrence is currently the key element to Cornell's PairWise comparison win over Wisconsin (the Big Red is the only team that wins a comparison against the Badgers). If Cornell loses to St. Lawrence, that advantage goes away.
Harvard
Record: 12-9-2
RPI: .5325
PWR: 11th
Strong Wins:
• 5-3 win at Boston College
• 4-3 win at St. Lawrence
• 1-0 win at New Hampshire
• 1-0 win at North Dakota
Disappointing Losses:
• 5-2 loss at Quinnipiac
• 5-1 loss at Dartmouth
Notes: The Crimson dropped a golden opportunity to improve its PairWise position with Monday night's loss to Boston University in the Beanpot. And while the loss hurts, the pain is doubled (as Scott noted in his "PairWise Analyzed" this week) by the fact that the loss means Harvard will face Northeastern in the consolation, and having the Huskies on the schedule will hurt Harvard's RPI even if the Crimson wins.
St. Lawrence
Record: 14-11-1
RPI: .5310
PWR: 20th
Strong Wins:
• 2-1 OT win at Wisconsin
• 5-3 win versus Providence
• 2-1 win at Vermont
Disappointing Losses:
• 3-2 loss at RIT
• 3-1 loss at Brown
• 4-3 loss at Princeton
• 3-1 loss at Quinnipiac
Notes: The Saints have take a series of dramatic falls since the PairWise Rankings were first announced; they have gone 1-5-0 since that point, with losses to Cornell, Colgate, Clarkson, Princeton, and Quinnipiac. The chances that St. Lawrence can climb back into the hunt for an at-large berth are looking slim, and they will be all but nonexistent unless the Saints can salvage a pair of wins this weekend against Cornell and Colgate — two TUCs.