The CCHA's leading scorer and regular-season champion Miami's senior captain were unanimous picks to head up the 2005-06 CCHA All-Conference teams, as selected by the conference's coaches and announced by the league Thursday.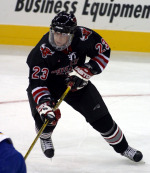 Nebraska-Omaha junior forward Scott Parse, who topped the league with 42 points in conference play and who leads the nation with 41 assists and 61 points overall, was a First-Team pick by all 11 coaches eligible to vote for him (coaches were not allowed to vote for their own players).
He was joined at forward on the all-CCHA First Team by his linemate Bill Thomas, the CCHA's top goalscorer with 21, and by Nathan Davis of Miami.
Thomas and Davis were among a total of six sophomores among the 12 players on the two all-league teams.
Miami blueliner Andy Greene, just the sixth player in league history elected to the First Team three times, was also a unanimous selection, and was accompanied on defense by Northern Michigan senior Nathan Oystrick, a First-Team selection last year as well.
Lake Superior State junior Jeff Jakaitis, the overall Perani Cup champion, became the first Laker All-CCHA honoree since 1999-2000 as the First Team netminder.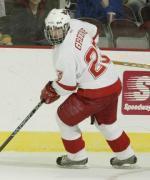 A trio of Miami sophomores — netminder Charlie Effinger, whose 1.85 goals-against average led the CCHA in conference play, defenseman Mitch Ganzak and forward Ryan Jones — were selected to the Second Team.
The RedHawk quintet marks just the second time in 15 years that five teammates have earned All-Conference honors in a single season.
Two Wolverines were All-Conference for the second straight year, as junior forward T.J. Hensick, a First-Team honoree last season, and junior defenseman Matt Hunwick were voted to the Second Team.
Bowling Green sophomore forward Alex Foster, who paced the CCHA with 28 assists, was selected to the Second Team, the first Falcon skater since three players were selected in 1999.
The league previously announced the All-Rookie Team, also selected by the coaches. All-conference and rookie teams as well as honorable mentions are detailed below.
2005-06 CCHA All-Conference Teams
First Team
Pos First Name, Year, School (First) Points
F Scott Parse, JR, Nebraska-Omaha (11) 55
F Nathan Davis, SO, Miami (9) 49
F Bill Thomas, SO, Nebraska-Omaha (5) 43
D Andy Greene, SR, Miami (11) 55
D Nathan Oystrick, SR, Northern Michigan (7) 40
G Jeff Jakaitis, JR, Lake Superior (5) 40
Second Team
Pos Name, Year, School (First) Totals
F T.J. Hensick, JR, Michigan (5) 41
F Alex Foster, SO, Bowling Green (3) 35
F Ryan Jones, SO, Miami (1) 26
D Mitch Ganzak, SO, Miami (1) 23
D Matt Hunwick, JR, Michigan (1) 20
G Charlie Effinger, SO, Miami (2) 24
Honorable Mention (next six point totals, regardless of position): Dave Caruso, SR, G, Ohio State; Sean Collins, JR, D, Ohio State; Brent Walton, SR, F, Western Michigan; Corey Potter, SR, D, Michigan State; Jeff Lerg, FR, G, Michigan State; Nate Guenin, SR, D, Ohio State.
All-Rookie Team
Pos Name, School
F Andrew Cogliano, Michigan
F Erik Condra, Notre Dame
F Dan Riedel, Ferris State
D Tyler Eckford, Alaska-Fairbanks
D Jack Johnson, Michigan
G Jeff Lerg, Michigan State