Two and Out, and Two to Go
Who knew that we'd all have last Sunday night off? Apparently, the Bulldogs, Broncos, Nanooks, and Mavericks knew.
There were two official upsets in the first round of the CCHA playoffs, but only one of them was a genuine surprise.
The Western Michigan Broncos beat the Lake Superior State Lakers in Sault Ste. Marie, 3-2 and 1-0, on the tremendous play of the upperclassmen and the suddenly superb goaltending of sophomore Daniel Bellissimo. Bellissimo stopped 61 of 63 shots in the two games for a save percentage of .968, and the shutout Saturday night was the first shutout win of his career.
With the wins, the Broncos tallied their first postseason victories ever over the Lakers, previously going 0-5-0 in the playoffs against LSSU. The Broncos also registered their first road playoff wins since 1987 — when the oldest member of the Bronco squad, goalie Scott Foster, was five years old and current head coach, Jim Culhane, was a senior — when WMU beat Illinois-Chicago in Chicago.
Last weekend was also WMU's first CCHA playoff series win in 12 years.
Less startling was Alaska-Fairbanks' sweep of Notre Dame. The Nanooks 4-1-0 last year on the road in CCHA playoff action, sweeping Bowling Green and winning twice at Joe Louis Arena, and the Nanooks and Irish were deadlocked in league play at the end of the season. The Nanooks had also spent two weeks in South Bend, having finished the regular season with a split against the Irish in the Joyce Center.
In front of freshman goaltender Mitch O'Keefe's fine performance, Ferris State swept Ohio State in Big Rapids to advance, and in Omaha, the Mavericks handled Bowling Green to play another day.
There were, of course, four teams with a first-round bye, a new development in the ever-evolving CCHA playoff format. The bye — in theory — protects the PairWise Rankings upper-tier CCHA teams and rewards the top four for their placement in the final standings. How this will all play out remains to be seen.
"Obviously this will be a hot topic a week from now more than right now," said Red Berenson, head coach of No. 3 Michigan. "Right now we're all speculating. I hope it gives our team a little more energy and rest, a combination of the mental and the physical part."
A bye can go either way for the team that sat out a week. It can provide much-needed rest, or it can take the wind out of a team's collective sails. "I'm also leery of playing a team that played last week," said Berenson. "They're on a roll.
"On the other hand, they've used this system in the ECAC for years and a bye team has never lost. For us, it came at a good time. We can regroup and refocus."
The hottest team entering the weekend is without question Western Michigan. Okay, so "hot" is relative, but look at it this way: the Broncos have put together a four-game unbeaten streak, including their first three-game win streak of the season; WMU is 3-1-2 in their last six, all against CCHA opponents; Daniel Bellissimo is inspired; Jim Culhane is probably fighting for his job; Brent Walton is playing the last games of his collegiate career; the Broncos played last weekend, so they can still feel the heat.
They face No. 1 Miami, a team that is ranked second in the nation and third in the PWR. The RedHawks are suddenly getting media attention (way to go, Cincinnati!), are playing their last games in The Goggin, and have recently been crowned regular-season CCHA champions.
Head coach Enrico Blasi said, however, that the RedHawks took the bye in stride and are focused going into the weekend.
"For us for whatever reason, the schedule has worked out so that we had multiple weeks off this year, so we had a good system and we kind of stuck with it," said Blasi, who added that in years past, "weeks off were difficult."
And don't think that the RedHawks are overconfident because they're league champs. "It was far enough ago that we've gotten it all out of our system," said Blasi. Following up the Tuesday night regular-season title win with two losses in East Lansing was sobering, too.
"In a way, that was good for us," said Blasi. Miami finished the regular season with a Thursday-Saturday, home-and-home series against Bowling Green. "We had to come home and find a way to win on Saturday when there was a lot of things going on — senior night, Tom [Anastos] brought the trophy."
Blasi called the CCHA playoffs "a new year and a new championship," something that every coach, player, trainer, equipment man, mom, dad, great aunt, and booster believes.
Hallelujah and drop the puck. May the best teams win.
The Series
Here's a glance at each of the series, head-to-head. Each is a best-of-three series, with the third game played Sunday night, if necessary.
No. 11 Western Michigan (10-22-6, 7-16-5 CCHA) at No. 1 Miami (23-7-4, 20-6-2 CCHA)
A week ago, like many people, I wrote off the Western Michigan Broncos, convinced that their four regular-season losses to Lake Superior State were an effective predictor for the eventual outcome of the first round of play.
Like everyone else besides the Bronco faithful, I was wrong.
It was senior Brent Walton who found a way to score at 11:46 in overtime Friday to give the Broncos the first win; fellow senior Mike Erickson had the only goal, at 14:00 in the third period of Saturday's 1-0 win.
"Our senior leadership was tremendous this weekend, and it was just a total team effort," said head coach Jim Culhane. "I'm proud of how our guys have persevered and fought through adversity. It's great to see them rewarded for their hard work.
"We're peaking at the right time and playing our best hockey of the year."
Nothing less than WMU's best effort will beat a Miami team that captured the earliest regular-season CCHA championship since 2000-01. The Bronco senior class is a good match for Miami's seniors; this series pits Walton against a defense as solid as any in the nation, led by senior Andy Greene.
"Our league over the years has produced very tight races and a lot of parity," said Miami head coach Enrico Blasi, who added that his RedHawks are "looking forward" to the series. "Western is playing with a lot of confidence, they work hard, they're getting goaltending, Walton's as dangerous as any forward in the country."
Over the course of his career, Brent Walton has amassed 70 goals, with 45 of them coming last season and this. He isn't WMU's only forward, of course, but he's one of college hockey's few pure goal scorers who remain in these days of diminished offense.
The Miami offense is deeper and more artful, but the Broncos crash the net like no others in the league. If WMU is to advance this weekend, the Broncos will stay out of the box, Daniel Bellissimo will continue his inspired play, and WMU as a whole will somehow find a way to beat the top goaltender in the nation and another one that is close on his heels.
Here's a look at the teams by the overall numbers. The stats following the slash are ranking within the league in overall play.
• Goals per game: WMU 2.42/11th; Miami 3.15/4th
• Goals allowed per game: WMU 3.97/12th; Miami 1.91/1st
• Power play: WMU .160/9th; Miami .150/11th
• Penalty kill: WMU .797/12th; Miami .881/2nd
• Top scorer: WMU Brent Walton (24-16–40); Miami Nathan Davis (18-81–36)
• Top goal scorer: WMU Walton; Miami Ryan Jones (19)
• Top goaltender: WMU Daniel Bellissimo (3.64 GAA, .892 SV%); Miami Charlie Effinger (1.79 GAA, .974 SV%) and Jeff Zatkoff (1.94 GAA, .931 SV%)
Blasi said that the key to his team's success is the way in which the RedHawks approached one game at a time. "Our team has played some close games all year long. We've been in situations where we've had to buckle down and play some desperate hockey. That's what playoffs is all about — play together, play as a team."
Desperate hockey? The RedHawks? Maybe that's why they finished on top.
No. 9 Alaska-Fairbanks (17-14-5, 11-13-4 CCHA) at No. 2 Michigan State (20-10-8, 14-7-7 CCHA)
I suspected that the Nanooks would prevail last weekend, but I thought that it would take three games. It was, however, exactly what UAF head coach Tavis MacMillan suspected when he correctly predicted, "One thing's for certain: these will be a couple of low-scoring games."
UAF beat Notre 3-1 and 1-0, with upperclassmen leading the way in scoring, and sophomore Wylie Rogers solid in net. After Rogers' shutout win Saturday, MacMillan said that the Irish "took the play to us at certain times" but that "Wylie Rogers was the difference."
Rogers made 39 saves in the win and 61 on the weekend.
The four goals in two games was almost an outburst for the streaky UAF offense which boasts just one goal scorer in double-digit territory. For a team that plays its home games on Olympic ice, the Nanooks seem more at home this season on a regulation sheet; they are a big, physical team that plays a brisk game.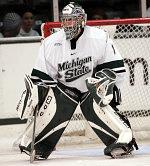 "I much prefer to play a team that plays an up-tempo style and they do," MSU head coach Rick Comley told the Lansing State Journal this week. "From that standpoint, it'll be an exciting series."
Exciting because the Spartans themselves are rather high-octane, having overcome early injuries and illnesses to field a team that can play with anybody. The Miami RedHawks were swept by the Spartans in East Lansing just days after Miami captured the regular-season title. The Spartans ended their regular season with three points in Sault Ste. Marie.
MSU languished near the bottom of the standings early in the season and climbed steadily to second place. Dressing a full team, including freshman forward Tim Kennedy, was only one reason the Spartans turned their season around. Freshman goaltender Jeff Lerg is another. The Spartans have been 12-2-3 since the midseason break, and Lerg is 11-2-3 in that stretch.
"We've grown up a lot over the course of the season — and we're still a young hockey team," said MSU head coach Rick Comley. "We've been tested in tough environments and tough games, but we've earned the bye."
Here's a look at the teams by the overall numbers. The stats following the slash are ranking within the league in overall play.
• Goals per game: UAF 2.36/12th; MSU 2.97/6th
• Goals allowed per game: UAF 2.53/5th; MSU 2.34/3rd
• Power play: UAF .158/10th; MSU .188/2nd
• Penalty kill: UAF .892/1st; MSU .833/7th
• Top scorer: UAF Kyle Greentree (8-18–26); MSU Bryan Lerg and Drew Miller (13-21–34, each)
• Top goal scorer: UAF Curtis Fraser (11); MSU Lerg and Miller
• Top goaltender: UAF Wylie Rogers (2.40 GAA, .924SV%); MSU Jeff Lerg ( 1.98 GAA, .926 SV%)
The Spartans are, without question, a deeper team at every position and Munn Arena provides a serious home-ice advantage, but the Nanooks are fearless entering the series. Said MacMillan of his team, "They don't care where they play, and they don't care who they play. They like to play hockey and they like to win. They like to play hard for each other."
No. 7 Ferris State (17-13-8, 10-11-7 CCHA) at No. 3 Michigan (18-13-5, 13-10-5 CCHA)
Once again, the Bulldogs find themselves facing familiar foes in the playoffs. Last week, Ferris State polished off Ohio State in two games; they had taken only one point from the Buckeyes two weeks before. With the 3-0 and 2-1 wins, the Bulldogs are now 8-0-0 all-time at home in the CCHA playoffs.
This week, FSU hopes that history does not, in some ways, repeat. Just two weeks ago, the Bulldogs took three points from Michigan, tying at home and winning in Yost Arena. FSU will not want to see the Wolverines accomplish what the Bulldogs did, earning one point in a regular-season series against a post-season opponent, and then sweeping that post-season foe in two games.
There is absolutely no danger of the Bulldogs entering Yost Arena with any kind of overconfidence whatsoever. In fact, head coach Bob Daniels laughed at me when I asked him if some of his players might be thinking that they can take these Wolverines because they did so in the regular season.
"All we have to do is look at the fact that we lost and tied Ohio State," said Daniels. "We lived those games against Michigan." Without Bulldog Matt Verdone's answer at 17:47 in the third to Wolverine Travis Turnbull's unassisted shorthanded goal scored 1:17 earlier, there would have been no tie game in Big Rapids.
And the Wolverines were up three goals to none on the Bulldogs going into the third period at Yost the following night. Three unanswered FSU goals in the third took that one to overtime, where Zac Pearson's marker 42 seconds in won it for the Bulldogs.
Allowing the shorthanded go-ahead goal and getting behind three goals are enough for the Bulldogs to re-examine how to approach the Wolverines. "What I can take to the series," said Daniels, "is that we made some mistakes at Michigan that they capitalized on that we can learn from. Those are the mistakes from the course of the year that at times have [nearly] bit us. Those are the things that will bite us if we let them."
The Wolverines finished their season in third place, the first time they finished without at least a chunk of second place or higher since the 1989-91 season. Head coach Red Berenson was characteristically philosophical about that.
"This is the one year that Michigan's not coming into the playoffs on a roll," said Berenson.
It's unusual for the Wolverine faithful to be so uncertain about their team at this time of the year. There's no question that the uncertainty can be traced to goaltending. While both freshman Billy Sauer and senior Noah Ruden have been more than adequate at times this season, neither has been consistent and that inconsistency is disconcerting.
"I can't tell you really who's going to start," said Berenson. "We've got two goalies I hope will play well. We've played them in stretches. We're at a crossroads now. I played Sauer the last two games [against FSU]. He had a real good weekend until the last period Saturday. We know Billy can play … [but] neither of them are playing are .500 hockey. We've really missed the stability of a No. 1 goalie. I can't say it's been a problem all year."
While every team needs good goaltending heading into the playoffs, the Wolverines are one squad that can make up for whatever else they may lack, on any given night, in any position. Michigan has scored more goals than any team in the conference in league play, and this veteran club knows what it takes to win.
Here's a look at the teams by the overall numbers. The stats following the slash are ranking within the league in overall play.
• Goals per game: FSU 3.03/5th; Michigan 3.69/2nd
• Goals allowed per game: FSU 2.76/8th; Michigan 3.00/9th
• Power play: FSU .183/3rd; Michigan .192/1st
• Penalty kill: FSU .853/4th; Michigan .841/6th
• Top scorer: FSU Greg Rallo (16-21–37); Michigan T.J. Hensick (14-23–37)
• Top goal scorer: FSU Rallo; Michigan Kevin Porter (16)
• Top goaltender: FSU Mitch O'Keefe (2.56 GAA, .908 SV%); Michigan Noah Ruden (2.83 GAA, .911 SV%)
The prevailing philosophy is that a visiting team needs to rise to the occasion, especially in the playoffs, but Daniels said that keeping cool is key for the Bulldogs this weekend.
"If we lose the discipline, we lose the series. I don't think it's a matter of getting fired up for it, but a matter of keeping your composure. It's important that players know that they control the game. It's too easy to be distracted."
No. 5 Nebraska-Omaha (20-12-6, 12-10-6 CCHA) at No. 4 Northern Michigan (20-14-2, 14-12-2 CCHA)
It didn't get any closer in the playoff race than who finished fourth and fifth, and how each did so. Tied for points at the end of the regular season, the Wildcats earned a bye by virtue of the number of their league wins, while the Mavericks played two against Bowling Green in the Qwest Center last weekend.
Of all four series last weekend, this was the one that was least in doubt after the initial drop of the puck. The Mavericks jumped out to a three-goal lead in the first game and a two-goal lead in the second, and went on to take each contest by a score of 4-2.
The Maverick offense is led, of course, by Scott Parse, who leads the nation in points per game and is second in the country in assists per game. He and his long-time linemate, Bill Thomas, are among the elite of D-I scorers. Thomas is seventh in the country in goals per game.
With his goal and assist last weekend, Parse became UNO's all-time leading scorer with 145 points in just three seasons, surpassing former Maverick David Brisson. "That record is a huge accomplishment and really speaks of Scott's ability," said UNO head coach Mike Kemp. "Every game he's played here, he's done something to improve."
The Mavericks are more than the sum of two players and boast seven players with goals in the double digits. UNO's offense is deep, artful, and the third-best scoring in the nation.
On paper, the Wildcats are a puzzle. NMU's offense is 29th in the country; the Wildcat defense is 21st. Yet NMU's style of play belied the numbers, proving that the whole of the team was greater than the sum of its individual parts.
The 'Cats earned their bye when they swept Ohio State at home during the last regular-season series of the year. "There were a lot of people who thought we were certainly going to be playing somewhere next weekend," said NMU head coach Walt Kyle. "I can tell you the 26 guys in the room did not think that."
(Um, Coach Kyle, I picked you to win two that weekend. Just want you to remember that.)
With steady goaltending from sophomore Bill Zaniboni and a solid defensive corps, the Wildcats are a difficult team to beat, especially in the Berry Center.
Here's a look at the teams by the overall numbers. The stats following the slash are ranking within the league in overall play.
• Goals per game: UNO 3.71/1st; NMU 2.97/7th
• Goals allowed per game: UNO 3.16/10th; NMU 2.58/6th
• Power play: UNO .170/6th; NMU .165/8th
• Penalty kill: UNO .819/10th; NMU .858/3rd
• Top scorer: UNO Scott Parse (20-41–61); NMU Darin Olver (14-18–32)
• Top goal scorer: UNO Bill Thomas (25); NMU Olver, Mike Santorelli, Andrew Contois (14 each)
• Top goaltender: UNO Jerad Kaufmann (2.76 GAA, .906 SV%); NMU Bill Zaniboni (2.28 GAA, .916 SV%)
The keys to this series are many. Both teams are decent playoff hockey teams. The Wildcats have swept their opponents in three of their last four CCHA playoff series, and have taken seven of eight first-round CCHA playoff series since rejoining the league in 1997-1998.
But the Mavericks beat the Wildcats in Marquette, 2-1 and 8-3, Feb. 10-11.
The Olympic sheet at the Berry Events Center may be home for NMU, but the extra room gives that UNO offense space to move.
But the Wildcats have been to Detroit the last four years running, which includes all three years under head coach Walt Kyle.
And the Winner Is…
Well, we won't know for another week who the CCHA will honor at the awards banquet next week, but we know who the league won't be honoring, thanks to this week's press release that names the three finalists in each of the major categories.
This is the first time that the league has released the finalists for year-end individual honors, and there were few surprises:
Best Defensive Forward
Matt Davis, Miami
Andrew Ebbett, Michigan
Drew Miller, MSU
Best Defensive Defenseman
Andy Greene, Miami
Matt Hunwick, Michigan
Nathan Oystrick, NMU
Rookie of the Year
Jeff Zatkoff, Miami
Jeff Lerg, MSU
Erik Condra, Notre Dame
Coach of the Year
Jim Roque, LSSU
Enrico Blasi, Miami
Rick Comley, MSU
Player of the Year
Andy Greene, Miami
Jeff Jakaitis, LSSU
Scott Parse, UNO
I don't have an issue with any of the nominees; each gentleman is certainly worthy of praise in each category. However, I have a hard time believing that Notre Dame head coach Jeff Jackson was left off the list of finalists for Coach of the Year.
Please don't misunderstand. All three of the nominated gentlemen legitimately deserve the honor. Jim Roque has done something remarkable in Sault Ste. Marie, taking a team that was completely down on its luck and lacking in confidence and turning it into a solid, competitive hockey team, retaining the team's impressive defense and discipline and adding offense.
Enrico Blasi should be admired for keeping the spirits of his team up during last year's season-long fiasco of injuries and illnesses and showing us all what this Miami team can do when it's healthy.
The same can be said for Rick Comley, who did what I knew he'd do all along, mold the Spartans into contenders once again. They are an excellent team.
But didn't Jackson do what Roque did, and even more so in some ways? If Jim Roque started from three on a scale of one to 10, Jackson started at negative five.
Of course, the irony is that both gentlemen saw their seasons end last weekend, a fate that neither team deserved, which is not to imply that Alaska-Fairbanks and Western Michigan deserved to lose.
Then again, every coach in the CCHA knows it isn't always about what you deserve and don't.
Congratulations to all the nominees on outstanding seasons.
And Really the Winner Is…
Congratulations to following players for their All-CCHA honors performances.
2005-2006 CCHA All-Conference First Team
Scott Parse, Forward, UNO
Nathan Davis, Forward, Miami
Bill Thomas, Forward UNO
Andy Greene, Defense, Miami
Nathan Oystrick, Defense, NMU
Jeff Jakaitis, Goaltender, LSSU
2005-2006 CCHA All-Conference Second Team
T.J. Hensick, Forward, Michigan
Alex Foster, Forward, BGSU
Ryan Jones, Forward, Miami
Mitch Ganzak, Defense, Miami
Matt Hunwick, Defense, Michigan
Charlie Effinger, Goaltender, Miami
2005-2006 CCHA All-Rookie Team
Andrew Cogliano, Forward, Michigan
Erik Condra, Forward, Notre Dame
Dan Riedel, Forward, FSU
Tyler Eckford, Defense, UAF
Jack Johnson, Defense, UAF
Jeff Lerg, Goaltender, MSU
Congratulations of Another Sort
It was nice to see a CCHA game from somewhere other than the usual venues. Last Friday's 3-0 Ferris State win over Ohio State was carried by FSN Detroit, and because it was an OSU game, FSN Ohio picked up the feed.
It was the first time a game has been televised from Ewigleben Ice Arena since Oct. 17, 1986, nearly 20 years — or a whole generation — ago.
The camera angles were good, and the production looked great.
And the outcome was predetermined. Everyone knows the Buckeyes can't win on television.
Funniest Email Award Goes to…
Actually, I'm not going to reveal his name, but a fan wrote to me this week to express his outrage that Miami received two of the possible 40 votes for No. 1 in the USCHO.com/CSTV poll of two weeks ago. This fan, a self-admitted Gophers supporter, could not believe that anyone would in any seriousness vote for Miami first in the country.
I've corrected his grammar, but his opening line was, "I don't disagree that Miami of Ohio has a good team, but in light of their schedule and conference I find it very disheartening that two individuals can really believe that Miami of Ohio is better than the Gophers."
In my reply, I did not point out that the ninth-place team in Miami's inferior conference took three points from those Gophers in Minneapolis early in the season. I also didn't tell him that only dorks call Miami hockey "Miami of Ohio," as any true D-I hockey fan knows they don't play the sport in the city that spawned the South Beach diet.
With everything that goes on in this world today, I am still bemused that someone took the time to write to me and my esteemed colleagues Scott Brown and Todd Milewski to argue the point that Miami should receive no first-place votes while Minnesota should get them all.
And he tried to argue his point when I wrote back to thank him for his opinion.
I don't know whether Miami of Ohio is better than Minnesota in Minneapolis, and I guess that's something that may or may not be decided in the NCAA tournament. I do know, however, that I'm grateful that someone, somewhere, cares enough to complain about the opinions of two voters in the USCHO.com/CSTV poll, and cares enough to express what can only be described as genuine outrage.
I needed the laugh. And it's so nice to be heckled by someone other than CCHA fans.
Oh — stop the presses! This is too good to ignore! I just arrived home to find another email from yet another WCHA fan! What a delight!
This time, the writer took me to task directly for voting for Miami for first place. Again, I cleaned up the grammar. He wrote, "You are making yourself look like a fool. Find some other sport to display your lack of knowledge about. Why anyone is paying you for such poor judgment is a joke."
(This man has obviously spent time in Marquette, or Omaha, or both … with a beer in each hand.)
This outraged writer said he was "confident" that the Gophers would beat the RedHawks "10 out of 10 times, by at least three goals."
I wasn't sure if that was per game or total, the math of which confuses me, I must admit.
It's hard to root for or against any team this weekend. I want all series to be good ones with no injuries. That's always my sincerest hope. But part of me wouldn't mind seeing UAF advance, win the Mason Cup, and play the Gophers in the NCAA tournament.
For the record, I voted Minnesota No. 1 last week. Not that it matters.
Alex Foster
Good luck, Alex. The CCHA is less sparkly without you.
Kyle Greentree
I caught him! You can read the story in a feature this weekend.