Though only a couple hundred fans saw it in person, Bemidji State won the CHA tournament championship for the second season in a row last weekend in Detroit over a very game Niagara squad.
In doing so, the Beavers became the first team to qualify for the NCAA tournament by virtue of the CHA champion's automatic bid. But they hardly had time to celebrate as immediately after the final game, the players and staff had to hustle to get to Detroit Metro Airport to make an 8:45 p.m. flight.
"It was a good weekend for us," said a humble Layne Sedevie, BSU's goalie for both wins in the tournament. "Early on this season, I think we earned a little bit of respect around the country and hopefully this adds to it and we can keep it going."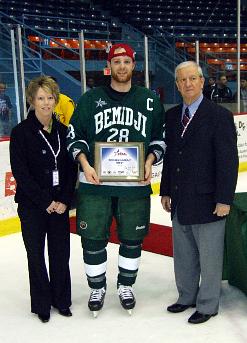 The Beavers opened the year 8-2-0, with sweeps over Minnesota State, Minnesota State and Wayne State, and were ranked in the national polls. But then they hit a 2-6-2 rut and many claimed they were simply coming back to reality. The upswing that ended the season and guided BSU to a tournament win included wins in seven of their last 10 games.
Next up is a return trip to the NCAA tournament. Last year, Bemidji pushed Denver to overtime in its opening game before heartbreak befell the Beavers. Top scorers Brendan Cook and Andrew Murray are now gone onto the pro ranks after graduating last year, but that doesn't mean the current Bemidji team can't make some noise on the national scale.
"We just have to bring it," Beavers' captain Jean-Guy Gervais said. "We had a taste of it last year and maybe we were content with taking Denver to overtime. We're obviously excited to get back to business and get back on the ice."
Gervais was named the tournament MVP with two goals in the 4-2 win over the Purple Eagles. Sedevie was in net for both games two weeks ago against Alabama-Huntsville when the two BSU wins and two Niagara wins gave NU the top seed, Bemidji the No. 2 seed and the then-first place Chargers the third spot.
Until that point, Sedevie and CHA Preseason Player of the Year Matt Climie rotated in net. Even heading into the finals, after Sedevie beat UAH in the semifinals, BSU head coach Tom Serratore wasn't sure who he'd have in net. Sedevie earned the only win against Niagara this year for BSU, beating the Purple Eagles, 8-1, on Dec. 3 at home. That probably played a role.
"You just have to go with the hot hand," Serratore said after the game. "Sedevie had the hot hand."
Do the Beavers have a preference as to who they play next week at regionals or where they faceoff?
"It doesn't matter to us who's next," said Serratore. "We'll worry about that later. This year, we played enough quality competition to know what to expect.
"So no, it doesn't matter."
Seniors Reflect After Losing
Postseason tournaments also come with the consequences that seniors play their last games for their respective schools. Never easy to have to slip that jersey off for the last time, several players found a hard time doing that last weekend.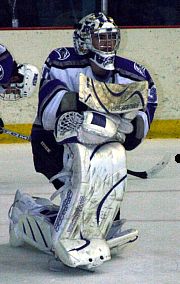 As the Air Force bus was nearly loaded, Matt Bader and Mike Knaeble hadn't even showered or changed as they were still in full gear. Brooks Turnquist emerged from the locker room a little red around the eyes.
"I don't know, I just don't know," Turnquist said. "You play this game for 20 years and now what? I'm just in a state of shock right now. I don't know what's next."
Niagara goalie Jeff Van Nynatten spoke softly, blamed himself for Niagara's loss and rarely blinked.
"The last two months or so I'd been thinking about it and I knew the day would come when I would take this jersey off," said Van Nynatten. "But I didn't think it would happen this soon. I'm just shocked. A wave came and went (Bemidji State's) way and I broke down mentally. I got beat by a better goaltender."
John May, a three-year player at Wayne State after transferring from Ferris State where he played a year on the Bulldogs' club team, was blunt about WSU's six-win season.
"It's been pretty bad," said May. "But we never quit. I will say that much."
The majority of the seniors will graduate in May and enter the work force, May it be hockey or the "real world," the four years in the CHA certainly flew by. But now it's time to move on.
Air Force Taken Down by RMU
Just a second-year program, Robert Morris went down 3-0 against Air Force in their quarterfinal and all signs pointed to a Falcons' victory.
But then Kurt Wright scored. Then Logan Bittle scored. And Bittle again.
Tie game — 3-3.
With 4:09 left in regulation, Tom Biondich got loose in the slot, pounced on a rebound and let go a slapper that beat Air Force goalie Peter Foster cleanly.
"What can I say? Good for him," said Foster. "We knew going into the third that we needed another goal or a big save. We didn't get either. This team seems to be our kryptonite. I don't know what it is, but we can't put them away."
Robert Morris won all five meetings this year with Air Force and finished one spot above the Falcons in the final CHA standings.
"To beat Air Force five times is a feather in our cap," said RMU head coach Derek Schooley. "But I have the utmost respect for Air Force and everyone in their room."
Schooley was an assistant coach at Air Force until accepting the RMU position two years ago.
Quote of the night belonged to Air Force head coach Frank Serratore after losing to Robert Morris: "We had the gun to their head, but couldn't pull the trigger."
Niagara Gets Lucky Once, Not Twice
Matt Caruana's goal with just over a minute left in regulation gave NU a semifinal win over Robert Morris Saturday night. No late heroics were to be had in the finals.
"It's very empty right now," Niagara head coach Dave Burkholder said. "After the season we've had … you play all year for the tournament and this wasn't the way it was supposed to end for us. Not this way."
On a positive note, Niagara equipment manager Chanin Moore and her husband, Terry, are expecting their first child in July.
UAH Again Can't Close the Deal
Alabama-Huntsville advanced to the semifinals after beating Wayne State in the quarterfinals, but then fell in overtime Saturday night to Bemidji State.
Rob Sirianni was the hero for the Beavers as his OT winner sent the Chargers home once again empty in the CHA tournament. In four of the previous six years, UAH advanced to the title game, but came up short.
This year, the Chargers didn't get that far.
"The toughest part is just losing to Bemidji again," said UAH goalie Scott Munroe to the Huntsville Times. "It's the third year we've lost to them in the tournament. It doesn't get any easier, that's for sure."
Sirianni's goal was without controversy, at least from Huntsville's side.
"It looked like Scott had it covered," Alabama-Huntsville head coach Doug Ross said to the Times. "The whistle didn't blow. There was a little bit of delay on the call, but he's the referee and he's on the goal line; he's got the best vantage point. I guess he elected to let it go for a little bit longer because it might not have been covered. But if it's out of sight after a second or two, he ought to blow it down. But it's his call."
"I didn't know where it was," added Munroe. "And then their guy came and spanked it home."
Host Wayne State Bows Out Reluctantly
Wayne State head coach said after his team's 3-1 defeat to UAH Friday night he felt that was a game the Warriors should have won.
"There were some games this year that we won that maybe we didn't deserve to win," Wilkinson said. "But the Huntsville game, I thought we played well enough to win. I thought we played extremely well. We came in with a lot of hope and with a great attitude. Maybe we'll come full circle next year. Who knows?"
This season, WSU finished 6-23-6 and 3-12-5 in the CHA. Both records are its worst since joining the league in 2000.
And Wilkinson evidently wasn't ready to head home just yet. For Sunday's finals, he helped the rink crew at the State Fairgrounds Coliseum with pregame net setup procedures and such.
Help On the Way for Air Force
Jacques Lamoureux has been tearing it up with the Bismarck Bobcats of the NAHL this season and hopes to duplicate his scoring prowess next year when he heads to Air Force.
Currently, Lamoureux is fifth in NAHL scoring with 32 goals and 70 points.
"He has all the tools to compete at any level," Bismarck head coach Dane Litke said. "We are pleased to see him get the opportunity to play at the Academy as well as have the chance to attend a great school." 
Lamoureux said he chose the Falcons over other offers due to the hockey program, academics and his military interest. Still, this season has been one of maturation for the 20-year-old from Grand Forks, N.D.
Litke has benched him at times and even made him a healthy scratch in one game.
"Jacques knows he can get away with not working hard and still get points," Litke explained to the Bismarck Tribune. "That's a bad combination. If you stand around and do nothing but get three points, you can pick up some bad habits."
"As a third-year player, I have to step up to the plate every night, and I couldn't complain about the benchings," Lamoureux said to the Tribune as well. "I wasn't performing."
Lamoureux looks to be a key freshman for Air Force next fall — though not in the CHA as the Falcons move to Atlantic Hockey next season.