Wisconsin's tale of two seasons could turn into a triad of pieces this weekend. The Badgers, who dominated college hockey in the first half of 2005-06, saw the wheels come off in the wake of goaltender Brian Elliott's practice injury, and matters didn't get any better when Elliott was initially ineffective on his return.
But those concerns were wiped away by the Badgers' strong showing down the stretch, and although Wisconsin wasn't able to add the WCHA tournament championship to its accolades, the Badgers seem well-positioned in the Midwest Regional, where they will be the darn-near home team against Bemidji State in the first round.
The Beavers' season bore some similarities to their opponents — hot start, tough run, then a rebound in the playoffs, where BSU rolled to a second straight CHA title and NCAA appearance. And don't think anyone on either of those teams has forgotten the fight Bemidji gave eventual national champion Denver in the first round last year.
The other semifinal in Green Bay offers a clash of styles with offensive-minded Colorado College battling Cornell's dominant defense. The Tigers found their way into the NCAA tournament despite losing in the first round of the WCHA playoffs, and will no doubt want to erase recent bad memories against the Big Red, who battled through the ECACHL tournament before falling to Harvard in the title game.
The Tiger-Big Red duel will pit Hobey Baker finalists Brett Sterling and Marty Sertich against David McKee, whose numbers may be down this season but whose ability is not in doubt.
Wisconsin vs. Bemidji State
Saturday, 1:30 p.m. CT, Resch Center, Green Bay, Wis.
Wisconsin Badgers
Record: 26-10-3, 17-8-3 WCHA (t-second)
Seed: No. 1 overall, No. 1 Midwest
How in: At-large
2005 NCAA tournament: Lost in Midwest Regional semifinals
Finishing third in a conference tournament doesn't always draw a celebration. But for Wisconsin, when that finish came because of a dominating outing against its biggest rival, it was cause for more than a few pats on the back.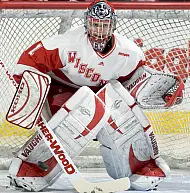 A 4-0 victory over a lethargic Minnesota team last Saturday not only gave the Badgers third place in the WCHA Final Five, it gave them the top spot in the NCAA tournament. Even more important to Wisconsin, however, it provided a sense of comfort in knowing that the team is, in fact, playing well as it goes into the national tournament.
After being swept by Minnesota State on Feb. 24 and 25, the Badgers had to go back to basics to rebuild themselves as the team that dominated the WCHA in the first half of the season. They got home sweeps over St. Cloud State in the regular-season finale and Michigan Tech in the first round of the playoffs but were knocked off by North Dakota in the WCHA semifinals.
So playing a complete game against Minnesota, one of the teams that's expected to be at top form this time of the season, was a big boost for the Badgers, even if they knew the Gophers weren't at 100 percent because of a draining loss a night earlier.
It took Wisconsin back to what senior forward Ryan MacMurchy called the team's last 60-minute effort, in a 9-1 victory at Colorado College on Jan. 14.
"We were so happy. It was like we won a championship almost inside the dressing room," MacMurchy said after beating the Gophers. "We were so happy because we all knew each line was rolling, each defenseman was rolling and Els [goaltender Brian Elliott] was kicking.
"We played a 60-minute game. We played the way we wanted to. We came in and dictated against a really good team, and that's just a huge confidence booster for us. I think we're back. We've got to keep playing that way — it's only one game, but it's great confidence for us."
The key for the Badgers in the NCAA tournament is to play that way without needing the motivation that follows a loss. They get to play in Green Bay, Wis., only about 135 miles away from their campus and are sure to have the kind of raucous support they get at home to use as motivation.
They understand that they can't use that as a crutch, just as they can't take a step back from their last game going into the tournament.
"I thought what the young men did [against Minnesota], their response after not playing as well as they wanted to against North Dakota, they didn't come out tentative. It didn't take them a period and a half to get going. They went out and took control right from the [start]. I thought they forged themselves a new side of their character, and I think that was the most impressive thing. How that happened right now, going where we're going, that was impressive."
Bemidji State Beavers
Record: 20-13-3, 12-7-1 CHA (t-second)
Seed: No. 16 overall, No. 4 Midwest
How in: College Hockey America tournament champion
2005 NCAA tournament: lost in Northeast Regional semifinals
If nothing else, Bemidji State has experience in the NCAA tournament, and it dates back to, well, last year.
The Beavers coasted through the CHA tournament last season without allowing a goal and nearly upset Denver in the Northeast Regional before a Kevin Ulanski overtime goal ended any aspirations of BSU advancing.
Saturday in Green Bay, No. 4 seed Bemidji State will be playing No. 1 seed Wisconsin for the first time in the program's history, and the contest will mark BSU's seventh against a WCHA opponent this season.
"A seed is a seed; we're just excited to be in the tournament and to the challenge of Wisconsin," Bemidji State head coach Tom Serratore said. "People think we're dead in the water already and that's totally untrue. We're taking the approach that we are going to win. Year in and year out, we play a tough nonconference schedule to prepare us for games like this."
Thus far this year, BSU is 4-2-0 versus WCHA foes with the victories coming in consecutive weekends over Minnesota State and Minnesota-Duluth. The losses were to fellow tournament qualifier and WCHA playoff champ North Dakota.
"When we beat those guys, you have to remember it was very early in the season," noted Serratore. "They weren't firing on eight cylinders and we were. Maybe if we play them in the middle of the season, we don't fare as well. In the tournament, there are no guarantees, but I will say that there will be no free lunches handed out by Bemidji State."
The 2006 NCAA tournament appearance is BSU's second as a Division I program and its 15th NCAA tournament appearance all-time. The Beavers made 13 appearances at the Division II and Division III levels in a 16-year period from 1983-98 which included six national championships. Bemidji State won three straight titles and four in a span of five years from 1993-97.
After last season's heartbreak against the Pioneers, Serratore and his crew are not changing a thing when it comes to game preparation.
"Were we content last year? No, absolutely not," reiterated Serratore. "We played our game and (Denver) got the last bounce. So do we prepare differently? No, we prepare the same way mentally and the outcome, who knows?
"You never know what to expect, but we're going to playing in Green Bay in front of 8,000 fans in a sea of red, and that's fine. We're focused, we're prepared and we'll see what happens come Saturday."
CHA programs are 1-4 all-time in the NCAA tournament, with Niagara defeating New Hampshire in the first round in 2000. If the Beavers have their way and pick up some luck along the tournament path, those numbers may change in favor of the CHA after this weekend.
Cornell vs. Colorado College
Saturday, 4:30 p.m. CT, Resch Center, Green Bay, Wis.
Cornell Big Red
Record: 21-8-4, 13-6-3 ECACHL (third)
Seed: No. 8 overall, No. 2 Midwest
How in: At-large
2005 NCAA tournament: Lost in West Regional final
For the second time in as many seasons, Cornell makes the trek out West for the NCAA tournament. The travel alone can be a challenge for eastern teams familiar with short bus rides, but not accustomed to mounting expeditions in order to reach places like Duluth, Minnesota, Houghton, Michigan, or Anchorage.
A greater challenge for the Big Red is that it will again compete as the No. 2 seed in a regional where the top team is the de facto host. Last year Cornell was in the West Regional, with top seed Minnesota. The games were held on-campus at Mariucci Arena with a pro-Gopher crowd.
The Big Red won its first round game over Ohio State 3-2 despite being outshot 36-20 and falling behind 2-0 halfway through the second period. Cornell advanced to the regional finals against the hosts, and despite facing one of the best teams in the country on its home ice, provided a stiff challenge to Minnesota. The Big Red defense frustrated a potent Gopher offense, and the game went into overtime before Barry Tallackson scored the game-winning goal off his own rebound.
If nothing else, the competitive nature of last year's loss should give Cornell confidence when it looks ahead to its possible opponent in the Midwest final. As the No. 8 overall seed, Cornell fell into the bracket of No. 1 seed Wisconsin; while not hosted by the Badgers nor on the Madison campus, the regional will be held at the Resch Center in Green Bay and the crowd will almost assuredly be wearing red — and not for Cornell,
While the location may be frustrating, if Cornell focuses on the Badgers then it will have overlooked the very real challenge posed by Colorado College. Few teams in the country will be able to challenge the Big Red's weaknesses better than the Tigers, who present an interesting contrast.
Cornell excels on defense and special teams, and relies heavily on the play of netminder David McKee to protect leads. Colorado College, on the other hand, is led by two of the most talented forwards in the nation: Brett Sterling and Marty Sertich, both finalists for the Hobey Baker.
The key for Cornell may be how successfully its defense and its penalty kill can control Sterling and Sertich. The Big Red has the sixth best defense in college hockey, allowing only 2.24 goals per game, and the nation's No. 7 penalty kill. And while Cornell's offense may at times struggle, the Big Red's power play remains potent. The top unit is led by forwards Matt Moulson, who has scored 11 of his 17 goals with the man advantage, and Byron Bitz, who's tallied six of his 10 scores on the power play.
With those traits, Cornell is a team designed to protect leads. And while Moulson and Bitz might be critical, the essential component is its goaltender.
McKee, a junior, holds the NCAA record for career shutouts and was a Hobey Baker finalist a year ago after compiling one of the most statistically impressive seasons in history. His line for 2005: 27-5-3 with 10 shutouts, a 1.24 goals against average, and a .947 save percentage.
Though McKee has struggled at points this season — notably during the first month when he gave up four or more goals in games against Michigan State, Dartmouth, and Niagara — and was not selected as either the Ivy League or ECACHL Goaltender of the Year, he remains a talented netminder who is capable of shutting out any team.
"Dave McKee, everyone knows he got off to a rough start," said Cornell coach Mike Schafer. "Over the last 20-plus games, he's back to playing at a very high level. There's no doubt in my mind that he's an All-American. He's one of the best goaltenders in the country.
"He doesn't have the kind of numbers like he did last year, but if we're trading for goaltenders, I think there'd be quite a few teams interested in him," Schafer continued. "Our phone would be ringing off the hook."
Colorado College Tigers
Record: 24-15-2, 15-11-2 WCHA (t-fourth)
Seed: No. 10 overall, No. 3 Midwest
How in: At-large
2005 NCAA tournament: Lost in national semifinals
It's easy to forget that Colorado College was setting itself up as a top team for the NCAA tournament in the first half of the season. It's easy to forget that because in the second half the Tigers stumbled and had to fight just to keep things together.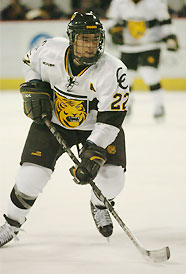 Now they go into the NCAAs after a needed-but-not-wanted week off. They were bounced from the WCHA playoffs in the first round by St. Cloud State, and coach Scott Owens then gave his team time off for exams and perhaps to clear their heads.
"We were tired and mentally tired in that St. Cloud series," Owens said. "We're down to 12 forwards and seven or eight defensemen, and just needed a little bit of a break. It's tough when you're in that fourth- or fifth-place situation and you have the potential of playing six games in nine days the way St. Cloud did.
"That being said, you still want to be at the WCHA Final Five because it's such a good tournament. We had a sense that we were going to be in, and we did take four days off for finals and everything else. But we're trying to turn it into a positive. Denver did two years ago."
Yes, in 2004, Denver lost in the first round of the WCHA playoffs, only to recover and win the national championship. For the Tigers to get out of the Midwest Regional, they're going to need a consistent defensive performance and some contributions from their non-top-line scorers.
With the Tigers, Owens said, there's a tendency to have a few defensemen play well one night and a few others the next. They'll need all of them to be on their game in the NCAAs.
It goes the same for the forwards. Brett Sterling, Marty Sertich, Trevor Frischmon and Joey Crabb can't do it all alone, and there's not much more that Owens could ask from them.
But if 13-goal scorer Chad Rau or wingers Jimmy Kilpatrick and Derek Patrosso can get going, the Tigers could get the support they need.
"We need some of that underneath push, we need some of that secondary scoring," Owens said. "We did a pretty good job [against St. Cloud State]. We held their top line scoreless. We killed 12 out of 13 power-play chances. We just didn't put ourselves in a situation to score enough."
It's easy to forget the Tigers started 9-1 and later won the Great Lakes Invitational with a solid two-day effort against Michigan and Michigan State.
That weekend in Detroit is what Owens remembers as his team's peak effort so far this season. He said that's what CC needs to get back to.
"When we're playing our best hockey, we're pursuing the puck, we're aggressive, we're forcing the other team to make mistakes and we play that puck possession and pursuit type of game," Owens said. "We're hoping to get on a smaller sheet and do that."