It is often one of the most difficult decisions in a young adult's life. One choice can make a world of difference in the very direction their life will take — the choice of an institution of higher learning.
Do you want to live close to home, or strike out on your own far away? Ivy League or party school? Private or public? How much are they offering?
For an athlete, the decision takes on additional dimensions. What kind of athletic facilities does the institution have? Is the coach someone I can play for? What kind of fan support can I expect at the games? Does the program have a tradition of success?
In most instances, the final decision ends up being one the student is happy with. In others, the honeymoon ends at some point, whether it's right away or over time.
Such has been the case for student-athletes around the nation, who for personal or professional reasons, end up leaving their original schools to find success elsewhere.
Perhaps there is no better example this season than the impact that transfers have had at St. Cloud State. The success of SCSU's men's and women's hockey teams, as well as many other successes around the country, owe much to transfer students who chose their current school as an opportunity for a fresh start.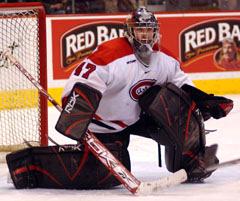 According to St. Cloud State's Office of Admissions, an average of 1,300 transfer students enter the school every academic year among a student population of about 13,000. Nationally, nearly 30% of college students transfer between schools at least once during their undergraduate careers.
The most common reasons for transferring among the general student population are academic performance issues, an inability to continue financing tuition, or a simple change of scenery, perhaps in order to live closer to home.
While these issues often come into play when dealing with student-athletes, there are also a number of concerns which could lead to a player choosing to transfer, especially concerning dissatisfaction — typically, dissatisfaction with playing time or coaching philosophy.
More rarely, the issue for a student-athlete is very simple: the school drops the sport in which they participate. At the Division I level, three schools recently dropped varsity hockey — Fairfield, Iona, and Findlay. A decision such as this inevitably leads to a diaspora of student-athletes looking for a new home in which to ply their trade.
This season in the NCAA, more than 200 transfer student-athletes competed in men's and women's ice hockey. For men's Division I programs, any transfer in is forced to sit out two semesters — one full year — before being allowed to play for a new team.
Perhaps the best-known case this season is that of St. Cloud's Bobby Goepfert, the first-team All-WCHA goaltender in his very first year between the pipes for St. Cloud.
Goepfert began his college career at Providence, a highly-touted prospect who immediately commanded respect in net for the Friars. Off the ice, however, things were not nearly as rosy. After being accused of academic dishonesty during his sophomore year, Goepfert was removed from the team.
Due to Hockey East rules on transfer students, Goepfert chose to look west to find a new school, landing at St. Cloud State. In his first opportunity at competitive hockey in almost a year and a half, Goepfert immediately began making waves in the WCHA, shattering school records for goals against average and save percentage and leading the Huskies in a breakthrough season in which they defied the preseason picks and came within two goals of hoisting the Broadmoor Trophy.
But Goepfert was not the only transfer to have an impact for St. Cloud this season. Dan Kronick, who saw his first action this season for the Huskies, transferred in from Minnesota-Duluth.
While Kronick played a solid role for SCSU throughout the year as a gritty, hard-nosed player, his best performances came against his old comrades from Duluth. Kronick lit up his old team for four goals and two assists when they met in St. Cloud for a pair of games in January. Overall, Kronick finished the season tied for third in goals scored for the Huskies.
Goepfert's counterpart across the ice in the WCHA play-in game was also a transfer student — Minnesota-Duluth's Nate Ziegelmann. Part of the same recruiting class at North Dakota as Jordan Parise, it became apparent to the Grand Forks, N.D., native that Parise was the Sioux's goaltender of the future.
After picking up only a little over 20 minutes of playing time in his freshman year at North Dakota, Ziegelmann chose to leave. Looking east, Ziegelmann transferred to Minnesota-Duluth, where after the mandatory one-year hiatus, he found himself again relegated down the Bulldogs' depth chart.
In the final game of the regular season, Minnesota-Duluth head coach Scott Sandelin gave Ziegelmann his third start of the year just one night after regular starter Isaac Reichmuth had been torched for seven goals at Minnesota. Ziegelmann immediately impressed, allowing only one goal on 32 shots against the vaunted Gopher offense, earning him the right to start on the road in the playoffs against Denver.
As the Bulldogs pulled off one of the biggest upsets in WCHA playoff history, Ziegelmann won two out of the three games in the series, allowing only four goals on 64 shots to lead Minnesota-Duluth into the WCHA Final Five, a venue that was a pipe dream for UMD just days earlier.
Similar to Ziegelmann's story is the tale of Ray Jean, who transferred from Hockey East powerhouse Maine to Bentley of Atlantic Hockey. Jean appeared in only five games with the Black Bears during his two years at Maine. Stuck behind Jimmy Howard and Frank Doyle on the Maine depth chart, Jean sat out a year before becoming Bentley's starter.
In his first season with the Falcons, Jean helped lead the Falcons to their first Division I home playoff game, their first appearance in the Atlantic Hockey championship game, and a seven-win improvement over the previous season. Jean, like Goepfert, posted the best statistical season by a goaltender in the school's Division I history, becoming the first Bentley netminder to record a season GAA under 3.00.
At Northern Michigan, Andrew Contois has been a key part of the Wildcat offense since transferring across Michigan's Upper Peninsula from Lake Superior State. This season, Contois survived a scare, leading the team in goals for the second consecutive year after a misinterpretation of his eligibility status between NMU and the NCAA nearly led to the premature end of his collegiate career after last season.
Fortunately for NMU and Contois, an agreement was reached between the school and the NCAA, and Contois was able to play out his senior season — Northern Michigan's year could have been a whole lot different without him, as the Wildcats were in the chase in the CCHA and for an NCAA bid all season long.
And then there's the story of Kurt Wright, whose travels from New Hampshire (playing time) to Findlay (dropped program) and finally to Robert Morris (first team captain in school history) were profiled by USCHO last season. This year, facing Air Force in the first round of the CHA playoffs and trailing 3-0, Wright scored a power-play goal that kickstarted the Colonials' offense, as Robert Morris gained its first playoff win in school history, 4-3.
But it isn't only men's teams who have benefited from players seeking a fresh opportunity.
The breakup of Findlay's women's program made a lasting impression on the college hockey landscape, with ex-Oilers currently associated with no fewer than eight programs, including five at the Division I level.
St. Cloud State became the new home to Hailey Clarkson and Denelle Maguet after the folding of the Findlay program. This season, the two combined with Kristy Oonincx, a transfer from Minnesota, to create one of the most potent lines in the country, which helped to power SCSU to its first playoff victories ever and an appearance in the WCHA semis.
Another Findlay refugee who provided a boost to her new team is Jess Moffat, who has split time in net for St. Lawrence the past two seasons, leading the Saints in NCAA victories over Minnesota-Duluth, both of which put St. Lawrence into the Frozen Four. Heading into the national championship weekend, Moffat has only been the losing goalie five times in 37 games for the Saints, allowing less than a goal per game in ECACHL play this season.
And it isn't just former Findlay players that have made an impact in women's hockey. Unlike in men's hockey, women who transfer between schools — with a few exceptions for some intraleague transfers — are allowed to begin playing for their new school right away.
Wisconsin's Cyndy Kenyon moved closer to home last season from Northeastern, where she had led the team in scoring during her sophomore year. Kenyon moved to a more high-powered Badger squad, but made a solid contribution in both of her seasons at Wisconsin, scoring 26 goals heading into the Frozen Four, including a five-goal effort in the WCHA championships that led her to the all-tournament team.
Division III has also seen its share of transfer success stories, and like most Division I women's transfers, Division III student-athletes can begin play for their new school immediately.
Adam Hanna transferred just west on Interstate 94 from St. Cloud State to St. John's, going from afterthought to All-American, becoming an important part of the Johnnies' success over the past three seasons, and finishing his career by winning the Sid Watson Award as the Division III player of the year.
Wisconsin-Superior's B.J. Radovich started his collegiate career at Michigan Tech, where he struggled to find his scoring touch in his first three seasons, with only four goals and six assists in 90 games for the Huskies. Transferring to Superior for his final season, Radovich came into his own, with 15 goals on the year, including his last one — an overtime winner in the NCHA championship game that stunned then-No. 1 St. Norbert and vaulted Superior into the NCAA tournament.
And Radovich was not the only transfer success story at Superior — former Potsdam forward Myles Pallister followed up a stellar sophomore season for the Yellowjackets with another outstanding performance, turning in a 24-point effort.
Chad Van Diemen dealt with the loss of Iona's program after his freshman year by moving to nearby Manhattanville, where he became an important blueline stalwart for the Valiants over the last three seasons while continuing to play beside three of his former Iona teammates.
And at Elmira, Justin Joy, a transfer from Plattsburgh, led the Soaring Eagles in scoring on the season with 33 points, though his goals in the NCAA quarterfinal at Manhattanville were doubtlessly the biggest of the year. Joy scored with under a second remaining in the third period to tie the game at 1, then netted the game winner halfway through the second overtime, lifting Elmira to the Frozen Four on its home turf.
Just as in all choices made in life, a student's first choice of school is not always the right one or the best one. But all over the country, transfer student-athletes have been proving that sometimes, a change of scenery can make a world of difference.