Experience was supposed to be one of Boston University's biggest advantages in its NCAA East Regional matchup with Nebraska-Omaha. The Terriers were making their 29th NCAA tournament appearance and 14th in the last 16 years; by contrast, this was Nebraska-Omaha's first invite to the dance.
Instead, it was youth, not experience, that turned a 1-1 game into a blowout. Chris Higgins, centering an all-freshman line with Brandon Yip and Jason Lawrence, scored at 4:53 of the second period to give BU its first lead of the game. Just 5:31 later, Higgins completed the fastest hat trick in NCAA regional history, obliterating the old mark of 24:07 and putting himself fourth in the overall NCAA tournament record book. In the process, he staked the Terriers to an insurmountable 6-2 lead.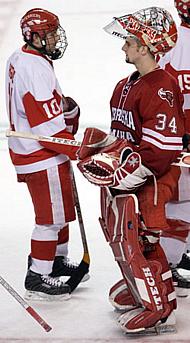 "It felt good to get the first goal since I hadn't scored in a while and then the other two followed," Higgins said. "It's a great feeling, but it's even better that we got a win out of it. It feels great and now we can celebrate, but come tomorrow we have to be ready to play."
The hat trick isn't Higgins' first moment in the collegiate limelight. In the opening round of the Beanpot, he made his first eye-popping impression on a big stage. His highlight-reel goal made ESPN's Top 10 Plays of the Day, coming in at number two.
When asked how many times he watched the ESPN clip, Higgins laughed.
"I saw it a good amount of times," he said. "My mom watches the video from NESN with my interview and she says that she cries hysterically every time she watches it.
"That was just a great feeling. But to help the team out tonight was even better."
In the postgame press interview, Higgins showed that his slick moves aren't limited to the ice; he's pretty good with a microphone in his face, too. Having played prep school hockey on a line with this writer's son Ryan, he had the perfect answer when asked at what point in his hockey development he thought that his current exploits might be within reach.
"It probably would have to be in prep school playing with Ryan," he said. "Around that sophomore year I felt that I could be a pretty good player."
It was a feeling shared by BU coach Jack Parker, who was impressed by Higgins' clever moves and ability to fill the net.
When he arrived at BU, it didn't take long for him to live up to that billing. Higgins scored the game-winner in his first time in the Terrier scarlet and white.
Of course, the collegiate game being what it is for freshmen, there also were times when the puck wasn't getting past the goalie. Following both the season-opening game-winner and the Beanpot ESPN highlight, Higgins went through extended goalscoring droughts. Such times aren't always easy to take for a pure scorer.
"There definitely have been some frustrating times this year," Higgins said. "I used to score a lot more, but you're not going to get as many goals in a league like [Hockey East]. It's such a tough league and I understand that.
"I'm pretty hard on myself, usually, but I have to laugh and tell myself that there's always the next game. As long as we're winning, I don't really care."
On the whole, however, it's been a freshman season filled with storybook elements: the game-winner in his first collegiate appearance, the Beanpot strike with ESPN putting him in living rooms across the country, and now a hat trick in his first NCAA tournament game for the number-one ranked team in the country.
"It's been a great freshman year so far," Higgins said. "It's been like a dream. I'm having so much fun with the guys on the ice and off the ice.
"It's been a special season. I hope we can keep it going."
If BU keeps it going for just three more games, and in the process Higgins keeps delivering on the big stage, there just may just be more crying for joy in store for Mrs. Higgins.