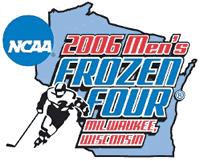 The press is supposed to be objective, but we are all fans as well. The folks that work at USCHO started out as college hockey fans, and turned that love of the game into an opportunity to share that with other fans, giving them a place to come together to be informed and to share in the passion.
That said, I am a fan of all four teams here. Great teams, great players, great coaches. Any would make a worth champion. You have North Dakota, back to the Frozen Four with 13 freshmen. Maine, here for another chance at the prize that has eluded Tim Whitehead. Wisconsin, the virtual home team, riding the amazing play of Brian Elliott.
And then there's BC, my sentimental favorite. It's a Rochester thing – BC has had a pipeline from my hometown since the days of Marty Reasoner. Since then, players from Rochester to star at BC include Brian and Stephen Gionta, and Chris Collins. Adam Reasoner is a rookie backup goaltender. I've seen some of these kids play since PeeWees.
My head says North Dakota will win the first semifinal, but my heart is with BC. Either way, a worthy team will advance.