A second-period goal by Wisconsin's Robbie Earl was the only tally of the frame, just enough to draw the Badgers even, 1-1, with Boston College after two periods of the 2006 NCAA championship game at the Bradley Center.
Earl's goal came in the opening minutes of the second period, after which both teams had their chances to capitalize but were unable.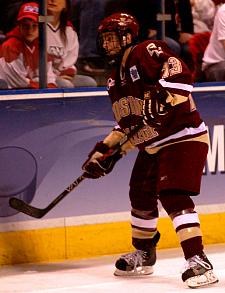 The opening period saw a barrage of pressure and shots from Wisconsin, but Boston College scored the lone goal of the frame to take a 1-0 lead.
Pressure in the right corner of the attacking zone by BC's Dan Bertram led to a Wisconsin turnover, and Bertram quickly centered a pass that bounced to the stick of fourth-liner Pat Gannon. The pint-sized center backhanded a shot over the left shoulder of Wisconsin goaltender Brian Elliott at 9:01 to silence the red and white-clad Wisconsin crowd and give the Eagles a 1-0 lead.
The Badgers were unable to score on three power-play opportunities in the period, while BC was held off the board on its lone power play.
In the second, Wisconsin drew even. After taking a crushing open-ice hip check at center ice from BC's Chris Collins, Earl recovered to take a pass from Adam Burish and redirect it past Cory Schneider just 1:17 into the second to even the game at 1.
The Badgers nearly took the lead on the power play minutes later. Schneider was called upon to rob both Joe Pavelski from the left faceoff dot and Earle from the opposite side of the ice to keep the game deadlocked.
Late in the second, the Badgers again had a host of chances, most notably Jack Skille's bid with 3:20 remaining. That time, Schneider was beat only to be saved by the crossbar.
Through two periods, Wisconsin has a lopsided 28-19 advantage in shots. Each team had one power play in the period but neither was able to convert.