Laura Hurd, a former D-III women's hockey star, was killed in a one-vehicle accident on Friday morning, according to the Elmira Star-Gazette. She was 24.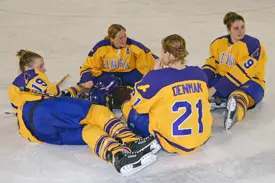 The paper cited police sources saying that Hurd's car went off road and struck a culvert around 6 a.m. The accident occurred in Watkins Glen, N.Y. She was pronounced dead at the scene.
Hurd was the first player ever to receive AHCA First Team All-American honors at the D-III women's level, and she earned AHCA National Player of the Year for her senior season in 2004-05. She helped lead Elmira to the first two NCAA D-III women's titles in the program's inaugural seasons.
The Kingston, Ont. native finished her career with 237 career points in 110 games.
Laura Hurd, A Look Back
March 9, 2002: Hurd, Eagles Stun Hockey World
Feb. 20, 2005: Laura Hurd Interview from USCHO Game of the Week
Feb. 20, 2005: Soaring Eagles Top Panthers To Close Out 2004-05 Regular Season
March 18, 2005: Soaring Eagles Top Cardinals in 2005 D-III Semifinals
March 19, 2005: Soaring Eagles Come Up Just Short in 2005 NCAA Final
Note: The site of the accident was corrected to Watkins Glen, N.Y. following later reports.