Former Norwich standout Keith Aucoin doesn't have his name on the Stanley Cup yet, but he's getting close. The 2001 Division III Player of the Year played in the Carolina Hurricanes' system this season, and was on the reserve roster for the Hurricanes' postseason run. That meant he was with the team throughout the playoffs, on standby in case an injury occurred.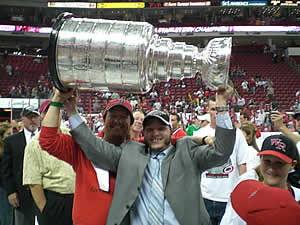 "[Being in the system] meant practicing everyday with the Hurricanes and traveling with the team to Buffalo and Edmonton," said Aucoin. "I worked out every day and kept in shape. If there had been one more injury, then I probably would have gotten in. I wasn't really hoping anyone would get hurt, but if they did, then I would have been ready to go."
Though he didn't get into the action, Aucoin was invited to take part in the Hurricanes' post-game celebration, including, of course, hoisting the Stanley Cup.
"It was very surreal," said Aucoin. "It's something you dream about as a kid growing up."
The Waltham, Mass., native played most of the past season with Carolina's AHL affiliate, the Lowell Lock Monsters. Aucoin led the team in goals (29) and assists (56). He got "the call" twice this season, playing in a total of seven games for the Hurricanes.
Aucoin will not get his name on the Cup, but will get a championship ring and have the honor of having the cup for a day this offseason. He expects to be in the Carolina system again next year, and, if the 'Canes repeat, have another shot at having his named etched in glory.