Rob Sirianni was born on Halloween 23 years ago, but throughout his minor, junior and college careers, the Bemidji State senior has never had to mask his offensive talent.
Though he only has one goal through eight games, no one is worried. Not Sirianni. Not BSU head coach Tom Serratore.
"When we need a goal, Rob's on the ice," said Serratore. "He has the ability to make plays and he can really shoot the puck."
"Any time your coach has that confidence in you that you can give the team a boost, you take it," said Sirianni. "I love that pressure."
Sirianni has upped his goal total each year with the Beavers, going from eight as a freshman, to 13 two years ago and 16 last season. Last year, he opened the season by scoring in BSU's first four games. His freshman year, all of his 18 points came against CHA opponents.
The Edmonton native has always been a top-flight scorer, as evidenced by his 54 goals in midgets and 48 with the Bonnyville Pontiacs during his last season in the Alberta Junior Hockey League.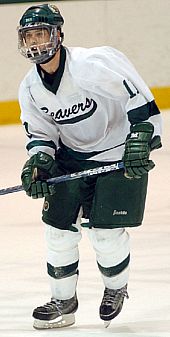 "Ever since peewee, I've been near the top of my team in scoring," Sirianni said. "After my midget year, it carried over into juniors and eventually here. Scoring gives you confidence. In Canada, it's more of a pro style game where you get the puck and get rid of it. In college, you have to move your feet, too, and that was one thing I had to adjust to as a freshman when I was in and out of the lineup."
As a freshman, Sirianni was learning the ropes when then-senior Travis Barnes got hurt and Sirianni stepped in.
"And here I am," he said. "Been here ever since."
Sirianni said when he first came to Bemidji in the fall of 2003, he heard it was a "great place to play hockey," and added that it wasn't a surprise when the Beavers won consecutive CHA tournaments in 2005 and 2006 to qualify for the NCAA round of 16.
"This is the first team I've been on where all the guys genuinely get along and we're all on the same page," said Sirianni. "My first year, Bryce Methven was our captain and we also had guys like John Haider, Andrew Murray, Peter Jonsson and Brendan Cook. Each year, we've always had great chemistry and great teams."
After Sirianni graduates next spring with his degree in physical education, he intends to use it — overseas.
"I've always said that I wanted to make hockey a career," Sirianni said. "I'd like to go play in Europe someplace and maybe come back in a year or two and play in the 'A' (American Hockey League). Or, at least try for the 'A.'"
"Rob will be a very tough kid to replace," said Serratore. "It's hard to replace righthanded skill. We've thought about it and we'll be nervous next year without Rob. I don't know that we have anyone that can step in and do what Rob's done for us."
Niagara Brooms Away Chargers, Ross Denied
Niagara hosted Alabama-Huntsville for a pair last weekend and came out on top both nights.
In Friday's 7-3 win, senior goalie Allen Barton posted 36 saves for his second win of the season. Freshmen Chris Moran and Tyler Gotto added their first collegiate goals for NU.
"Boy, it's been a long time since I've been asked to do this," Barton said upon entrance to the postgame pool of reporters after Friday's game. "I've been working hard to get back to what led me to success in juniors. I have to credit our assistant coach, Greg Gardner, for keeping me positive and working with me. He's always yelling, always pushing us. He's helped me to regain my confidence."
Barton saw no game action last season.
Juliano Pagliero took the win Saturday night as the Purple Eagles upended the Chargers, 4-1.
NU super sophomore Les Reaney is tied for the national scoring lead with 10 goals and 23 points along with Air Force forward Eric Ehn. Reaney's classmate and linemate Ted Cook (12-9–21) is fourth with 21 points and first in power-play goals with eight. Niagara captain Sean Bentivoglio is fifth with 20 points and tied for first in assists (15) with Michigan senior T.J. Hensick. Moran is tied for fifth with 11 assists as well.
"We don't want to be classified as a transition team," Niagara head coach Dave Burkholder said. "I think if we can bunker in defensively, then we're going to be a very difficult team to play. I still think we are searching for that part of our identity."
That being said, Niagara sits comfortably in first place in the CHA, five points up on Robert Morris.
UAH head coach Doug Ross was denied his 500th career coaching win in his team's sweep against NU, but will get another chance this weekend at Robert Morris.
Colonials Win For First Time at BSU
With a 3-2 win at Bemidji State last Friday, Robert Morris earned its first-ever road victory versus the Beavers.
The Colonials' first line of senior Aaron Clarke, senior Doug Conley and junior Ryan Cruthers accounted for eight of the team's nine points on the night. Conley chipped in a goal and an assist with Cruthers earning an assist on all three of the team's goals. Clarke registered a goal and two helpers. Sophomore Jason Towsley had the Colonials' other goal.
One hockey sports information director (who shall remain nameless) emailed me with creative (maybe) names for the Clarke-Conley-Cruthers line: All-Transfer Line, Vitamin C Line, C3 Line, C-Cubed Line or the ever-messy C-Men Line.
In their past four games together, Clarke (three goals, three assists), Conley (goal, five assists) and Cruthers (goal, four assists) have owned the scoresheets.
On Saturday Luke Erickson's second-period power-play goal for Bemidji State was the 20th of his career, making him just the third player in BSU's Division I era to reach 20 career power-play goals. He needs two to tie Brendan Cook's record of 22. Erickson's power-play goal was the 113th point of his career as well, moving him within two of Andrew Murray's BSU career Division I-era record.
Erickson's output also helped him move into sole possession of eighth place on the CHA career scoring list.
Zanette Playing Well, Off To NU In '07-'08
Forward Paul Zanette would have been a true freshman, a rarity for CHA teams, this year at Niagara, but decided to play another year of juniors in the Ontario Provincial Junior Hockey League. Zanette played for the North York Rangers last season, but joined the Aurora Tigers this fall. He tallied 30 goals for the Rangers a season ago.
"Getting traded to the Tigers is like coming home," said Zanette. "I've played at on time or another with over 70 percent of the players on this team."
Through six games this year, Zanette has eight goals and 13 points.
Beavers' M*A*S*H Update
Bemidji State senior goalie Layne Sedevie could be back in the lineup this weekend. He practiced with the Beavers this week, though Matt Climie will start Friday night at home against Niagara.
Sedevie re-injured his neck earlier this season and had reportedly been having problems with his memory. He injured his neck in juniors and it apparently flared up this year.
Climie played both games last week against Robert Morris after splitting duties the week prior against Minnesota State with Orlando Alamano.
Senior forward Ryan Miller should be back this weekend after being out with a concussion since Oct. 28.
WSU Recruit Hmura Gearing Up For Motown
Springfield Jr. Blues forward Christian Hmura verbally committed to Wayne State over the summer and should sign his national letter of intent in the coming days.
The New Lenox, Ill., native has been among the top 10 in scoring for Springfield all season. He was the second Jr. Blues player to make a commitment as Chris Waterstradt is headed to Connecticut.
Hmura, 19, may not be the biggest skater, but his intangibles should make him a good fit for the Warriors.
"Christian's speed is what jumps out at most people, but he does so much more," said Springfield head coach and general manager Nick Pollos of the 6-foot, 180-pounder. "We are excited for Christian in his choice to attend Wayne State next year."
BSU Makes Trio Of USHL Commitments Official
Goaltender Matt Dalton and forwards Matt Read and forward Shea Walters inked with the Beavers during the early signing period and will join the program for the 2007-08 campaign.
All three players are currently playing in the United States Hockey League. Dalton and Read are in their first seasons with the Des Moines Buccaneers, while Walters is in his second season with the Green Bay Gamblers.
"We're excited about this first group of recruits for the 2007 season," BSU assistant coach and recruiting coordinator Ted Belisle said. "We feel that they have a lot of experience in junior hockey and have the skills to make the jump to major college hockey. All three have experienced success in the USHL, which has become one of the premier college developmental leagues."
Dalton broke Ryan Miller's NAHL shutout record last season with nine while with the now-defunct Bozeman Icedogs. He'll take Sedevie's roster spot next season.
"Matt Dalton has been tested and has been successful with every team he's played for," Belisle said. "He's extremely sound fundamentally and has all the tools that make a goalie successful at the college level and beyond. He knows the position very well. He cuts down his angles. He's just very solid between the pipes. He's a proven goalie and has the ability to come to Bemidji State and carry on our tradition of having strong goaltending."
Dalton will be reunited with former Bozeman teammates Chris McKelvie and Graham McManamin when he joins the Beavers next fall.
To Come Next Week…
Next week, I'll take a look at what each CHA team can be thankful for, what I am thankful for, early-season surprises in the league and what team media guide has the best team photo. Don't miss it!