Happy Thanksgiving!
The holidays are fast approaching, the malls (and bandwidth) are clogging up, yet hockey rolls on.
Be thankful for that.
College Hockey America should certainly look at itself from the outside in and realize this five-team conference has much to be grateful for during this special time of the year.
First off, to even have a league and an automatic bid to the NCAA tournament by winning the CHA tournament, that should be tops on anyone's list.
Be thankful for that.
Down south, Alabama-Huntsville head coach Doug Ross finally earned his 500th career win with last Saturday's 7-2 win at Robert Morris. Ross could probably have bolted to other schools or even minor pro hockey over the years, but his dedication to UAH and the community must be commended. Even if he retires after this season, he has left a legacy in Huntsville.
Be thankful for that.
In Bemidji, the Beavers' impending new arena has the city feeling giddy. The voters had something to do with that, too.
Be thankful for that.
Out west on Monteagle Ridge, where on earth would Niagara be without sophomores Ted Cook and Les Reaney and senior captain Sean Bentivoglio? To be able to find these diamonds in the rough speaks volumes about the recruiting process.
Be thankful for that.
Robert Morris has endured two trying years, but that has seemingly paid off this year with a cast of 15 juniors, including goalie Christian Boucher. Don't count out RMU come March either. Patience is a virtue.
Be thankful for that.
When will Wayne State get it right in Motown? With just two wins so far this season, at least the Warriors aren't the worst team in college hockey. But hey, the Warriors are .500 (1-1-0) in CHA play, so maybe some luck is on the horizon. Or at the very least optimism.
Be thankful for that.
Happy Turkey Day, folks.
Top NU Line Continues To Headline
Niagara's top line of Cook, Reaney and Bentivoglio are the top scoring line in all of Division I hockey.
And to think NU head coach Dave Burkholder didn't even start them out together this season. He kept Cook and Reaney intact, but put Bentivoglio on another line. That changed quickly on Oct. 21 against Massachusetts-Lowell.
"It came down to chemistry," Burkholder said in the Buffalo News. "We thought we'd try our luck with putting them all together again and their numbers have been staggering. They all bring something a little bit different to the table. Sean is fast, dynamic with a really quick change of direction and change of speed. He hunts down loose pucks. Teddy Cook is a goal scorer — very gifted with something that you can't teach or coach and Les is a very physical guy.
"Put those three guys together and it's been a lot of fun to watch."
No kidding.
Bemidji State Gets Miracle Goal to Tie Niagara
Last Saturday at home, Bemidji State was down, 3-1, in the third period to Niagara and seemed headed for defeat.
But then Luke Erickson scored with 36 seconds left, leaving an opening for perhaps a dramatic finish.
Drama doesn't even begin to describe those final 36 seconds.
At the buzzer, Rob Sirianni beat Niagara goalie Juliano Pagliero for what appeared to be the game-tying goal.
Or was it?
After several minutes of discussion, the goal was allowed.
Viewing the play on video after the game proved to be inconclusive. According to the Bemidji Pioneer, BSU building personnel reported that the buzzer and green light signifying the end of the game are synchronized. When the buzzer sounds, the green light also goes on and the red light signifying a goal cannot be activated as long as the horn is sounding. That usually takes five seconds. No green light could be seen on the video.
"The bottom line is I could coach another 1,000 games and never see another play like that again," Beavers' head coach Tom Serratore said in the Pioneer. "It's the best tie I've ever bee a part of as a coach."
But was a tie the best outcome?
"The way the game ended in regulation, both teams would have been devastated to lose in overtime," added Serratore. "A tie was probably the best thing."
Notwithstanding, Niagara still leads the CHA with a 4-1-3 mark. BSU sits third at 1-2-3.
Warriors Still Looking For Answers
The troubles, and losses, continue to stockpile for Wayne State.
The Warriors went north last weekend to Lake Superior State for two nonconference games and were defeated twice.
A-ha, but there is some good news. WSU did score a goal to its goal-scoring drought when sophomore Derek Bachynski's late first-period goal Saturday was the team's first in almost 86 minutes.
WSU was blanked Friday night, 3-0.
In net, senior Will Hooper continues to struggle and it appears freshman Brett Bothwell, a late-summer recruit, is ready to assume No. 1 duties.
Traveling for more non-CHA action, the Warriors jaunt to Cornell this weekend for a pair.
UAH Recruiting Goes Far From Huntsville
Take a gander at Alabama-Huntsville's current roster and one thing immediately stands out — 20 of the 25 players are from Canada.
The breakdown: 12 from Ontario, four from British Columbia, three from Alberta and one from Saskatchewan.
By comparison, UAH does have a single Huntsville native in senior defenseman Troy Maney, along with four other Americans — freshman center Tom Train (Troy, Mich.), senior right wing Steve Canter (St. Louis), sophomore center Joe Federoff (Pittsburgh) and junior defenseman Matt Montes (Forest Park, Ill.)
Many Canadians will admit they haven't a clue about the United States college hockey system, especially that there is a college hockey program in Alabama, but once they give it a shot, it's all positive.
Looking ahead to next season, one of UAH's two current recruits, goaltender Cameron Talbot, is Canadian (Ontario) and the other, center Chris Fairbanks, calls Milford, Mich., home.
Best Team Photo Award Goes To…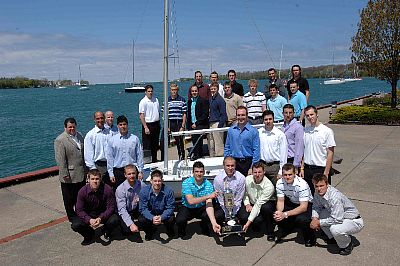 Saw this in the Niagara media guide and thought it's the coolest team photo I've seen in a long time. It was shot last spring at a yacht club in Youngstown, N.Y. The caption under the photo reads "Setting Sail For Another Championship Season."
Bemidji State Goalies Get Rave Reviews
Put any one of Layne Sedevie, Matt Climie or Orlando Alamano in net for Bemidji State and the Beavers like their chances.
The past two seasons, it was Climie and Sedevie seeing the action, but this season with Sedevie injured, Alamano has seen some time between the iron.
"With those three, I think we have the best [trio] in college hockey," Sirianni said. "All three could step in and be starters on probably 50 percent of the teams in the nation. They're awesome."
Climie played both games last weekend and has played the past four straight. Alamano earned his first collegiate win Nov. 4 at Minnesota State. Sedevie took the loss Oct. 13 at Maine and Oct. 27 at Niagara when he was pulled just 5:17 into the game after allowing three quick goals. He hasn't played since and depending on the severity of his head/neck injury, may never again.
On A Personal Note
Yes, I'm a sap. However, I just want to say I'm thankful for life's many blessings, with my wife, Stephanie, and almost-15-month-old son, Ethan, at the very top of that list. Family is very important in my life (especially a wife who puts up with multiple hockey-related deadlines) and I'm very fortunate to have two very loving, caring families.
I'm also grateful for my wife's Thanksgiving barbecue meatballs. And I suppose our dumb pooch, Eddie. Three years old and still chases his tail. Incredible.